There were buyers and sellers before and after the stock market volatility crash of 2018, with a particular rise in buybacks by a specific sector of stock that may benefit from current market conditions. A Bank of America Merrill Lynch Equity and Quant Strategy report looks at fund flows during the week and points to those who bought near the bottom. On this list are corporations as well as institutional clients, but hedge funds appeared to have been selling into the market rebound.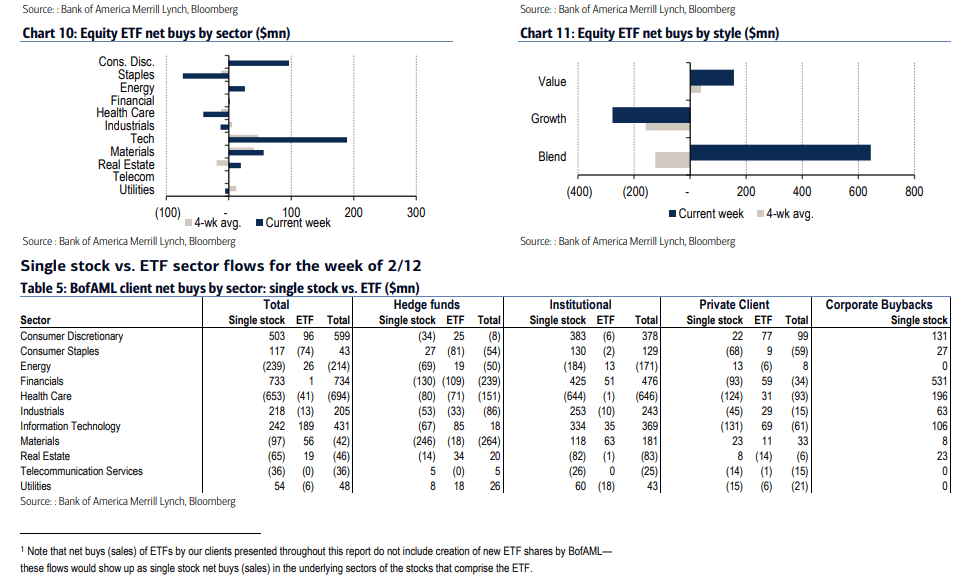 Who has been buying stocks in 2018? It turns out stock buybacks, where corporations purchase their shares, has been a favorite strategy, particularly after the market price re-adjustment in early February, you can thank them for saving the market.
ValueWalk's August 2021 Hedge Fund Update: Point72 Suffers Loss; Hedge Fund Assets Hit $4 Trillion
Welcome to our latest issue of ValueWalk's hedge fund update. Below subscribers can find an excerpt in text and the full issue in PDF format. Please send us your feedback! Featuring Point72 Asset Management losing about 10% in January, Millennium Management on a hiring spree, and hedge fund industry's assets under management swell to nearly Read More
Financial stocks continue to dominate buyback activity, making up nearly 42% of total corporate buybacks at a time when interest rates are increasing, and volatility is likewise on the rise. For the week of February 12, when the stock market started to recover, buybacks from BAML's corporate clients began to model above typical February levels and went past 2017 levels on a year over year basis.
A February 21 BAML Equity Client Flow Trends report noted client net buys based on sector. Financial stocks benefited, with 531 instances, while healthcare was in a distant second place with 196; Consumer Discretionary and Information Technology stocks were tightly grouped in with healthcare.
Some notable stocks to make buybacks included embattled bank stock of Wells Fargo, which purchased $22.6 billion of its stock on January 23. The timing for the investment was less than optimal at $64.68 as it just preceded a market sell-off that saw its shares drop to a $55.40 low on February 8, but has since recovered to $60.43.
Other companies engaging in significant buybacks was Cisco, which had a little better market timing than Wells Fargo, buying back $25 billion in stock on February 14 just after the market bottom. Other firms buying back after the market bottom included PepsiCo repurchasing $15 billion on February 13, Abbvie $10 billion on February 15, Applied Materials and Celgene $6 billion and $5 billion respectively on February 14.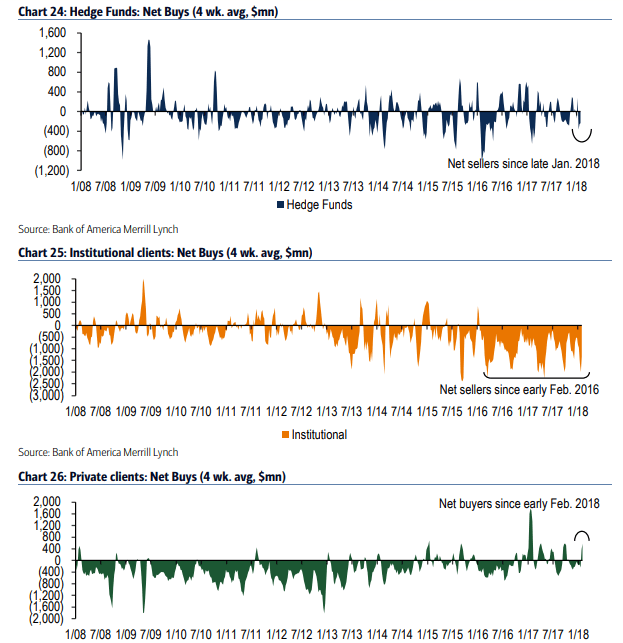 But it wasn't just stocked buying back their shares after a drawdown. BAML client transaction data shows that private clients and institutions were also winners in the wake of the 2018 volatility crash.
Last week was meaningful for the S&P 500, bouncing back 4.3% after dropping more than 10% during a reasonably similar time frame. During that period, BAML clients gobbled up $1.35 billion for the second week. This comes as they engaged in "near-record selling at the end of January," just before the stock market price adjustment was in full swing. They were buying single stocks and ETFs.
The top long stock sectors included Financials, Consumer Discretionary stocks, Technology, and Industrials. Health Care and Energy sectors were in the selling camp. "Clients bought large and small caps but sold mid-caps," the report noted.
BAML notes the stock trading activity dispersion:
The rolling four-week average flows for Discretionary—which we have been flagging have looked close to capitulation levels amid net sales for over a year—turned positive for the first time in 57 weeks, suggesting near-term (2-month) outperformance of the sector based on prior sector selling streaks of similar length. Health Care and Energy stocks saw the biggest sales, where Health Care was only was the only sector sold by all three client groups. It was also the only sector clients in aggregate sold the week before.
Health Care currently has the most extended selling trend going on three consecutive weeks as all BAML client sectors sold. Year-to-date, BAML clients, have been interesting in Tech, Industrials, Telecom, and Staples. They were sellers in Discretionary and Health Care. Last week during the recovery private and institutional clients were net buyers; hedge funds were the sole net sellers.