Mox Reports is short Abeona Therapeutics Inc (ABEO) and sees at least 50-60% downside.
Summary
In Oct 2017, shares of ABEO hit a new high of $19.55 following the release of seemingly positive data in its clinical trial for MPS-III.
ABEO quickly used that strength to raise money in an equity offering at $16 in October.
But when additional data was released last week, ABEO quickly began to plunge every day.
"Smart money" investors now realized that Cohort 1 data had been badly manipulated to show optimal results.
Out of a three person Cohort, one patient was given an arbitrary "floor score" for a cognitive test – precluding any real chance of further declines in cognitive ability. Another patient was removed from the trial altogether.
This information was not made clear in October at the time of the equity offering
In addition, Cohort 2 data was visibly mixed, with the strongest results coming from a disputed test method and with very negative indications coming from the industry standard test
The leading industry journal specifically recommends two different tests than the one being used by ABEO. The non recommended test is the one which analysts continue to cite as indication of strong results.
The investors who have figured this out have been selling heavily every day since that data was released on Feb 8th.
Yet sell side analysts continue to put positive spin on the results by focusing on a single "outlier" to explain negative results.
Exclusive: Voss Value Launches New Long Only Special Situations Fund
Since its inception in January 2012, the long book of the Voss Value Fund, Voss Capital's flagship offering, has substantially outperformed the market. The long/short equity fund has turned every $1 invested into an estimated $13.37. Over the same time frame, every $1 invested in the S&P 500 has become $3.66. Q1 2021 hedge fund Read More
Abeona: How SOME of Wall Street Missed the Manipulated Data
ABEO Share Price Plunges Despite Strong Analyst Support
On February 7th, Abeona's share price reached a 2018 YTD high of $18.90. But following the release of it MPS-III data on February 8th, stock began to immediately plunge. Sell side analysts immediately came out in support of Abeona, saying that the data released did not justify the sell off. It should be noted that all of the bullish analysts had just acted as underwriters on Abeona's recent equity offering and collectively shared in $5 million in fees.
The key argument raised by these analysts was that any perceived weakness in the results was only due to a single outlier within a small sample set. Overall data, they say, remains positive. There may even be a possibility that data will show an uptrend as Cohort 2 matures.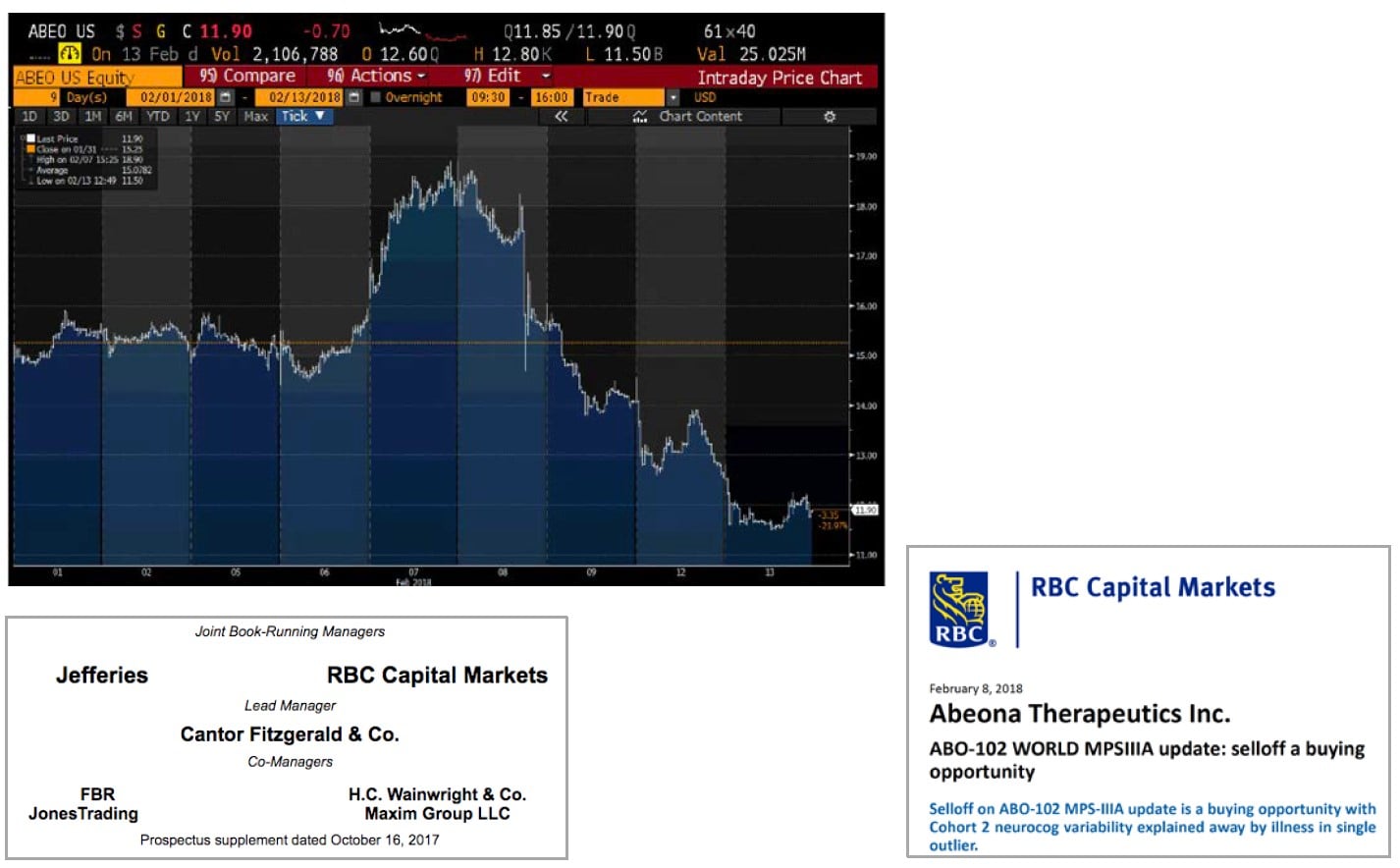 But as we can see from the chart below, despite the very vocal enthusiasm from sell side analysts, Abeona's share price has traded straight down on heavy volume every day since that data came out. The share price has now fallen by 30% even as these analysts continue telling us it should double.
"Smart money" investors have now discovered that data from ABEO's Cohort 1 has been manipulated to deliver the best possible result for one of the three patients. Then a third patient (out of three) was removed entirely. This "data" is therefore entirely nonsensical. This manipulation was not made clear to investors ahead of the equity offering in October. Once investors discovered this, the stock began plunging.
A pattern among plunging biotech stocks
Below you can see a table of past biotech stocks that I wrote about at MoxReports.com.
At their peaks, each of these stocks had investors salivating about their further prospects for triple (and even quadruple) digit gains.
A consistent theme among biotech stocks is that complicated information can be manipulated.
To read my full article on each of the biotech stocks below, click on the name in the far left column.

In nearly every case above, bullish sell side analysts were calling for these stocks to double or triple, just before they plunged to a fraction of their original price.
Abeona: Company Overview
Abeona Therapeutics (ABEO) is a clinical stage biotech company focused on gene therapy for rare disorders. It was founded around 2012 by current CEO Tim Miller and former Chairman Al Hawkins. In May of 2015 PlasmaTech acquired Abeona for about $34mil in stock and performance milestones. This transaction was effectively a reverse merger that brought Abeona public. The company is based in Dallas, TX.
The primary focus of Abeona is ABO-102 and ABO-101, both of which are being evaluated for treatment of Mucopolysaccharidosis (MPS) type III (also known as Sanfilippo syndrome). Nationwide Children's Hospital (NCH) employees Haiyan Fu, PhD and Doug McCarty, PhD developed ABO-102 and ABO-101 and Abeona licensed the IP from NCH. NCH is conducting clinical trials for ABO-102 and ABO-101and they also conducted the Natural History Study (NHS) being used as the control cohort in the trials. Both ABO-102 and ABO-101 are currently in Phase 1/2 clinical trials for MPS IIIA and MPS IIIB.
Abeona is also developing EB-101 for recessive dystrophic epidermolysis bullosa ("RDEB") (also known as "butterfly syndrome") which causes large open wounds and blisters. EB-101 has completed Phase 2 trials and is currently in hopes of going in to Phase 3 going forward. While EB-101 is somewhat further along the regulatory pathway than Abeona's other drugs (ABO-102 & 101), analysts have only recently considered its potential and most have not modeled for it. This is likely due to the small addressable market, questionable efficacy, and competitive market for skin grafts.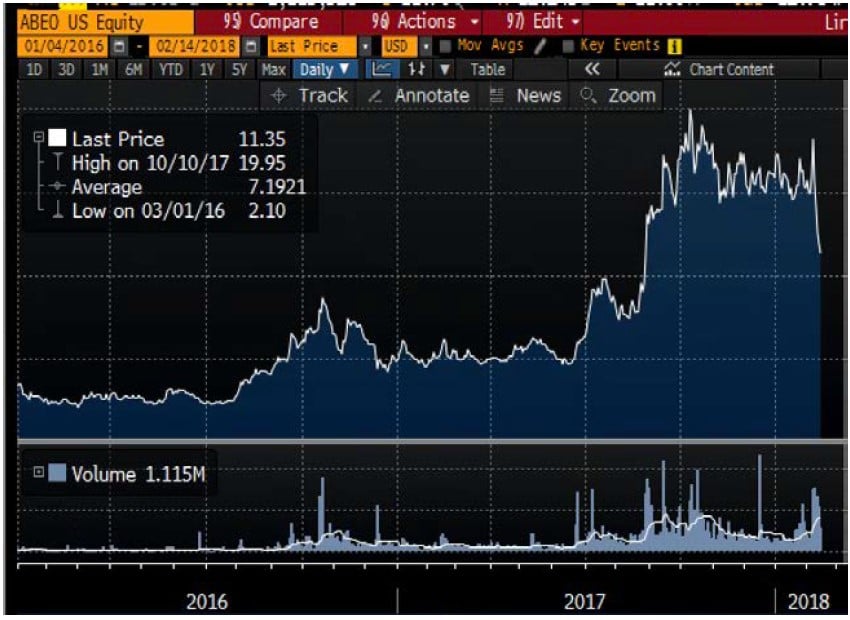 Additional early stage pre-clinical programs include EB-201 for epidermolysis bullosa (EB), ABO-201 (AAV-CLN3) for juvenile Batten disease (JNCL), ABO-202 (AAV-CLN1) for infantile Batten disease (INCL), ABO-301 (AAV-FANCC) for Fanconi anemia (FA) disorder and ABO-302 using CRISP/Cas9-based gene editing for rare blood diseases.
Following the presentation of MPS-III data in October of 2017, shares of Abeona reached $19.95 (more than quadruple their 2017 lows). Shortly thereafter, on October 19th, Abeona issued $92 million of stock in a new equity sale at $16.00.
During 2017 shares of ABEO rose by as much as 4x as a result of "good data". However, Abeona did not reveal the manipulation of patient data in collection of other scores. When problems began to emerge in Feb 2018, ABEO share price immediately tumbled. ABEO is still up by 200% vs. 2017 lows.
Recent developments – 2018
January 29th – Abeona received Regenerative Medicine Advanced Therapy designation for EB-101. This is an expedited program similar to Breakthrough Therapy designation, which this drug already has.
February 7th - Abeona reported initial 30-day safety and biopotency data for the first patient enrolled in Phase I/2 for ABO-101 in MPS IIIB. The estimated enrollment in the program is nine patients in two cohorts.
February 7th – Matthew Herper of Forbes released an interview with gene therapy pioneer Jim Wilson. Wilson has recently become concerned with toxicity in monkeys and piglets treated with high doses of adeno-associated virus (AAV). AAV is the same method that Abeona utilizes to deliver ABO-102 & ABO-101 into patient tissues. Although some public concern has resulted from his finding ultimate consequences are currently unclear.
February 8th – Abeona reported top-line data from Phase 1/2 trial in MPS IIIA at the WORLDSymposium. The data was presented by lead investigator Kevin Flanigan, MD of Nationwide Children's Hospital. Following the release of this data, ABEO's share price quickly fell by 30% over the subsequent several days, despite positive commentary from analysts.
February 12th – Abeona received Orphan drug designation for ABO-202 for infantile Batten disease, a fatal lysosomal storage disease of the nervous system. ABO-202 is currently preclinical and human trials have not yet begun.
Evaluation criteria for treating MPS-III
MPS III (Sanfilippo syndrome) is a genetic disease which causes enzyme deficiencies that result in the abnormal accumulation of glycosaminoglycans (sugars) in body tissues. The incidence of MPS III (four types A-D combined) is estimated to be 1 in 70,000 births.
In MPS III, the predominant symptoms occur due to accumulation within the central nervous system (CNS), including the brain and spinal cord, resulting in cognitive decline, motor dysfunction, and eventual death. To date, there is no cure for MPS III and treatments are largely supportive.
In attempting to evaluate effectiveness against MPS-III, Abeona's clinical trial is measuring two categories of responses.
Biological responses measure things like the hoped-for reduction of Heparin Sulfate or GAG levels which remains in the cerebrospinal fluid ("CSF") or in the urine. These are the sugars whose accumulation results in the damage shown above. In addition, the trial will look for increased enzyme levels as well as reduced liver and spleen volumes.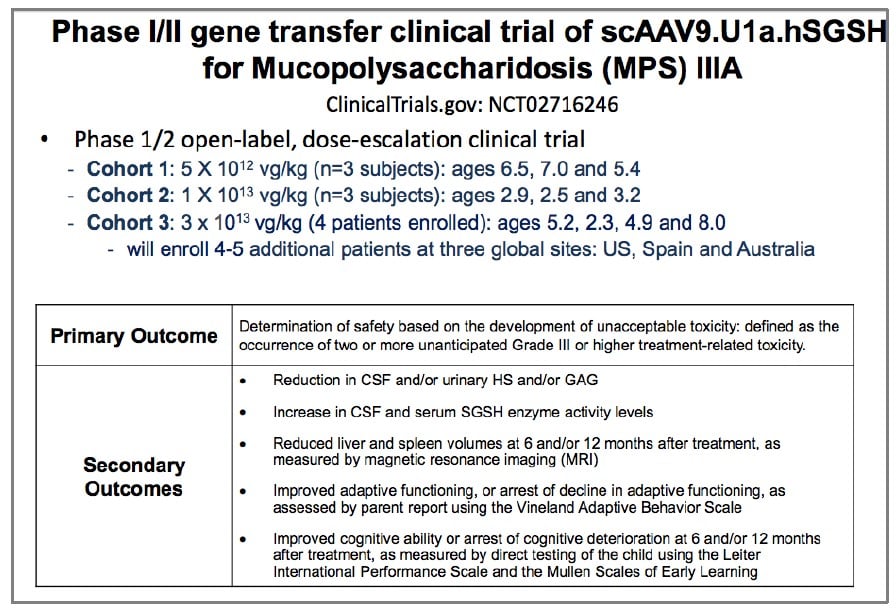 The biological responses can be seen as a useful indicator. In addition, they are able to be measured precisely. However the far more important metrics are the external/observable tests that indicate a cessation or slowing decline of mental and behavioral impairment.
To assess changes in adaptive functioning (behavior), Abeona uses the Vineland Adaptive Behavior Scale. To assess cognitive ability Abeona uses the Leiter Scale.
Article by Mox Reports
See the full PDF below.