"Our analysis suggests" notes the latest Flows & Liquidity report from JP Morgan "that both CTAs and Risk Parity funds have been at the core of the recent correction."
Since the beginning of last week, when the Dow Jones Industrial Average printed its most significant ever one-day point decline, analysts across Wall Street have been speculating as to what was the reason for the fall.
Margate Capital: Betting On A Content "Arms Race"
Most have been pointing fingers at algorithm-based trading strategies as the main culprit behind the ceiling, and the report from JP Morgan seems to support this conclusion.
JP Morgan analysis is based on asset flow trends seen over the past few weeks. Notably, the "almost universal collapse of the open interest of futures contracts over the past week, with the exception of the 10y UST futures contract." For the week to February 9, risk parity funds monitored by JP Morgan's analysts underperformed a hypothetical benchmark by 3.7%, which is an even larger underperformance than that seen in the Fed taper tantrum of 2013. Meanwhile, managed futures or Commodity Trading Advisors (CTAs) lost 6.9% in the across four days from Feb 1 to Feb 7. Trend following CTAs were the worst performing in the asset class, delivering a negative 9.2% during the same four days. These negative four-day returns are "unprecedented" according to JP Morgan analysis, which points to a "severe position unwinding."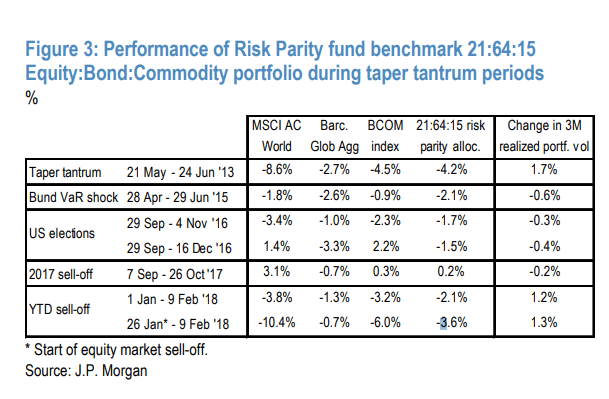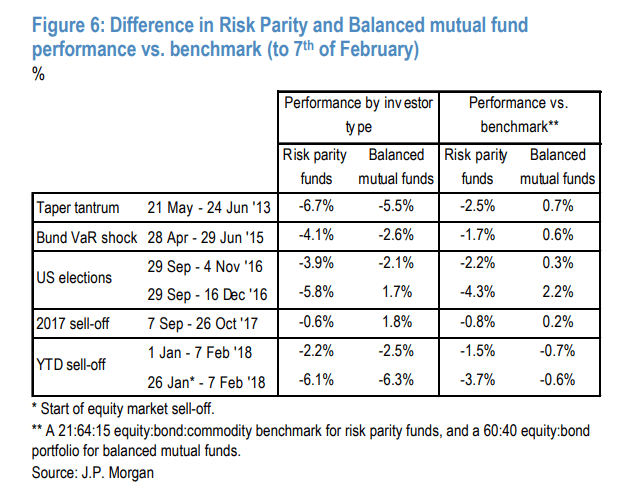 These findings possibly pose more questions than answers. For example, if, in one day of volatility, these funds have such a tremendous impact on the market, how will they react during a period of sustained instability or market crisis (repeat of 2008)?
It's not possible to tell with any degree of accuracy how big of the impact will be until it happens. However, JP Morgan analysts believe that, for the time being, selling from risk parity and CTAs has peaked.
Indeed, according to the report, JP Morgan's analysts believe that the position unwinding from these funds "has been so severe that any further position unwinding by these investors should be limited from here, especially if stop losses have been triggered already."
Considering this, the analysts go on to say that the most significant risk for equity markets now is retail investors, considering the low equity exposure of discretionary macro and equity long/short funds. Despite the turbulence, retail flows into ETFs for the year are still positive, and even though some short VIX investors have been decimated by the volatility, the investment bank's flows data shows retail investors are "pouring money again into short VIX ETFs undeterred by recent VIX product turmoil."
"US equity ETFs, which have been at the epicenter of the fund outflows over the past week, lost $25bn so far. This means that more than half of the $40bn that had entered US equity ETFs in January has been withdrawn already. So again, the picture we are getting in the US equity ETF space is one of advanced rather than early stage de-risking."
Like Us On Facebook - For Business And General News: ValueWalk - For Tech And Science News: ValueWalk Tech - For Tech Insights, Technical Questions and Queries: Follow Our COO, Sheeraz Raza.