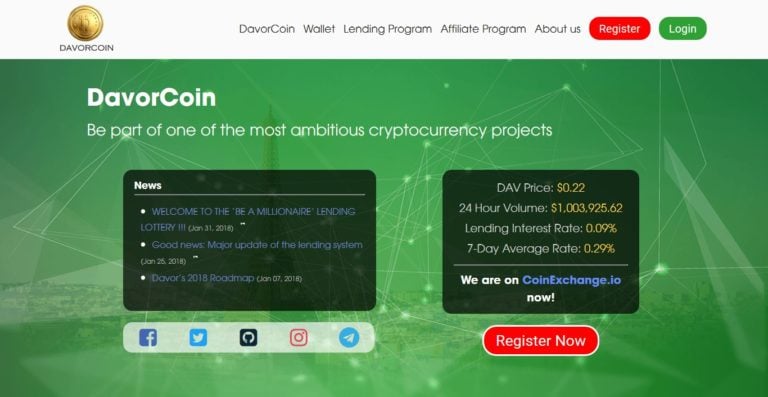 Claimed as created by engineers and bankers in major cities around the EU, DavorCoin aims at becoming the best alternative to other cryptocurrencies like Ethereum and Bitcoin. DavorCoin believes that cryptocurrency is the future of global finance and therefore is focused on a blockchain platform that is capable of processing transactions cheaper and faster with enhanced reliability compared to processes currently available.
Lending Program
The Lending program from DavorCoin began at end November, 2017 and has largely followed in the footsteps of lending programs from other cryptocurrencies.  Lenders have the ability to invest in DavorCoin and receive daily interest paid out In US dollars at an astounding 48% per month. Further, investors lending $1001 worth DAV (DavorCoin) will also be eligible for a bonus every day apart from the interest. The daily interest can also be boosted by locking the Davorcoins for a specified period. Further, the interest rates mentioned in the official website of Davorcoins is indeed mind boggling.  An affiliate program is also offered by this crypto with rewards for bringing users to its platform.
Some missing links
Upon examining the official DavorCoin website, one can notice that information about the team behind the crypto is missing and the promise of 48% interest payout per month lacks conviction. Readers may remember other cryptos like Bitconnect that are notorious for the Ponzi schemes they run in the name of investment opportunities.  If one goes by Davorcoin prices, after hitting $160 briefly at launch, the crypto has collapsed to a  tad above the $1 mark in the second week of February, 2018. With Bitconnect having shut down, some people think that DavorCoin is merely a remake of Bitconnect.
Hedge Fund Launches Jump Despite Equity Market Declines
Last year was a bumper year for hedge fund launches. According to a Hedge Fund Research report released towards the end of March, 614 new funds hit the market in 2021. That was the highest number of launches since 2017, when a record 735 new hedge funds were rolled out to investors. What's interesting about Read More
Overview of DavorCoin
Similar to other Cryptos, DavorCoins represent digital tokens which can be stored on your smartphone, computer drive, or in the cloud.  DavorCoins are mined through complex mathematics with several million users validating the same. Most other cryptocurrencies are also created in a similar or nearly similar way.  DavorCoin however employs a hybrid blockchain consisting of PoS and PoW with a 120 seconds blocktime. For the initial 6 months, the POS reward is 10% every month with a 1 hour minimum staking time and an unlimited time for maximum staking. DAV, the Davorcoin has 40,000,000 as total supply and 10 million in pre-mined coins.
Staking rewards mentioned on the DavorCoin website are also enormous. During the first year, users can earn as much as 10% every month for instance and 8% every month in year 2, with the percentage dropping to 5 per month in the third year.
However, terms like "lending program" "affiliate program" or "daily interest" on a cryptocurrency website do raise red flags since these terms tend to be typically associated with pyramid schemes and scams such as Bitconnect.
According to DavorCoin, lending can be anywhere in the range of $100 to $25,000 with different ROIs on daily basis. A minimum investment of $1,000 will earn the daily variable rate as well as a fixed 0.10%. The repayment period is set at 239 days and investments have a lock in period ranging between 30 and 120 days.
Team information
The DavorCoin website gives away precious little in terms of the founding team.  No specific names or background of individuals are mentioned. The site does carry a cryptic statement that traders and bankers from major financial centers across the EU have created DavorCoin and that they work for hedge funds and banks. While the statement does sound good, it fails to give away any credible information.  When you read these details for the second or the third time, the ominous signals keep coming back to your mind.
The ICO
The DavorCoin ICO ran from 5th November to 5th December, 2017 and during that period tokens were priced between $0.72 and $1.20 for each token with the price remaining at $0.72 for the first three days and moving to $1.20 between the 14th and 30th day. The total supply of coins is 10 million and 6 million of them are released through a crowdsale.  Of the rest, 3.4 million tokens are reserved for development, marketing and lending and another 600,000 tokens reserved for incentives and bounties.
Trust deficit
We sieved through the Davercoin whitepaper and then looked at the whitepaper published by some of the other cryptos.  The language and the content in the whitepaper fails to instill confidence except a statement in some part of the paper that lending platforms carry inherent risks.  Another factor that contributes to trust deficit is some of the statements mirroring what was stated by Bitconnect. Our readers would also have noticed that Bitcoin – the pioneer in the crypto space is experiencing a free fall in prices with the price hovering below $6,000 as at 6th February, 2018 and the coin is headed south at least for now. Some readers may also be haunted by the shuddering memories of the 2008/2009 global melt down.
Right now, Davorcoin has another hurdle to cross and that is the cease and desist order from security agencies in Texas.  The cryptoworld has started getting closer look from the authorities and many more nations are beginning to tighten the screws around crypto exchanges and cryptocurrencies
Updated on