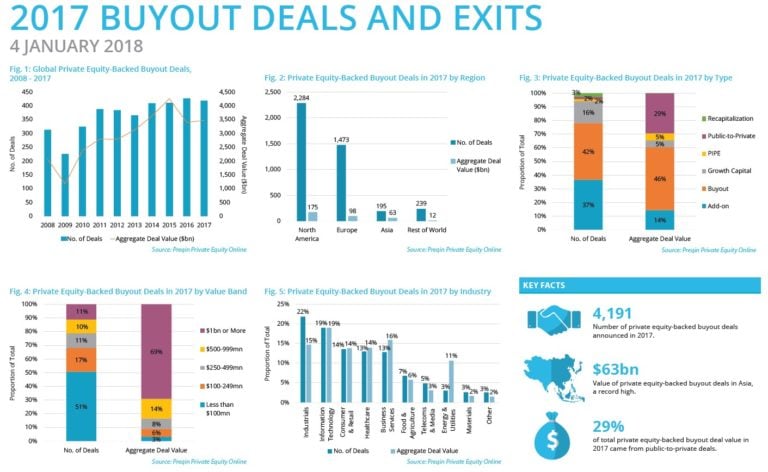 Number of deals keeps track with recent years, while total value rises from 2016
In 2017, private equity-backed buyout deals remained on par with 2016's deal activity, with 4,191 deals worth a total of 347bn. Preqin expects these figures to rise by about 5% as more information becomes available, putting the year broadly level with the 4,271 deals completed in 2016 for a combined $340bn. While deals of less than $100mn accounted for the largest proportion of the number of deals, deals of $1bn or more accounted for almost 70% of all deal value in 2017. North America attracted the most capital through the year, with 2,284 deals announced for a total of $175bn.
Ray Dalio At Robin Hood 2021: The Market Is Not In A Bubble
At this year's annual Robin Hood conference, which was held virtually, the founder of the world's largest hedge fund, Ray Dalio, talked about asset bubbles and how investors could detect as well as deal with bubbles in the marketplace. Q1 2021 hedge fund letters, conferences and more Dalio believes that by studying past market cycles Read More
Asia, meanwhile, marked a record year for private equity-backed deal activity in 2017, mostly due to the two recordsetting deals in the region. The JPY 2.00tn acquisition of Japan-based Toshiba Memory Corporation by investors including Apple Inc. and Bain Capital was the largest buyout deal of the year globally, as well as the largest ever buyout deal in Asia. While the second largest deal of 2017 was in the US, the third largest was in Singapore – Global Logistic Properties Limited was acquired by multiple investors for $12bn. These two deals alone have driven the record total, accounting for over half of all Asia buyout deal value in 2017.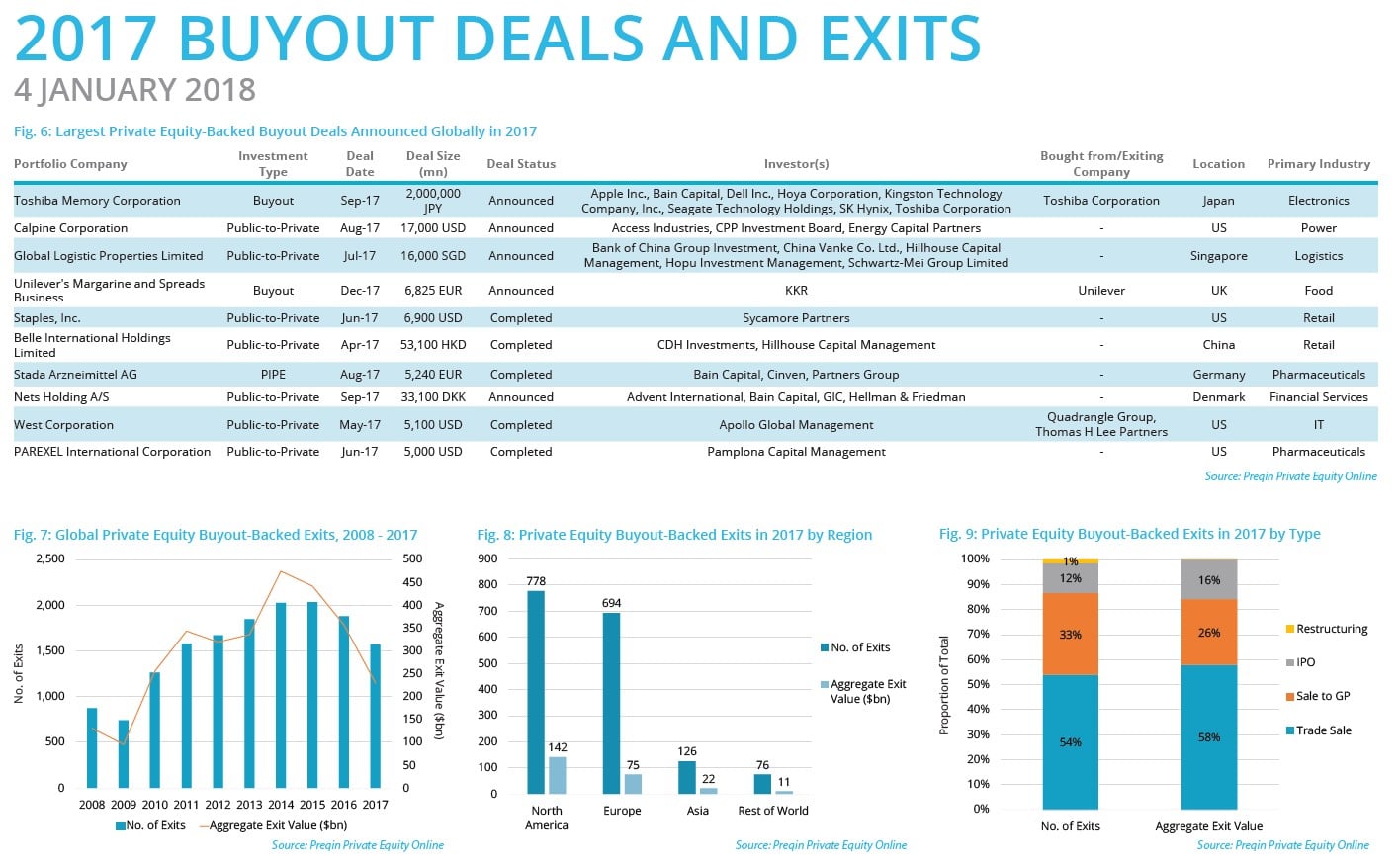 Key 2017 Private Equity-Backed Buyout Deal and Exit Facts:
In 2017, 4,191 deals were announced, worth a total of $347bn. This is similar to deal activity in 2016, when 4,271 deals had an aggregate deal value of $340bn.
North America saw the greatest buyout deal activity, with 2,284 deals worth $175bn. Asia marked a record high in total deal value, with 195 deals worth $63bn.
A large proportion of deal value in Asia came from two deals: the acquisition of Toshiba Memory Corporation for JPY 2.00tn, and of Global Logistic Properties Limited for SGD 16bn.
Small deals of less than $100mn accounted for 51% of the number of deals announced in 2017, while making up just 3% of total deal value. By contrast, deals of $1bn or more accounted for 11% of number of deals and 69% of deal value.
Deals made in industrials made up the largest proportion of the number of deals (22%), while investments in information technology accounted for the largest proportion of deal value (19%).
Additionally, although public-to-private deals accounted for just 2% of deals made in 2017, they made up over a quarter (29%) of total deal value.
Buyout-backed exits fell compared to 2016, with 1,674 exits announced worth a combined $250bn. This is the third consecutive year in which buyout-backed exit values have fallen.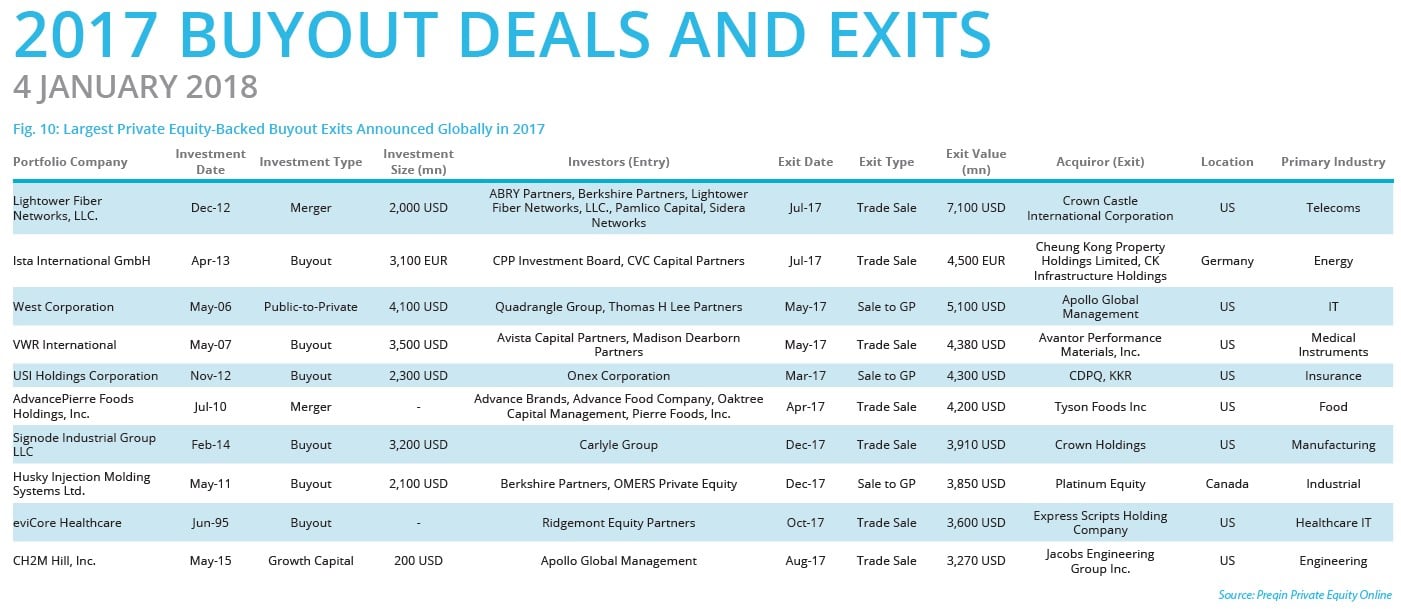 Christopher Elvin, Head of Private Equity Products:
"Despite a strong Q3, 2017 ultimately has not broken 2015's record for total private equity-backed deal value. However, the year does highlight the sustained deal-making activity the market has seen, with more than 4,000 deals announced for the fourth consecutive year. Despite concerns over the effect that deal pricing and competition were having on the market, it seems that fund managers are still able to deploy capital into a large number of deal opportunities.
What is particularly encouraging in this context is the flourishing deal-making market in Asia. Traditionally, private equity in the region has centred more on the growth and venture capital segments, with buyout deal activity sometimes seeming lacklustre. However, large deals in the region point to a renewed focus from fund managers on the developed economies in the region, while continued maturation of markets in China and India may provide a burgeoning number of opportunities in the coming months."
Article by Preqin