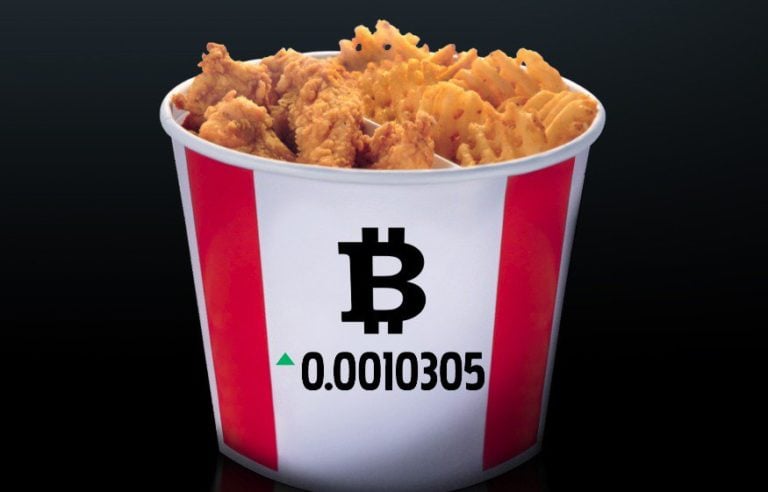 After the reveal of the Bitcoin Bucket, you can now use your Bitcoin at KFC. Whether this is a small step towards widespread acceptance as a payment method or a fun publicity stunt remains to be seen, but for the first time, you can trade your cryptocurrency for some fried chicken.
The Bitcoin Bucket
The Bitcoin Bucket deal is currently only available on the Canadian website, but if you're interested in using some of your hard-earned currency on a tasty meal, you can trade $20 CAD worth of bitcoin at KFC for a bucket of chicken.
The Bitcoin Bucket includes 10 chicken tenders, waffle fries, gravy, a side, and two dips. It's a decent deal for $20, but whether it makes sense to spend your cryptocurrency on a bucket of chicken is up for debate. Currently, transferring Bitcoin is prohibitively expensive, and using your Bitcoin at KFC may turn a $20 purchase into $50 with current fees. While it may not make financial sense, it's one of the few real-world applications for the volatile investment and may be one of the first steps towards widespread use of these currency newcomers.
Abacab Fund Sees Mispricing In Options As Black-Scholes Has Become "Inadequate"
Abacab Asset Management's flagship investment fund, the Abacab Fund, had a "very strong" 2020, returning 25.9% net, that's according to a copy of the firm's year-end letter to investors, which ValueWalk has been able to review. Commenting on the investment environment last year, the fund manager noted that, due to the accelerated adoption of many Read More
KFC Canada's site urges users to give the deal a try, stating that "despite the ups and downs of Bitcoin, the Colonel's Original Recipe is as good as always…So, trade your Bitcoins for buckets and invest in something finger lickin' good."
While the actual Bitcoin at KFC price changes in realtime to match a standard price of $20, it may not be the best choice to use this payment method for reasons other than the high fees. With how fast the currency has been rising, using your Bitcoin at KFC could turn a $20 transaction into a sale worth thousands of dollars in the future. You may end up kicking yourself over dropping the Bitcoin on chicken if the price starts to grow exponentially again.
Viral Marketing Or Industry Trailblazer?
While it's possible that the company truly believes in the potential of the currency, an option for users to spend Bitcoin at KFC is probably more of a marketing stunt than it is an act of embracing this fledgling form of payment.
The KFC marketing team has been at the top of their game as of late, releasing a virtual reality game similar to the hit game Bioshock in order to train employees, as well as a Faraday cage. The company has also been tweeting various cryptocurrency memes such as "Another big rise in Bitcoin…Hold for the dip," as well as "If Satoshi reveals his true identity, his bucket is on us" (referring to the anonymous identity of the Bitcoin creator Satoshi Nakamoto). Tweeting various memes could simply be a way to draw attention to a new form of payment, but it's far more likely that the company is working to capture the attention of tech-savvy users.
As mentioned above, the fees for buying a $20 bucket of chicken could make using Bitcoin at KFC an inadvisable option financially, and it's pretty clear that KFC is offering the option to capitalize on the Bitcoin craze and increase sales overall by building a reputation as a "cool" company. Still, even if the option to use Bitcoin at KFC is truly just a fun advertisement, it's an example of a major business embracing the volatile currency as a viable payment method. Right now, cryptocurrency is mainly an investment without any real world application. If more businesses follow suit, perhaps we'll see a future where a "Bitcoin card" is as good as a credit card for sales worldwide.