Hottest links for Tuesday 7th January, the late edition (see Monday's edition of hottest links). Get our free daily newsletter (the updated version) and never miss a single linkfest. Also, now if you sign up you will get our new e-book on value investing.
Top stories for today are below. We have some great stories to stay inside and read this afternoon while avoiding the Polar Vortex, including regulators folding like a cheap card table in the first Volcker Rule battle, individual investor stock allocation hitting a post-crisis high, and a highly interesting Bitcoin alternative, Stalwartbucks.
Hottest Links
Book Review
Modern Security Analysis
Retail Investing Trends With TradeZero America's Dan Pipitone
ValueWalk's Raul Panganiban interviews Dan Pipitone, co-founder of TradeZero America, and discusses his recent study on retail investing trends. Q1 2021 hedge fund letters, conferences and more The following is a computer generated transcript and may contain some errors. Interview with TradeZero America's Dan Pipitone ValueWalk's ValueTalks ·
Despite its title, Modern Security Analysis: Understanding Wall Street Fundamentals is not a didactic explanation of techniques for evaluating securities. [Michael A. Martorelli, CFA Institute]
Value Investing
Of brains and balls: Nassim Taleb's macro bets
Nassim Taleb is a vulgar bombastic windbag, and I like him a lot. His books do a good job of explaining some deep, important finance ideas for a general audience. [Noah Smith, Noahpinion] Related; At the start of 2010, Taleb argued that betting against government treasuries is a "no brainer" due to the high U.S. deficit and what he perceived as the high risk of inflation. [John Aziz, The Week]
Checking in on the Chilling Cohort of Negative Enterprise Value Stocks
Each negative EV stock has something very wrong with it….However, despite the fear they inspire, and perhaps because of it, we know that – as a group and over time they tend to generate highly attractive returns. [Alon Bochman, Inside Investing]
Swedroe: The Best Approach To 'Value'
It's well documented in the academic research on stock returns that value stocks have outperformed growth stocks. [Larry Swedroe, IndexUniverse]
Ackermans & Van Haaren – Mini Berkshire from Belgium ?
Ackermans & van Haaren NV (EBR:ACKB) (OTCMKTS:AVHNF) is an industrial holding company. The Company's holdings are in the contracting-dredging environmental services, financial services, staffing services, and private equity investing. [Memyselfandi007, Value And Opportunity]
Funds
Drawdowns in Flat Years
The S&P 500 (INDEXSP:.INX) has had 10 years since 1957 that it changed by less than 5% over the full year (listed below).  In those years, the lowest point of the year has on average been 10.6% lower than the starting mark. [Scott Krisiloff, Avondale Asset Management]
Value Stocks Beckon in Emerging Markets AllianceBernstein
Years of playing defense have left many emerging-market (EM) equity portfolios laden with pricey safe-haven stocks.  [Henry D'Auria and Morgan Harting, Advisor Perspectives]
Individual Investor Stock Allocation Hits Post-Crisis High
The latest asset allocation survey from AAII showed a new high in demand for stocks and new lows for both cash and bonds. [Cullen Roche, Pragmatic Capitalism]
Morningstar 2013 Fund Nominees
To start with domestic stocks, Morgan Stanley was the standout, with its Morgan Stanley Focus Growth Fund Class A (MUTF:AMOAX), Morgan Stanley Institutional Fund, Inc. Growth Portfolio Class I (MUTF:MSEQX), Morgan Stanley Institutional Fund Trust Mid Cap Growth Portfolio Class I (MUTF:MPEGX) and Morgan Stanley Institutional Small Company Growth Portfolio Class I (MUTF:MSSGX) fund managers making the cut. [Brendan Conway, Focus on Funds]
New HFT Lobbying Effort in US
Incidentally, Hudson River Trading, Quantlab, and Tower Research are also members of the European Principal Traders Group – along with RGM Advisors, Sun Trading, Jump Trading, DRW Investments,  Infinium Capital, Chopper Trading, and Getco. [Themis Trading]
Soros, Paulson and Cooperman Take On Adelson
In November George Soros, John Paulson and Leon Cooperman, three of the most successful hedge fund managers ever, quietly participated in a rights offering and became major shareholders in Caesars Acquisition Co., a spinoff from casino company Caesars Entertainment Corp (NASDAQ:CZR) that has ownership in Caesars' online gambling assets. [Nathan Vardi, Forbes]
Ascent of the Fallen Stars
A surprising byproduct of this year's rally was the comeback of the star manager: investors with long spells of brilliant performance, whose funds then spectacularly imploded. [Leslie P. Norton, Barron's]
Power Principles That 50 Cent and Ray Ralio Have in Common
Looks like billionaire hedge fund titan and rapper have more in common then you'd ever expected.Both self made titans sometimes even use the same wording in their principles. [Hedge Ho]
"I'll buy the dip"
Okay, but keep in mind that dips and corrections rarely occur in a vacuum. They are usually accompanied by fresh fears or even caused by a news item that hijacks the headline cycle out of nowhere. [Joshua M Brown, The Reformed Broker]
Misc
Millions see no benefit from soaring stock prices
In 2013, an annual Gallup survey found that stock ownership, even in retirement accounts, had reached a record low of 52%, down from 62% five years prior. [Melanie Hicken, CNNMoney]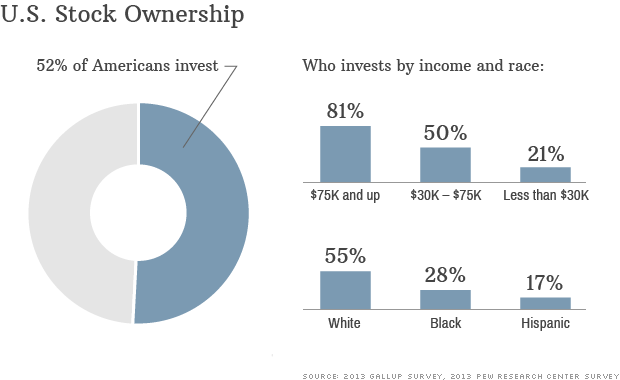 Regulators cave quickly in first Volcker Rule battle
The fight started a few weeks ago from an unlikely source. In mid-December, Salt Lake City-based Zions Bancorporation (NASDAQ:ZION) said it was being forced to take a $387 million loss, more than the bank had earned in any single year since 2007. [Stephen Gandel, Term Sheet]
Introducing Stalwartbucks
Forget Bitcoin. Forget Litecoin. Forget Dogecoin. It's time for a new digital currency that has some real view.PRESENTING: Stalwartbucks. [Joe Weisenthal, Business Insider]
Barnes & Noble Valuation
Barnes & Noble, Inc. (NYSE:BKS) is making big losses on paper and looks pretty worthless at first glance, but headline numbers are masking two very profitable segments worth more than the current market cap. [Investing Sidekick]
Berkshire Stakes Name on Realty Business Buffett Barely Noticed
Berkshire Hathaway Inc. (NYSE:BRK.A) (NYSE:BRK.B)'s foray into the home-brokerage arena 14 years ago was almost an afterthought. Today, Warren Buffett's company is staking its name on the business. [Noah Buhayar, Bloomberg]
Volcker Rule Final Regulations: Proprietary Trading Overview
These Davis Polk flowcharts are designed to assist banking entities in identifying permissible and impermissible proprietary trading activities under the final regulations implementing the Volcker Rule, issued by the Federal Reserve, FDIC, OCC, SEC and CFTC on December 10, 2013. [Annette L. Nazareth, Davis Polk & Wardwell LLP, Harvard Law School Forum]
Hottest Links: Not The Onion
Train passenger tried to have sex with onboard drinks trolley
A train passenger was caught trying to have sex with the on-board drinks trolley after downing a cocktail of alcohol and legal highs. Andrew Davidson attempted the bizarre coupling while shouting "I want to kiss you" at the trolley. [STV]