Hottest links for Tuesday, 23rd December, the late edition (see Monday's edition of hottest links). Get our free daily newsletter (which HAS BEEN RECENTLY UPDATED) and never miss a single linkfest. Also, now if you sign up you will get our new e-book on value investing.
Top stories for today are below. On a very wintery Christmas Eve, we've got some great stories, including a surge in buyback funds, hedge funds staying out of the social media game (for now), and some big, big news out of China.
Hottest Links: Stories
Value Investing
How Investors See the World
This was the most fun thing I did this year, how investors see the world: [Downtown Josh Brown, Reformed Broker]
Top value fund managers are ready for the small cap bear market to be done
During the bull market, small caps haven't been performing well, but some believe that could be about to change. Breach Inlet Founder and Portfolio Manager Chris Colvin and Gradient Investments President Michael Binger both expect small caps to take off. Q1 2020 hedge fund letters, conferences and more However, not everyone is convinced. BTIG strategist Read More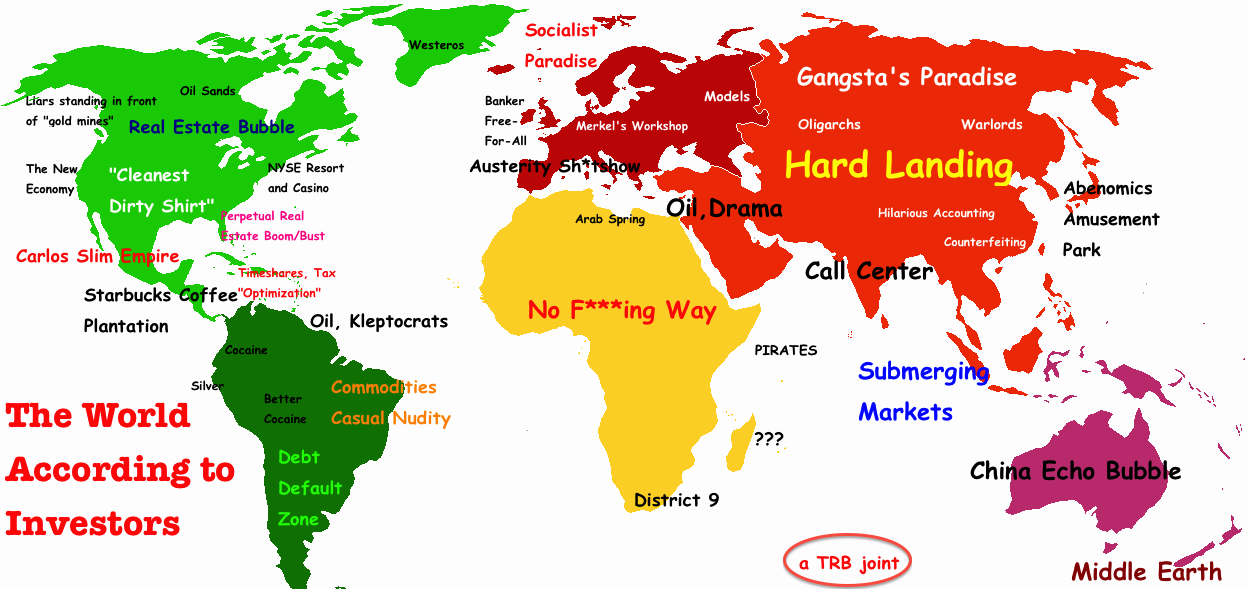 The Surprising Alpha from Malkiel's Monkey and Upside-Down Strategies
Investors are piling into alternative equity products that use non-market-capitalization methods to weight securities. These strategies are often labeled smart beta. Sure, these strategies have delivered higher risk-adjusted returns, but they may also create hidden exposures that can lead to unintended risks. [Gauri Goyal, Practical Application]
LeapFrog ($LF) Stock Analysis
LeapFrog Enterprises, Inc. (NYSE:LF) has grown sales from $459m in 2008 to $581m in 2012.  2009 was a rough year with the recession and sales dipped to $379m.  From 2009, the company has grown sales by 15% per year. [Ray Bonneau]
Funds
Macro Call! Gulf Coast Refiners Entering a Golden Age
The evolution of new horizontal drilling and fracking techniques has revolutionized production of oil in the U.S. [David Foulke, Turnkey Analyst]
The Biggest Financial Story In The World Is Playing Out Right Now In China
Chinese interest rates have been spiking again. After a back credit crunch in June, we saw the seven-day funding rate, a measure of funding, surge to 8.94% on Monday, though at one point this went up to 10%. [Mamta Badkar, Business Insider]
Buybacks Surged in '13 — So Did Buyback Funds
S&P Dow Jones Indices said this morning S&P 500 (INDEXSP:.INX) constituents bought back 8.6% more stock during the third quarter, or $128.2 billion, than they did in the second — or greater than 20% more if you net out the effects of Apple Inc. (NASDAQ:AAPL)'s record-setting $16 billion buyback. [Brendan Conway, Focus on Funds]
Top Hedge Funds Not Yet Engaged With Social Media For Brand Building
When at last the SEC ruled in July that the 80-odd year old ban on general solicitation and advertising of private placements was lifted there was much prognostication on what that could mean for hedge funds. [Simon Kerr, Hedge Fund Insight]
Time to Short Canada?
Investors in Canada are to get the chance to bet against their own real estate market as one of the first short-focused funds is set to launch in the country, where concerns have grown that there is a housing bubble ready to burst. [Climateer Investing]
Private Equity's Wealth Divide
Private-equity investors have received $120 billion, net, in cash from distributions, according to advisory firm Triago. That amounts to 12% of all capital committed to private equity funds, compared with 8% called this year to finance investments. [Miriam Gottfried, MoneyBeat]
Asset Management Industry – End of Year Report Card
The asset management industry has offered up some hefty achievements this year – including Aberdeen Asset Management's acquisition of Swip and the strong sales at Old Mutual after it hired Richard Buxton – but there are also areas where it could do better in 2014. [Joe McGrath, MoneyBeat]
Misc
Movie Review: 'The Wolf of Wall Street'
Director Martin Scorsese's "The Wolf of Wall Street" is almost three hours long and is based on a true story about the rise and very hard fall of Jordan Belfort, played masterfully by Leonardo DiCaprio. [Sital S. Patel, The Tell]
Caterpillar-ERA Mining Machines
Caterpillar Inc. (NYSE:CAT) has long wanted a bigger presence in China. It's acquisition of ERA, a China-based manufacture of mining machines, didn't help. [Stephen Gandel, CNNMoney]
Hottest Links: Not the Onion

China will require its 250,000 journalists to pass a 'Marxism test'
Thanks to a new regulation promulgated last fall, all 250,000 of China's journalists and editors will have to pass an exam on the "Marxist view of journalism" in January or February of 2014. In the several months leading up to the exam, the government has mandated that reporters take weekly classes to ensure "political consistency" with the Communist Party line. [Benjamin Carlson]