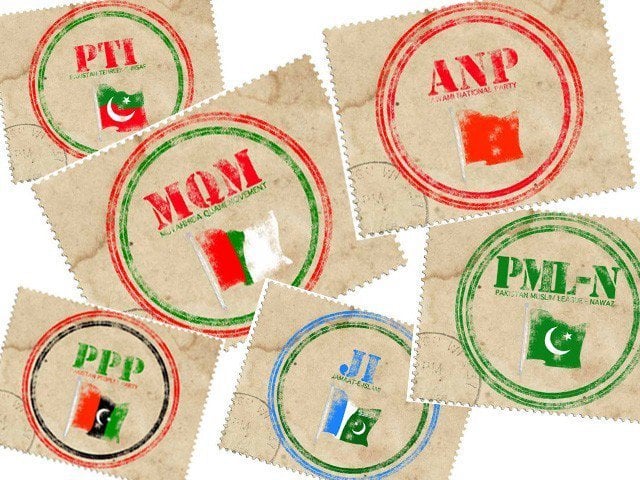 Voters head to the polls on July 25 for the upcoming Pakistani elections 2018 in an election season characterized by scandal, corruption, and rumor mongering. With the leading party coming under intense scrutiny for corruption, the door may be open for an upset win for a less powerful party, making the upcoming Pakistani election one of the most anticipated of the year.
Pakistanis will elect a new new prime minister and parliament in July 25. In the entire history of Pakistan, now prime minister has a ever served a full term in office.
Upcoming Pakistani Elections 2018: The Main Contenders
Although there are more than 100 political parties across Pakistan, there are three main contenders in the upcoming Pakistani elections: PML-N, PTI, and PPP.
Pakistan Muslim League-Nawaz (PML-N)
The center-right PML-N currently holds power in parliament with 55% of the seats, holding 189 seats total. They were widely expected to maintain their hold on parliament and the office of prime minister, until party founder and former leader, Nawaz Sharif was sentenced to 10 years in prison for corruption. His daughter, who has also been heavily involved in the PML-N, was sentenced to seven years, while her husband received one year for non-cooperation. Sharif also received a fine of $10.6 million. They are currently in London, but are expected to fly into Lahore on Friday where they will be promptly arrested.
Although Sharif has been publicly disgraced, the PML-N is still a popular party, especially in the Punjab province, considered the party's heartland. After the judgement was announced the government imposed a ban on public assembly and blocked roads surrounding the Federal Judicial Complex in Islamabad to prevent public unrest.
With Sharif and Maryam eliminated from party leadership, Sharif's brother, Shahbaz Sharif, is now running for prime minister. While the party has certainly lost much support and is not expected to maintain their majority in parliament, staunch supporters insists Sharif's conviction was a political move meant to harm the PML-N party. Shahbaz Sharif gave a speech shortly after the announcement calling the sentencing a "conspiracy." Many claim Sharif was removed from power due to his policy of creating closer ties with India. In the past, Sharif has clashed with military figures over his desire to create peace with India; he was even removed from power via a military coup in 1999.
Earlier polls conducted before the sentencing found that PML-N was maintaining it's popularity in Punjab, Pakistan's largest province. PML-N is also still leading among female voters according to Gallup Pakistan.
Pakistan Tehreek-e-Insaf (PTI)
PTI (Pakistan Movement for Justice), led by philanthropist and former cricket star Imran Khan, appears to be leading among youth and first time voters. The centrist party spearheaded by Pakistan's most famous sports celebrity is also now the fastest growing party in Pakistan.
With the apparent downfall of Nawaz Sharif, many analysts now place Khan and PTI as the front runners in the upcoming Pakistani elections.
Although PTI only holds 33 seats in parliament at present, their anti-corruption message and emphasis on social welfare have struck a cord. Khan's anti-corruption message and centrist politics have provided an alternative for those leaving the PML-N party in droves, while his calls for better conditions for the poor have resonated with an populace facing economic instability and a burgeoning energy and water crisis.
Khan has also promoted abolishing personal income taxes, making PTI an attractive option for more right-wing voters. High profile party leaders from both the PML-N and PPP parties have publicly left their former parties to join Khan's PTI, encouraging voters to do the same.
While PTI has been growing fast, they still face many challenges. The media in Pakistan devotes the most positive coverage to PML-N. PTI's strong social media engagement has helped overcome this challenge, while successfully making inroads among first time voters. Despite the recent setbacks, PML-N is a well established party that has been in power for the past five years, which means PTI will also have to overcome the incumbency hurdle. That being said, Pakistan's older parties have promised reform time and time again yet failed to deliver, PTI may be a young party, but they have also yet to disappoint their supporters.
Khan may not have been sentenced to 10 years in prison, but rumors have been circulating about his private life. His two previous marriages have come under scrutiny and reports that Khan is homosexual have hardly helped Khan capture Pakistan's staunchly religious population.
Pakistan People's Party (PPP)
Like PML-N, the leftist PPP is led by a family dynasty. The PPP came to power in 2008 due to sympathy vote after the party's leader, Benazir Bhutto, was gunned down after a rally. Her platform focused on women's rights, opposition to terrorism, and civilian oversight of the military, but ultimately failed to materialize once her party took power. In fact, economic difficulties and security challenges characterized the PPP's term in power.
Now, Bhutto's son, Bilawal Bhutto Zardari, and husband, Asif Ali Zardari, lead the party. In most polls they come in third, following PML-N or even fourth after undecided voter. While centrist PTI has been able to scavenge right-wing voters fleeing PML-N, the PPP's formal association with Socialist International probably won't help PPP candidates win over conservative leaning Pakistan.
Upcoming Pakistani Elections 2018: Undecided Voters
Gallup Pakistan has found that indecision seems to be growing in Pakistan. Recent surveys found that undecided voters make up 20% of the voting populace. Six months ago, this number was only 10%. As PML-N has lost voters, the number of undecided voters is growing.
Analysts seem to agree that the undecided voters will decide Pakistan's political future. With Center-Right PML-N hemorrhaging support, it's unlikely that a socialist party like PPP will be able to snatch up these votes. More likely, they will turn to Khan's anti-corruption message. Polls conducted by Pulse Consultants shows PTI now enjoys the most support with 30% of voters indicating support. Despite the recent scandals, the Sharifs are still hanging on with 27% support according to Pulse Consultants. PPP comes in third, enjoying 17% of the vote.