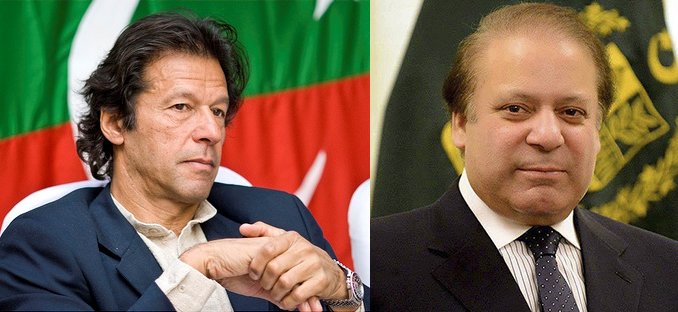 Wednesday, Pakistanis will head to the polls to determine who will serves as the country's next prime minister. Between corruption chargers, rumor mongering, and family rivalries, the Pakistan general elections have been one of the most watched elections of the year. After the arrest of PML-N party leader and founder, Nawaz Sharif, the incumbent party could lose their majority, leading many to ask, who will win Pakistan elections 2018?
Who Will Win Pakistan Elections 2018: PML-N vs. PTI
The polls seem to show a neck-to-neck race between Pakistan Tehreek-e-Insaf (PTI), led by former cricket super star Imran Khan, and Pakistan Muslim League-Nawaz (PML-N), led by the Sharif political dynasty.
Although PML-N won the last elections, after party founder and former Prime Minister Nawaz Sharif was arrested in Lahore on July 13 on corruption charges, the former political powerhouse has suffered in the polls. Sharif was sentenced to 10 years in prison, while his daughter, Maryam Nawaz was sentenced to seven. Maryam's husband was also sentenced to one year in prison.
Fund Manager Profile: Kris Sidial Of Tail Risk Fund Ambrus Group
A decade ago, no one talked about tail risk hedge funds, which were a minuscule niche of the market. However, today many large investors, including pension funds and other institutions, have mandates that require the inclusion of tail risk protection. In a recent interview with ValueWalk, Kris Sidial of tail risk fund Ambrus Group, a Read More
The former prime minister told Reuters shortly before his arrest, "I'm aware of the fact that I'll be jailed, but it's a very small price to pay for the great mission to save the sanctity of the vote in Pakistan."
Sharif and his daughter were in London when they were sentenced. Although the UK does not technically share an extradition agreement with Pakistan, the two political leaders returned in hopes of swaying the election on behalf of the PML-N party.
PML-N party leaders claim Sharif's trial was a political showtrial orchestrated by Pakistan's powerful military. Sharif has clashed in the past with the military due to his policy of creating warmer ties with India. PML-N candidates have used Sharif's imprisonment to guilt Pakistani into voting PML-N. One party leader told a crowd in Punjab this week, "You now sleep in comfort under a fan, but the leader who gave you this has no comfort in jail… You have a debt to him, to release him from jail through the power of your vote."
PML-N is currently led by Sharif's brother, Shehbaz Sharif. As such, the party has been unable to escape the controversy that surrounds the Sharif family.
Imran Khan's PTI is the youngest of the three major parties in Pakistan. While PTI failed to make significant gains in the previous election, the former cricket captain has successfully leveraged Sharif's imprisonment to benefit his party. He has run this election on a strong anti-corruption message, which has resonated with those leaving the PML-N party after the Sharif scandal. Khan's centrist views have also presented an alternative for former supporters of center-right PML-N. Dozens of PML-N candidates have defected and joined PTI in the weeks leading up to the election.
PTI candidates have echoed Khan's call for justice. Yasmin Rashid, a PTI candidate battling for Lahore's NA-125 seat, which has never been lost by PML-N in party history, decried the Sharifs as criminals this weekend in a corner meeting with supporters. She said, "Imran Khan has worked constantly for 22 years … he says that until there is justice in Pakistan, he will not stop."
While Khan has sought to leverage Sharif's corruption charges, and position himself as the anti-corruption candidate, attempts have been made to ruin Khan's public image. Khan's ex-wife, Reham Khan, recently released a book about her marriage to the political leader. She has since been campaigning for the PPP.
She has called Khan an extremist and implied that the military and intelligence services are behind his success. She has also said the former cricket superstar is a "hypocrite who will do anything to get power," as well as a celebrity narcissist completely disconnected from reality. She claims he is even unable to use a microwave.
Khan's spokesperson has referred to Reham's allegations "the ravings of an embittered ex." Khan has called his marriage to Reham the biggest mistake of his life.
Who Will Win Pakistan Elections 2018: The Polls
Who will win Pakistan elections 2018 according to the polls? Most polls have shown that PTI maintains a slight lead over PML-N. According to a Pulse Consultants survey, PTI leads with 30% of the vote. Meanwhile, PML-N draws 27%. Herald Magazine conducted a survey which showed a similar outcome. In their poll, PTI is ahead with 29%, while PML-N musters 25% with a three percent margin of error.
According to both polls, the left-wing Pakistan Peoples Party (PPP), led by the young Bilawal Bhutto, has been unable to compete with centrist PTI and more conservative PML-N. The Pulse Consultants poll shows PPP capturing only 17% of the vote. A survey led by Currency Market Associates (CMKA) found that PPP will only be able to garner 30 seats in parliament.
Gallup Pakistan has found slightly different results in regards to the top two parties. Gallup finds that PML-N has a slight lead over Khan's PTI. The survey found that PML-N is leading with 26% while PTI just barely trailed behind with 25%. PPP ranks at the bottom of Pakistan's major parties with 16%.
Dunya News also held a survey to find who will win Pakistan elections 2018. The news agency found that PTI "leads substantially" and will likely cinch around 100 seats in parliament. According to Dunya, PML-N will win 60 seats, with the majority of these seats coming from Punjab, the party's heartland. Meanwhile, PPP is anticipated to win 33 seats. Most of these seats will be won in the Sindh province.
Will There Be a Majority?
Conservative leaning PML-N emerged from the previous elections with a clear majority in parliament. Recent polling shows that no one party will be able to cinch a majority in the upcoming elections.
To win a majority, one party would need to obtain 137 of the 272 elected National Assembly seats. Of those seats, 70 are held for women and minorities, to be awarded proportionally depending on voting percentages.
With no party winning a clear majority, the question remains which parties will form a coalition.