Whitney Tilson's investing newsletter discussing his interview with Seeking Alpha and other articles.
Q2 hedge fund letters, conference, scoops etc
1) In this interview with Seeking Alpha, I discuss the challenges facing hedge funds (though hope is not lost), how my investing style has changed, my return to managing outside money, my long thesis on Berkshire Hathaway, and my short thesis on Tesla. The Most Important Question An Investor Needs To Answer, https://seekingalpha.com/article/4202626-sa-interview-whitney-tilson-important-question-investor-needs-answer. Excerpt:
SA: What is the most important question an investor should answer when developing their investment thesis?
WT: What is your variant perception and why is it right? Almost every stock is valued based on investors' consensus expectations about the future performance of the business. It's generally quite easy to figure out what these expectations are – just read any analyst report.
Your challenge is very simple – yet also very difficult: find stocks in which the performance of the business turns out to be far different than the consensus view today (either outperformance if you're long or underperformance if you're short).
Three years ago, the stock of Restoration Hardware was riding high, peaking above $100 before it dropped by 75% amidst missed earnings and investor fears that the company would be yet another bricks-and-mortar retailer crushed by Amazon. Yet another one of my students correctly saw that RH has a visionary CEO and a highly differentiated product and strategy, and thus was likely to recover – and has made six times his money in less than two years.
This is a classic value investment: find a good company encountering difficulties that other investors think are permanent, (resulting in a severely depressed stock price), but which prove to be fixable — and ride the stock up and up and up.
But sometimes the variant perception can be that a great company, with a stock at an all-time high, still has many years of high growth ahead of it, when the consensus view is that growth is going to slow. If you can find a stock in which growth instead accelerates (good examples in recent years include Netflix and Amazon), you're likely to make a lot of money here as well.
2) Speaking of Tesla, the wheels are falling off (pun intended): Tesla's $1.8 Billion of Junk Bonds Hit Lowest Since 2017 Sale, www.bloomberg.com/news/articles/2018-09-05/tesla-s-1-8-billion-of-junk-bonds-hit-lowest-since-2017-sale. Excerpt:
Tesla Inc.'s $1.8 billion of junk bonds fell to their lowest price since they were issued last year after Mercedes-Benz unveiled a new electric car and Goldman Sachs Group Inc. said the company might struggle to meet Elon Musk's goal of being cash-flow positive.
"The advantage Tesla had as first to market is starting to go away," said John McClain, a high-yield portfolio manager at Diamond Hill Capital Management, which oversees $22.5 billion. "It's going to be a much more competitive marketplace in the coming years, and you combine that with Musk with his own personal issues."
Also, someone posted on Twitter: "Those who shorted $TSLA's fake buyout last month are now outperforming $TSLA longs who bought in February 2014."
3) The Q2 letter by my friend Marcelo Lima of Heller House, in which he shares a history lesson on GEICO and discusses Amazon, Alphabet and Facebook, has gone viral. You can read it here: https://mailchi.mp/1036170cc3c4/heller-house-q2-update-1504725?e=2f111382eb. Excerpt: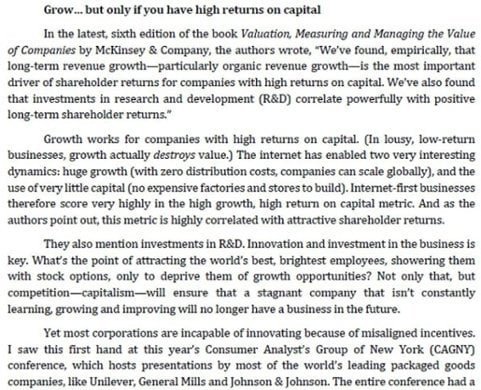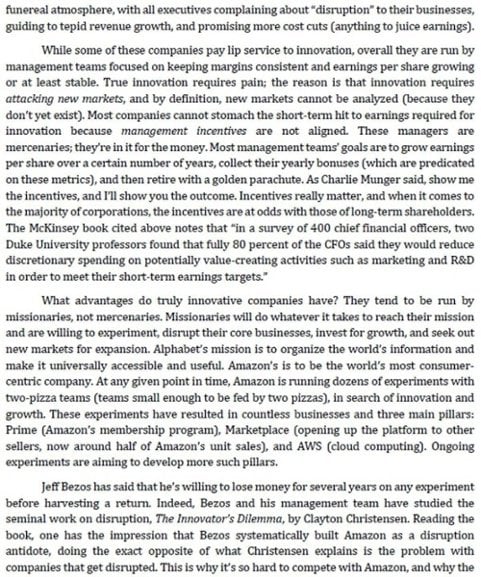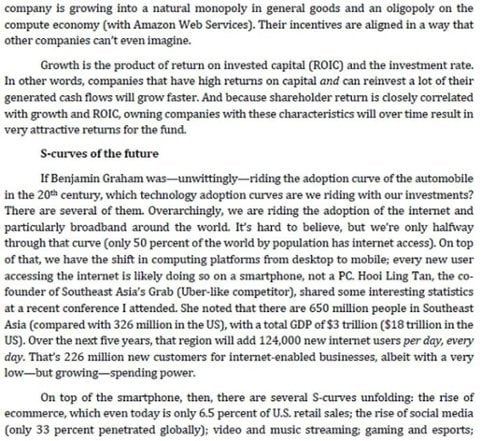 PS—Early in his career, Marcelo was an analyst for Glenn and me and was the first person to tell us about the 3G guys (he grew up in Brazil) and got us into BUD (very profitably) after they took it over.
4) It's about time that this obvious fraud went away – here's hoping the perpetrators go to prison! (And kudos to the WSJ's John Carreyrou, author of Bad Blood: Secrets and Lies in a Silicon Valley Startup, who pretty much singlehandedly exposed it.) Blood-Testing Firm Theranos to Dissolve, www.wsj.com/articles/blood-testing-firm-theranos-to-dissolve-1536115130. Excerpt:
Theranos Inc., the blood-testing company accused of perpetrating Silicon Valley's biggest fraud, will soon cease to exist.
In the wake of a high-profile scandal, the company will formally dissolve, according to an email to shareholders. Theranos will seek to pay unsecured creditors its remaining cash in coming months, the email said.
The move comes after federal prosecutors filed criminal charges against Theranos founder Elizabeth Holmes and the blood-testing company's former No. 2 executive, alleging that they defrauded investors out of hundreds of millions of dollars and defrauded doctors and patients.
The executives have denied the charges and face a coming criminal trial.
5) I'm a big fan of Howard Marks, so look forward to reading his new book and hearing him speak in NYC at this free event on Oct. 4:
The Heilbrunn Center for Graham & Dodd Investing  is pleased to welcome Howard Marks Co-Chairman and Co-Founder, Oaktree Capital Management as he discusses and signs his latest book Mastering the Market Cycle: Getting the Odds on Your Side
6) I've heard that this is a great conference and regret that I'll be teaching in Shanghai so won't be able to attend:
Traders4ACause is excited to announce that tickets to the 5th Annual Charity Conference and Golf Tournament are currently on sale! We have an action packed weekend planned, from October 12-14th, 2018 at the Cosmopolitan, Las Vegas.
Traders4ACause is a 501(c)(3) non-profit, dedicated to educating, motivating, and inspiring traders to make a difference through supporting worthy causes. Our conference is loaded with valuable insights from many professionals in the finance community.
We are offering a special promotion to Kase Learning attendees for our conference as well! By using the coupon code KASE, you'll save $250 on admission! Tickets for our conference are available at www.traders4acause.org/2018-event/