Whitney Tilson triples down on Bitcoin – presented without further comment – see his latest email to colleagues below
Also see Tilson on Bitcoin from 2017
Tilson on Bitcoin from 2013
Gates Cap Management Reduces Risk After Rare Down Year
Gates Capital Management's ECF Value Funds have a fantastic track record. The funds (full-name Excess Cash Flow Value Funds), which invest in an event-driven equity and credit strategy Read More
1) Attached is the program guide for my shorting conference (now only six days away!), which has the agenda and bios of the 22 speakers. I've seen many of their presentations and they're awesome! Companies that will be pitched include Tesla, Disney, Kraft-Heinz and Stericycle, plus internet ad fraud and gold. Registration is at http://bit.ly/Shortconf, and you can use my friends and family discount code, FF20, to save 20%.
2) Journalists from all of the major media outlets will be there, and CNBC is covering it as well. I was on their Halftime Report yesterday discussing the conference: www.cnbc.com/video/2018/04/26/kases-whitney-tilson-talks-the-art-and-pain-of-short-selling.html.
3) I just published the fourth, final (and my favorite) article in a series I've written entitled Lessons from 15 Years of Short Selling: https://seekingalpha.com/article/4166837-lessons-15-years-short-selling-veterans-advice. Summary:
To make money shorting, look for an edge, be patient, and don't be deterred by long investors and management.
To avoid getting your face ripped off, avoid valuation shorts, accelerating growth, and companies with insanely loyal customers.
Also avoid stocks owned by irrational investors and/or in industries with big, dumb acquirers, and never use options.
4) Speaking of accelerating growth, in addition to never shorting it, it's certainly been a very profitable strategy to go long it! Take a look at the year-over-year revenue growth rates each quarter over the past decade for Netflix, Google and Amazon (charts below). I don't know if I've ever seen companies this large (revenue run rates of $15, $150, and $200 billion, respectively) not just grow at these rates, but at accelerating rates. Mind boggling!
Netflix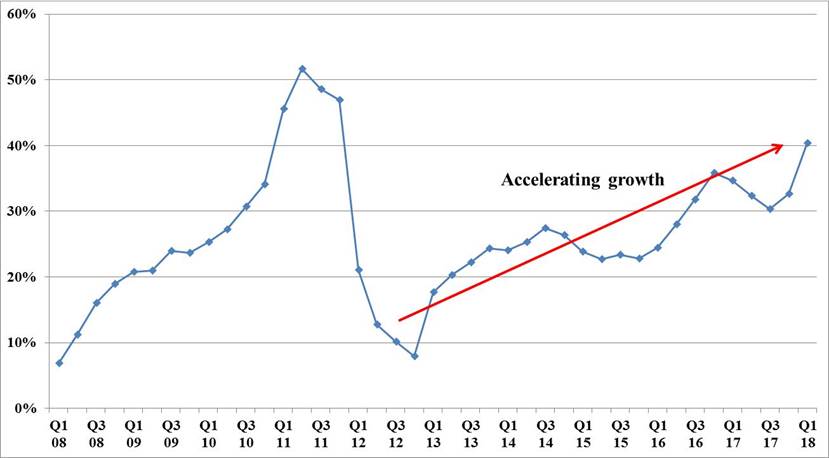 Alphabet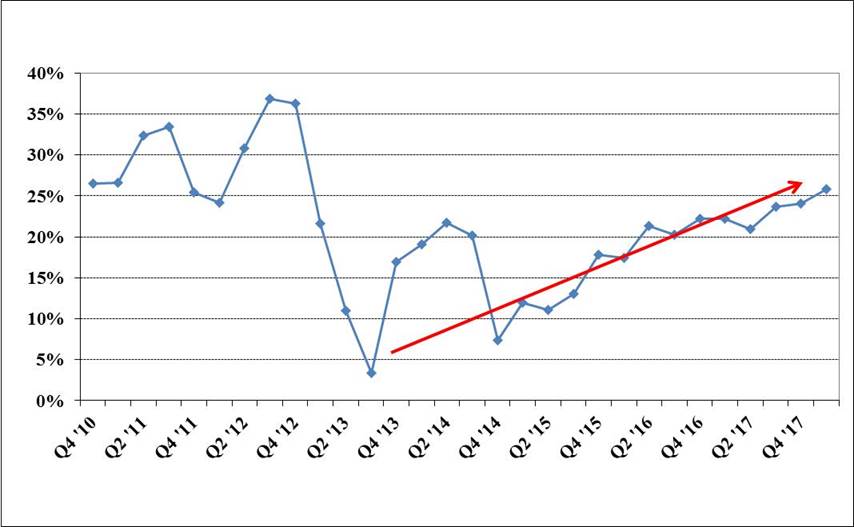 Amazon
5) Speaking of Amazon, attached is Jeff Bezos' latest shareholder letter (6 pages), which includes his first letter from 1997 (3 pages). Amazon is an amazing company that every investor should study carefully.
6) At the opposite extreme of these great companies is bitcoin, which, as the title of this article notes, is "the greatest scam in history…a colossal pump-and-dump scheme, the likes of which the world has never seen." (though I'd argue the internet bubble back in 1999 was as big a scam – and was much larger; the total market cap of all cryptocurrencies today is "only" ~$300 billion). This is an excellent article by Bill Harris, the former CEO of both Intuit (Quicken and TurboTax) and PayPal: Bitcoin is the greatest scam in history, www.recode.net/2018/4/24/17275202/bitcoin-scam-cryptocurrency-mining-pump-dump-fraud-ico-value. Excerpt:
I'm tired of saying, "Be careful, it's speculative." Then, "Be careful, it's gambling." Then, "Be careful, it's a bubble." Okay, I'll say it: Bitcoin is a scam.

In my opinion, it's a colossal pump-and-dump scheme, the likes of which the world has never seen. In a pump-and-dump game, promoters "pump" up the price of a security creating a speculative frenzy, then "dump" some of their holdings at artificially high prices. And some cryptocurrencies are pure frauds. Ernst & Young estimates that 10 percent of the money raised for initial coin offerings has been stolen.

The losers are ill-informed buyers caught up in the spiral of greed. The result is a massive transfer of wealth from ordinary families to internet promoters. And "massive" is a massive understatement — 1,500 different cryptocurrencies now register over $300 billion of "value."

It helps to understand that a bitcoin has no value at all.

Promoters claim cryptocurrency is valuable as (1) a means of payment, (2) a store of value and/or (3) a thing in itself. None of these claims are true.
7) No surprise here: The Crypto Crime Wave Is Here, www.wsj.com/articles/the-crypto-crime-wave-is-here-1524753366. Excerpt:
The Meza case is part of a recent spike in cryptocurrency crime, prompted by the soaring values of digital currencies like bitcoin. Chainalysis Inc., a firm that analyzes cryptocurrency transactions, says reported thefts of bitcoin worldwide increased from $3 million in 2013 to $89 million last year.

For many criminals, cryptocurrency is less cumbersome than cash. Hackers hold computer systems hostage and demand instant, anonymous payment in bitcoin. Drug dealers sell in dark corners of the internet, obscuring their names and locations. Narcotics traffickers move and launder their profits with clicks of a mouse. "The cases have exploded," says Gabriel Bewley, a special agent in the virtual-currency initiative at the Drug Enforcement Administration.

Blockchain Intelligence Group Inc., which makes software that tracks cryptocurrency use, estimates illegal activity accounts for about 20% of the transactions of five major cryptocurrencies—bitcoin, Monero, Zcash, ether and litecoin—or about $600 million each day. Researchers working at the University of Sydney used artificial intelligence to identify cryptocurrency transactions consistent with criminal behavior and estimated $72 billion of illegal activity last year using bitcoin alone.
8) Next weekend I will be attending my 21st consecutive Berkshire Hathaway annual meeting. If you're going to be in Omaha as well, I'd like to invite you to four events that Glenn and I are hosting on Friday evening, Saturday afternoon and Sunday morning/afternoon. They are free, open to all, and will take place in the St. Nicholas Room (2nd Floor) at the Hilton Omaha, right across the street from the CenturyLink Center where the meeting is held:
1) Our annual cocktail party from 8pm-midnight on Friday, May 4th. No agenda, no speeches, no dress code – just come, enjoy the drinks and snacks, and meet other value investors.
2) A casual get-together immediately following the annual meeting (~3:30pm) on Saturday, May 5th – just walk across the street or take the skybridge to the Hilton. It will end at 5:30pm.
3) A breakfast from 8-10am on Sunday, May 6th during which we'll give a presentation and take questions about Kase Learning and our various programs: a three-day Lessons from the Trenches bootcamp; a one-day seminar on How to Launch and Build an Investment Fund; and two programs for high school and college students: An Introduction to Economics, Business, Finance and Investing and An Advanced Seminar on Finance and Investing.
4) After the breakfast from 10am-3pm, we'll take questions and share additional case studies and materials, in particular those from my upcoming book (due out in August), Whitney's Worldly Wisdom: Life Lessons I've Learned from Warren Buffett and Charlie Munger.
To RSVP for any/all of these events, please go to: https://kaselearning-berkshire-events-2018.eventbrite.com
I look forward to seeing you!
Program Guide-Kase Learning Short Selling Conference-May 3, 2018(1)