The World's Largest Oil Producers
The world is in the middle of the first energy crisis of the 21st century.
High energy prices, especially for oil, gas, and coal, are driving decades-high inflation in various countries, some of which are also experiencing energy shortages. Russia's recent invasion of Ukraine has exacerbated the crisis, given that the country is both a major producer and exporter of oil and natural gas.
Q2 2022 hedge fund letters, conferences and more
Using data from BP's Statistical Review of World Energy, the above infographic provides further context on the crisis by visualizing the world's largest oil producers in 2021.
Oil Production: OPEC Countries vs. Rest of the World
Before looking at country-level data, it's worth seeing the amount of oil the Organization of Petroleum Exporting Countries (OPEC) produces compared to other organizations and regions.
| | | |
| --- | --- | --- |
| Region/Organization | 2021 Oil Production (barrels per day) | % of Total |
| OPEC | 31.7M | 35% |
| North America | 23.9M | 27% |
| Commonwealth of Independent States (CIS) | 13.8M | 15% |
| Rest of the World | 20.5M | 23% |
| Total | 89.9M | 100% |
The OPEC countries are the largest oil producers collectively, with Saudi Arabia alone making up one-third of OPEC production. It's also important to note that OPEC production remains below pre-pandemic levels after the organization reduced its output by an unprecedented 10 million barrels per day (B/D) in 2020.
Following the OPEC countries, the U.S., Canada, and Mexico accounted for just over a quarter of global oil production in 2021. Nearly 70% of North American oil production came from the U.S., the world's largest oil producer.
Similarly, within the CIS—an organization of post-Soviet Union countries—Russia was by far the largest producer, accounting for 80% of total CIS production.
The Largest Oil Producers in 2021
Roughly 43% of the world's oil production came from just three countries in 2021—the U.S., Saudi Arabia, and Russia. Together, these three countries produced more oil than the rest of the top 10 combined.
| | | |
| --- | --- | --- |
| Country | 2021 Oil Production (barrels per day) | % of Total |
| U.S. | 16.6M | 18.5% |
| Saudi Arabia | 11M | 12.2% |
| Russian Federation | 10.9M | 12.2% |
| Canada | 5.4M | 6.0% |
| Iraq | 4.1M | 4.6% |
| China | 4.0M | 4.4% |
| United Arab Emirates | 3.7M | 4.1% |
| Iran | 3.6M | 4.0% |
| Brazil | 3.0M | 3.3% |
| Kuwait | 2.7M | 3.0% |
| Total | 89.9M | 100.0% |
Over the last few decades, U.S. oil production has been on a rollercoaster of troughs and peaks. After falling from its 1970 peak of 11.3 million B/D, it reached a historic low of 6.8 million B/D in 2008. However, following a turnaround in the 2010s, the country has since surpassed Saudi Arabia as the largest oil producer. As of 2021, though, the U.S. remained a net importer of crude oil while exporting refined petroleum products.
Saudi Arabia and Russia each produced roughly 11 million B/D in 2021 and were the two largest oil exporters globally. In both countries, state-owned oil firms (Saudi Aramco and Gazprom, respectively) were the most valuable oil and gas producing companies.
From Europe (excluding Russia), only Norway made the top 15 oil producers, accounting for 2.3% of global production. The lack of regional output partly explains the European Union's dependence on Russian oil and gas, worsening the region's energy crisis.
How the Energy Crisis is Affecting Oil Production
After a deep dive in 2020, oil demand is resurfacing and is now above pre-pandemic levels. Furthermore, supply constraints due to sanctions on Russian oil and gas tighten the market and support high oil prices.
While the impact has been felt globally, European countries have been hit hard due to their reliance on Russia's fossil fuel exports, with some getting almost all of their energy fuels from Russia.
To combat the oil crunch, the rest of the world is ramping up oil supply through increased production or releasing strategic petroleum reserves (SPRs). U.S. oil production is expected to rise by 1 million B/D in 2022 to a record-high. Simultaneously, Western nations are calling on OPEC members to increase their output to ease prices. However, OPEC nations are sticking to their planned production hikes, with output still below early 2020 levels.
"We had a good discussion on ensuring global energy security and adequate oil supplies to support global economic growth. And that will begin shortly."– U.S. President Joe Biden on his recent visit to Saudi Arabia
The U.S. is releasing 180 million barrels of oil from its SPR, of which 60 million barrels will contribute to the IEA's collective release of 120 million barrels. But with oil demand expected to reach a new all-time high in 2023, it remains to be seen whether these efforts to increase supply will be enough to curb the crunch.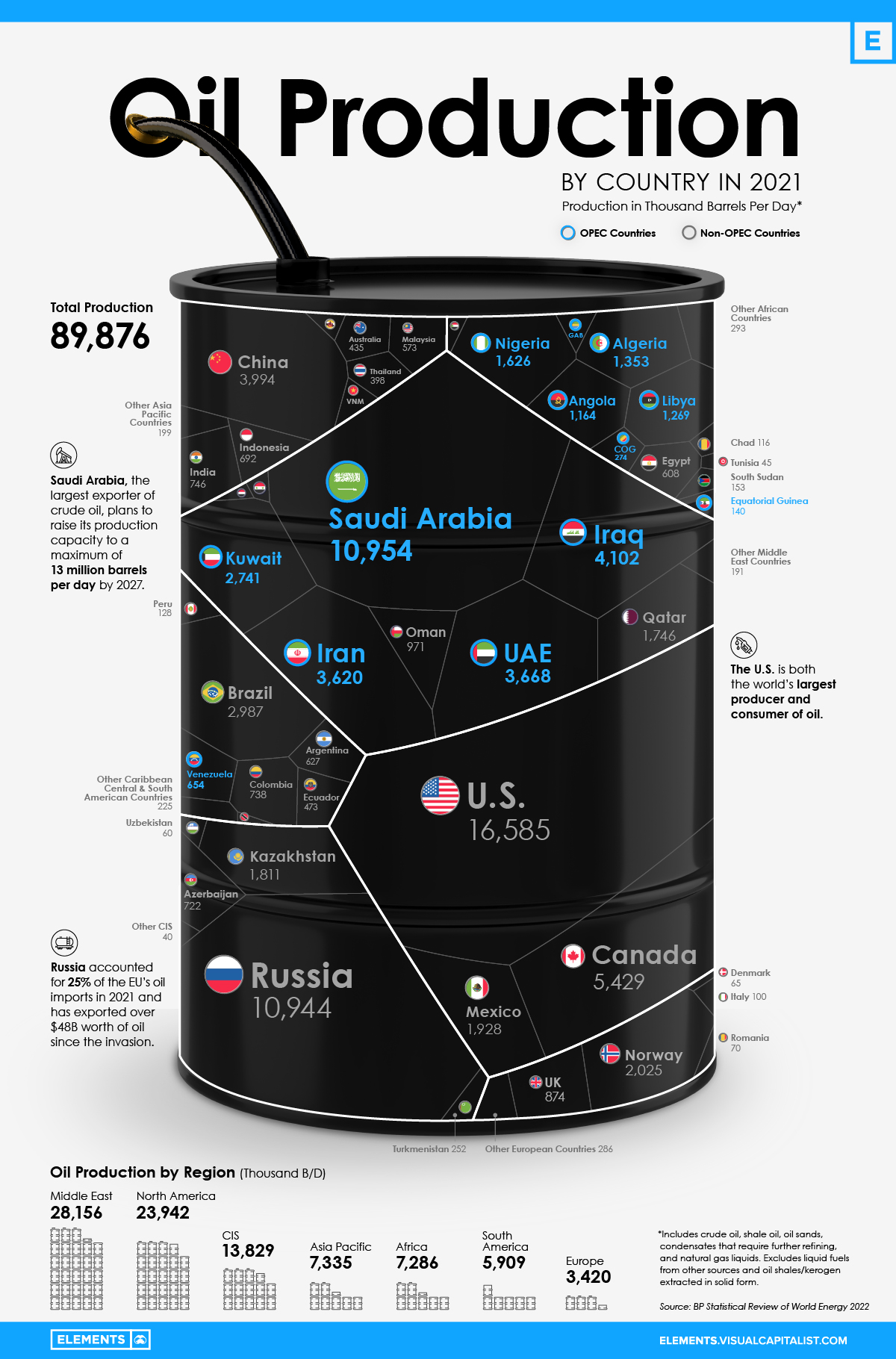 Article by Visual Capitalist