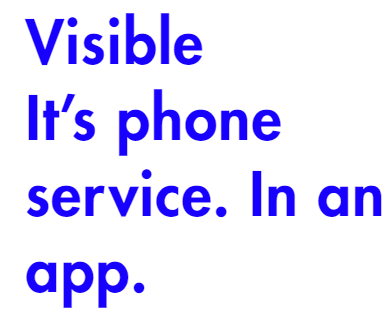 Verizon, earlier this year, quietly backed a startup carrier called Visible. Now, details are coming in that the startup is offering unlimited data, minutes, and messaging services for just $40, according to TechCrunch. The service uses Verizon's 4G LTE network.
Visible is not open to all, rather it's an invite-only service. To subscribe to Visible's early access program, a user needs an invite from a current user of the service. Once you get an invite, you can download its app from the App Store. For now, it's available only for iOS users, and works with unlocked iPhone models only.
Currently, its service is compatible with the iPhone X, iPhone SE, iPhone 8, iPhone 8 Plus, iPhone 6, iPhone 6 Plus, iPhone 7 and iPhone 7 Plus. Support for Android is expected to arrive soon.
Fund Manager Profile: Kris Sidial Of Tail Risk Fund Ambrus Group
A decade ago, no one talked about tail risk hedge funds, which were a minuscule niche of the market. However, today many large investors, including pension funds and other institutions, have mandates that require the inclusion of tail risk protection. In a recent interview with ValueWalk, Kris Sidial of tail risk fund Ambrus Group, a Read More
After a user fills in the asked information including the invite, Verizon sends out a SIM. Just put the SIM in your phone, activate the service and that's it. Subscribers have an option to pay via internet-based payment services like PayPal and Venmo.
With Visible service, users get a data speed of up to 5mbps and videos are shown in DVD quality. Another nice thing about the service is that there is no data limit or cap, and thus, no throttling. Also, users do not need to sign any contract for using the service.
"This is something that's been the seed of an idea for a year or so. There's a core group of people from the strategy side. There's a core group of five or ten people who came up with the idea," said Visible's head of marketing, Minjae Ormes.
Presently, Visible's business model is mostly virtual with no stores or sales people. New customers sign up using an app and the payment is also made online. Even the communication between the company and the user takes place via app only, including if a user plans to cancel the service.
With Verizon backing another carrier that could give it competition comes as a surprise.  However, it might be seen as part of Verizon's plan to prevent users from moving to rival carriers. In the first-quarter, Verizon lost 24,000 postpaid phone subscribers. So, backing Visible could at least help the company bring some of those under Verizon's umbrella.
Verizon already rules wireless services with about 150 million subscribers, compared to AT&T's 141.6 million, and the Sprint and T-Mobile subscriber base of 126.2 million. Now, the new company would help it to cover the attrition.
As of now, there is no information about how much Verizon invested in Visible. However, the startup's leadership team does include several of Verizon's former employees. In response to a question if "Visible is owned by Verizon," the company said "Yes, Visible is funded by Verizon."
"We operate independently and do things differently in the phone service category," said Visible's Brand Strategy Lead, Beth Veen, according to the Denver Post.
For Verizon, mobile telecommunications remains its core business, unlike AT&T, which is diversifying its revenue stream with the acquisition of Time Warner. So, it comes as no surprise that the company is building on its strengths by backing a low-cost service provider.
Also, like others, Verizon is betting heavily on 5G for future growth. The technology will be made available by this year's end. Verizon, on its end, has completed 11 city trial-runs, and is making preparations for the next phase.
"We are on the forefront of innovation that will drive the full suite of services and use cases that will be delivered by 5G technologies," said CFO Matthew Ellis previously.
Verizon could use 5G to better its residential and commercial internet service, and more importantly power the Internet of Things (IoT). IoT, which is a small segment of the company now, is its fastest-growing business witnessing double-digit growth last year.
Separately, Visible is not the only startup of its kind. Another wireless warrior, Wing, would also come up with its services soon, according to Business Insider. Wing, which is founded by the team behind the media site Elite Daily, would use the Sprint network to offer its services.
Wing, however, will be more like a traditional service provider, unlike Visible, which offers one plan for all. According to the company's website, it would offer several plans including $17 for a flip-phone and $27 unlimited plan.
On Thursday, Verizon shares closed up 1.75% at $47.20.