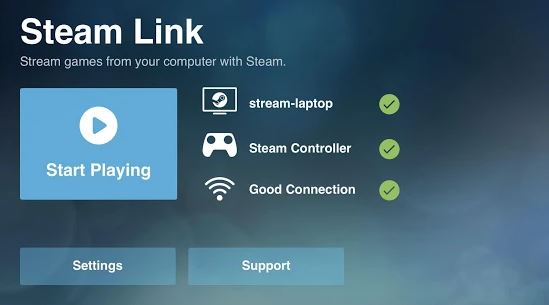 Just days after announcing that it was working on an app version of the Steam Link hardware, Valve has released the Steam Link beta app for Android. If you have an Android device, you can download it from Google Play Store. Though the Android beta is available right now, the public version of the Steam Link game streaming service will officially launch on May 21st. Finally, you'll be able to play Steam games on your smartphone, but it will have tons of limitations.
The Steam Link app allows you to stream your Steam library of games to your Android phones, tablets, and TVs. It requires your Android device to be connected to your PC via wired Ethernet or on the same 5GHz WiFi network. You won't be able to use the Steam Link app over LTE, at least for now. The app will run on any smartphone running Android 5.0 or later.
You will be able to play games away from your computer, but don't get too excited. You won't be able to play on your daily commute or while traveling because the Steam Link app has certain limitations. It works only as long as your Android device is on the same network as your PC. If you go beyond the range of your WiFi, you are out of luck. Fortunately, you'll be able to enjoy gaming while in the toilet or in the laundry room.
ValueWalk's October 2022 Hedge Fund Update: Haidar Capital Surges 225%
Welcome to our latest issue of ValueWalk's hedge fund update. Below subscribers can find an excerpt in text and the full issue in PDF format. Please send us your feedback! Featuring investors exit long-short hedge funds, the oil market is now "broken", and Haidar Capital surges 225%. Q2 2022 hedge fund letters, conferences and more
Sam Lantinga, senior software engineer at Valve, told Variety that people who have a wired network, powerful rig, and a very good client device will be able to stream games at 4K resolution and 60fps. If you don't have that kind of setup, the Steam Link app will try to stream video games at 1080p and 60fps.
Valve said the app would support the Stream Controller and other Bluetooth gamepad devices such as the Xbox One controller and other Android-compatible devices. Valve is yet to release the complete list of controllers the app will support. According to Variety, Steam Link will also work with Android TV set-top boxes as long as they are connected to the same WiFi network as your PC.
Valve told fans that the iOS version of the app is still pending review with Apple. It's unclear when the company will release the iOS app. It is said to support iPhones and iPads running iOS 10 or later and Apple TVs running tvOS 10.3 or later.
Steam Link was originally launched in 2015 as a hardware device to stream your Steam content wirelessly from a PC to a TV set. Valve is shrinking the hardware peripheral's functionality into a smartphone app now. The Steam Link app relies on the same technology as the hardware. It would encode H.264 video and send it over a low-latency network protocol to display it on a screen. The hardware wasn't a huge success, and Valve later released the software for smart TVs.
Right before introducing the Steam Link app, Valve rolled out a Steam Client Beta to enable Bluetooth Low Energy connectivity for the Steam Controller. The company has confirmed that its app will also support the MFi controllers. Users will be able to connect their controllers to their eligible Android and iOS devices without having to rely on the USB wireless receiver. The Bluetooth Low-Energy connection will allow you to connect your Steam Controller to a laptop or tablet without a USB port.
Folks at Cnet point out a few potential issues with the Steam Link app. For instance, streaming PC games on a phone isn't the best way to enjoy it. The controls and content don't translate well on the phone. Reading the text will be a strain on the eyes. If you do want to play games like Fortnite, you'd get a much better experience by downloading the app which is optimized for mobile rather than streaming it via Steam Link.