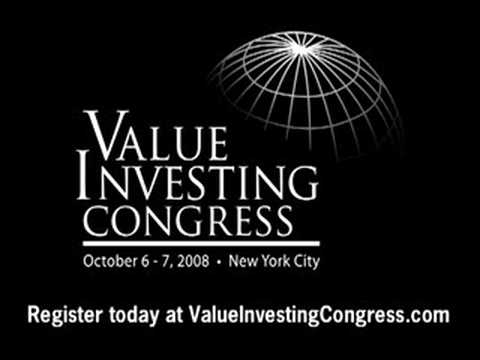 The three day Value Investing Congress ended today. I covered the first day in a previous article Some Highlights From The First Day of The Value Investing Congress. You might want to also check that out.
I will summarize some of the points that four great investors made at the Congress on day two. Kudos to MarketFolly who provided a more in depth coverage of the conference, I recommend the readers to check it out.
Tom Russo of Semper Vic Partners: Russo discussed global value investing at length. Russo is bullish on Nestle and it's potential growth in emerging markets. Russo also likes Pernod Ricard for being one of the leading brands worldwide. He especially sees potential for the company in China. Lastly, Russo also mentioned SABMiller and praised their as they have burdened EBITDA margins in Africa in order to make investments.
Khrom Capital killed it during the first quarter, continuing its strong track record; here are their favorite stocks
Khrom Capital was up 32.5% gross and 24.5% net for the first quarter, outperforming the Russell 2000's 21.2% gain and the S&P 500's 6.2% increase. The fund has an annualized return of 21.6% gross and 16.5% net since inception. The total gross return since inception is 1,194%. Q1 2021 hedge fund letters, conferences and more Read More
David Nierenberg of D3 Funds: Nierenberg likes to be concentrated in microcap growth companies and work with management. 66% of his stocks have exposure to emerging markets. Nierenberg holds RadiSys (RSYS), an embedded computing company with $3+ per share net cash and has almost no analyst coverage. He thinks the next generation revenue is growing rapidly. By Q2 of 2010, RSYS will have outsourced 100% of its production and sees a 3 year earnings compounded annual growth rate (CAGR) of 39%.
Whitney Tilson & Glenn Tongue of T2 Partners: Presented their bullish case on Anheuser-Busch InBev (BUD) which is trading for 8.5x 2012 free cash flow. Tongue thinks the market is unfamiliar with the management behind the company and sees similarities to Rose Blumkin at Nebraska Furniture Mart.
Whitney Tilson talk believes the overall market is overpriced with the S&P 500 trading at 20.4x inflation-adjusted trailing earnings, well above the historic average. Tilson sees more pain coming in the housing markets and notes that prices are still well above year 2000 levels. Tilson was on CNBC where he discussed why he likes BUD, and talked about his short position in the homebuilders and Palm.
I will have more notes from Day three soon.
Below is a video: