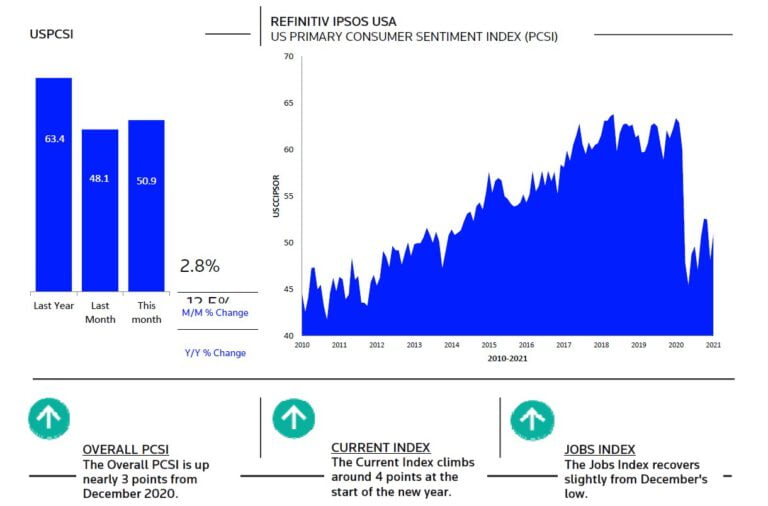 WASHINGTON, DC ‐ According to the Refinitiv/Ipsos Primary Consumer Sentiment Index, American consumer confidence for January 2021 is at 50.9, up 2.8 points from last month. The index fielded from December 25, 2020, to January 8, 2021.
Q3 2020 hedge fund letters, conferences and more
American Consumer Confidence Is Back Up In 2021
After a sharp 4‐point decline in December, American consumer confidence has returned to levels seen in September 2020 (50.6). The Current, Expectations, Investment, and Jobs sub‐indices all experienced similar improvements, with each experiencing increases of more than 2 points.
Two Sigma's Venn outlines factor performance for March
Equities did well last month as most market watchers have noted that Value outperformed growth. In his March Factor Performance report, Alex Botte of Venn by Two Sigma noted that March was a strong month for the global Equity factor, especially in developed markets. Q1 2021 hedge fund letters, conferences and more He said Europe Read More
Even though the Current, Expectations, Investment, and Jobs indices (currently at 41.1, 64.0, 45.0 and 57.5, respectively) are all up from last month, they remain lower than readings in October and November.
More significantly, comparisons to January 2020 show that all indices remain much lower than pre‐pandemic levels. American consumer confidence is down 12.6 points from last year. The Jobs (‐16.8) and Current (‐15.3) continue to struggle the most during the pandemic, followed by Investments (‐12.1). As was seen in previous months, the Expectations index is down only 3.7 points (was down 6 points Dec. 2020 vs. Dec. 2019), suggesting that Americans have more positive expectations for 2021. "Even as the United States reaches new highs in COVID‐19 deaths, American consumer confidence is up nearly 3 points as we enter into 2021. This could be attributed to greater access to COVID‐19 vaccinations, along with the approval of another round of stimulus checks paired with the arrival of a new year," Chris Jackson of Ipsos observes. "This improvement across both the national and sub‐indices brings sentiments up slightly, but they have not yet overcome the decline in December 2020 and are below October and November readings."
Jharonne Martis, Director of Consumer Research at Refinitiv, said, "Likewise, the Refinitiv earnings forecast suggests Q1 2021 will mark the first positive quarter in over a year, as retailers will be facing much easier year‐over‐year comparisons. Still, among the consistent strongest sectors, Household Durables, Internet & Catalog Retail, and Leisure products are expected to see positive earnings growth in Q1 2021 ‐‐ and perhaps even receive a boost from stimulus check spending."
Current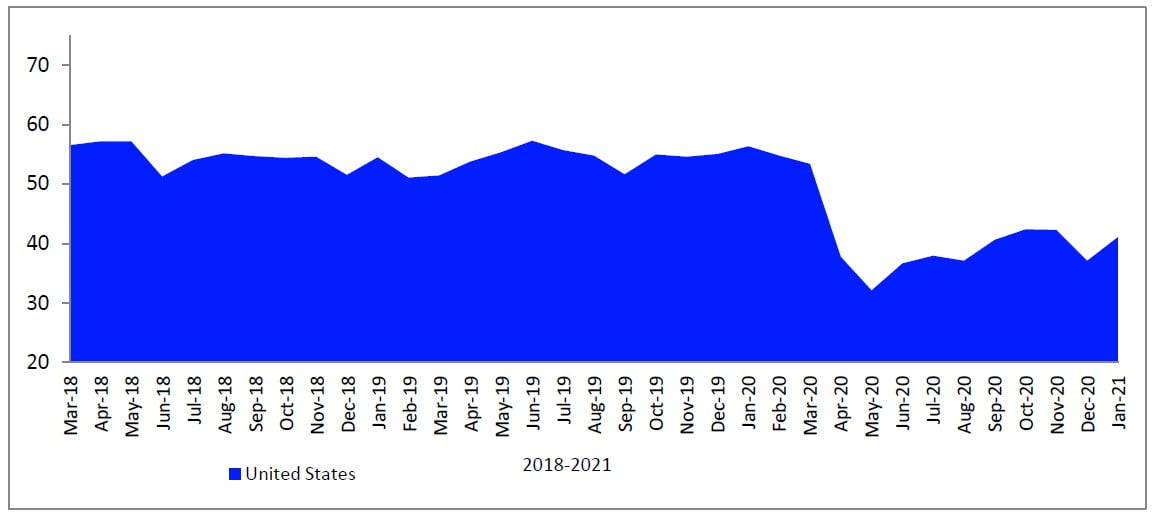 At 41.1, the PCSI Current Condition Index is up 3.9 points from December, showing the greatest month-on-month improvement across the sub-indices. After falling more than 5 points in December, the Current Index remains below November's 42.3 score but is higher than its pandemic average (38.6). The Index is also more than 15 points behind its reading in January 2020 (56.4) and nearly 10 points lower than its pre-pandemic average (50.9, from May 2014-March 2020).
Expectations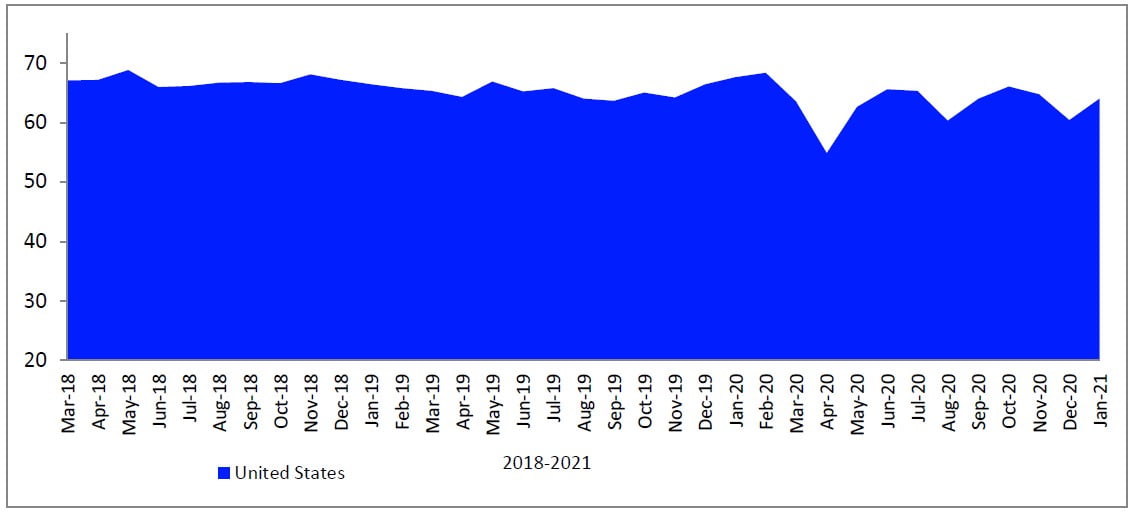 The PCSI Expectations Index is at 64.0 after experiencing a 3.6 increase from December 2020 (60.4). The Index is slightly above its pandemic average (62.8) and shows the only single-digit decline from January 2020 (-3.6) across the sub-indices.
Investment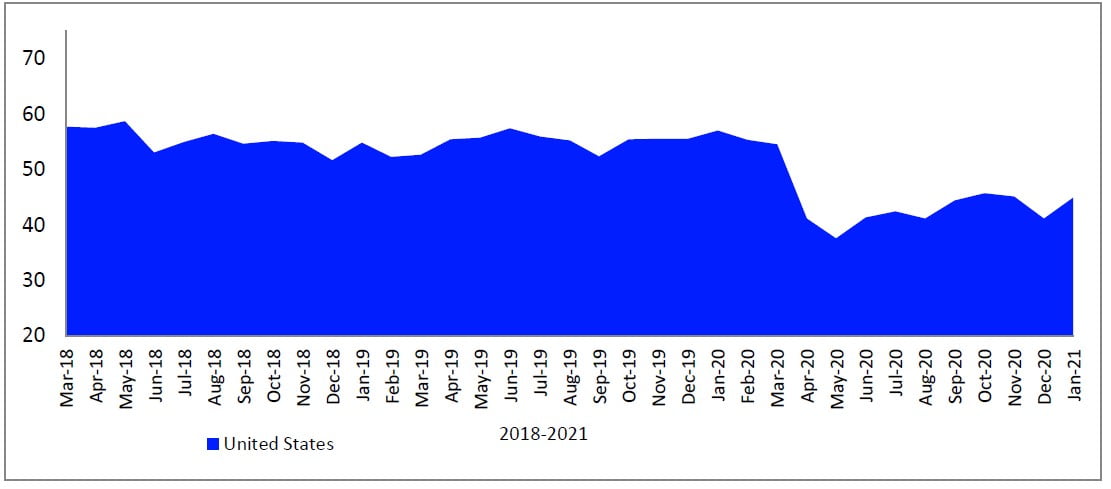 Like the other sub-indices, the PCSI Investment Index is up this month (+3.8 points). At 45.0, the Index is in line with its November reading (45.2) and higher than its pandemic average (42.6). Nonetheless, investment expectations are drastically lower than in January 2020, when the Investment Index was at 57.1 (12.1 points higher than January 2021).
Jobs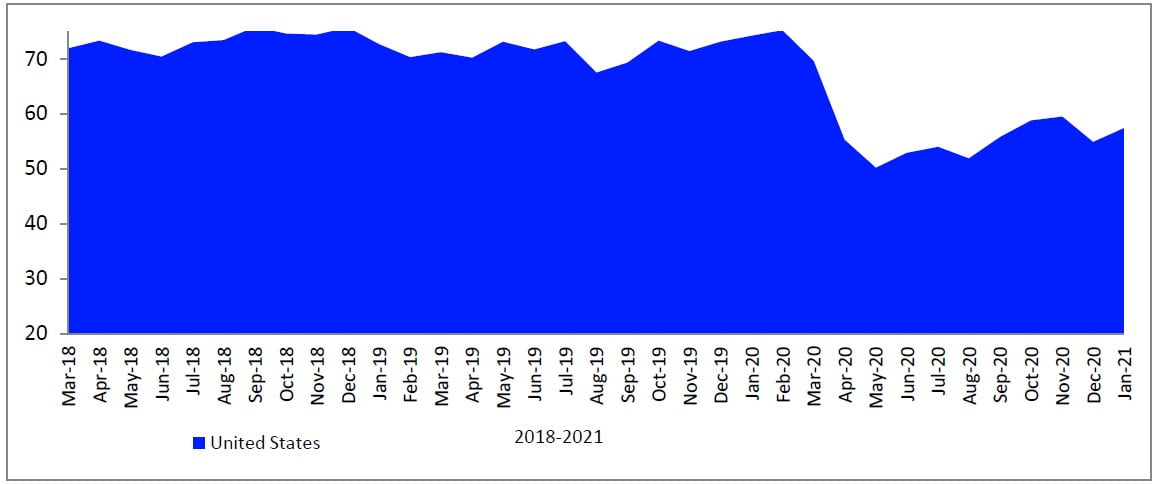 The Jobs Index (57.5) saw the smallest month-to-month change across sub-indices, with a gain of 2.5 points. While now above its pandemic average (55.2), it is dramatically lower than its prepandemic average (68.2). The Jobs Index displays the greatest difference across sub-indices compared to January 2020 (74.3), with a decline of 16.8 points.