Trident Fund LP commentary for the month ended December 2020.
Q3 2020 hedge fund letters, conferences and more
Trident Fund LP December 2020 Performance
The Trident Fund LP returned +1.6 percent in December, and the fund is +15.0  percent net for 2020.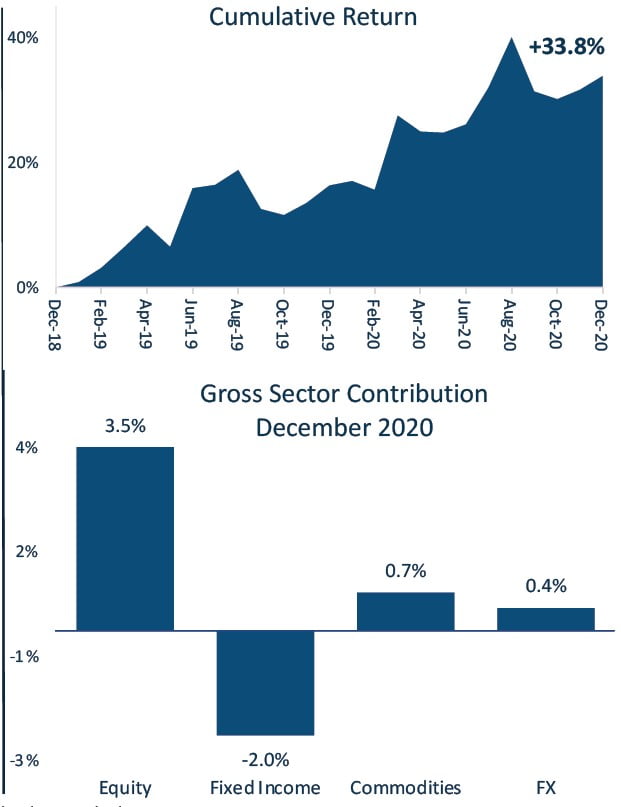 In December, the Global Central Bank accommodation fueled record-setting prices in stocks, commodities, and metals that led Trident to a strong finish to 2020. The Risk Regime Model and the Engle model contributed equally to the month's returns, while the Vega model did not trade.
In the fourth quarter and December, market performance mirrored what happened for the second half of the year when strong stock and commodities markets and a weak dollar combined for consistent and balanced portfolio returns. The biggest drag on portfolio performance came from European fixed income, which was in stark contrast to 2019 when the bulk of the Trident returns came from European fixed income.
Returns Across All Models
In 2020 all three of Trident's models traded, and all three made money. In the strong bull stock market of 2019, the Vega model did not trade. In 2019, seventy-five percent of the returns came from the Risk Regime model, as it correctly took "risk-on" positions in equities and fixed income. In 2020, returns across models were more balanced. The Risk Regime Model earned about forty percent of the returns, while the Engle model contributed half, and the Vega model contributed about a tenth of the return.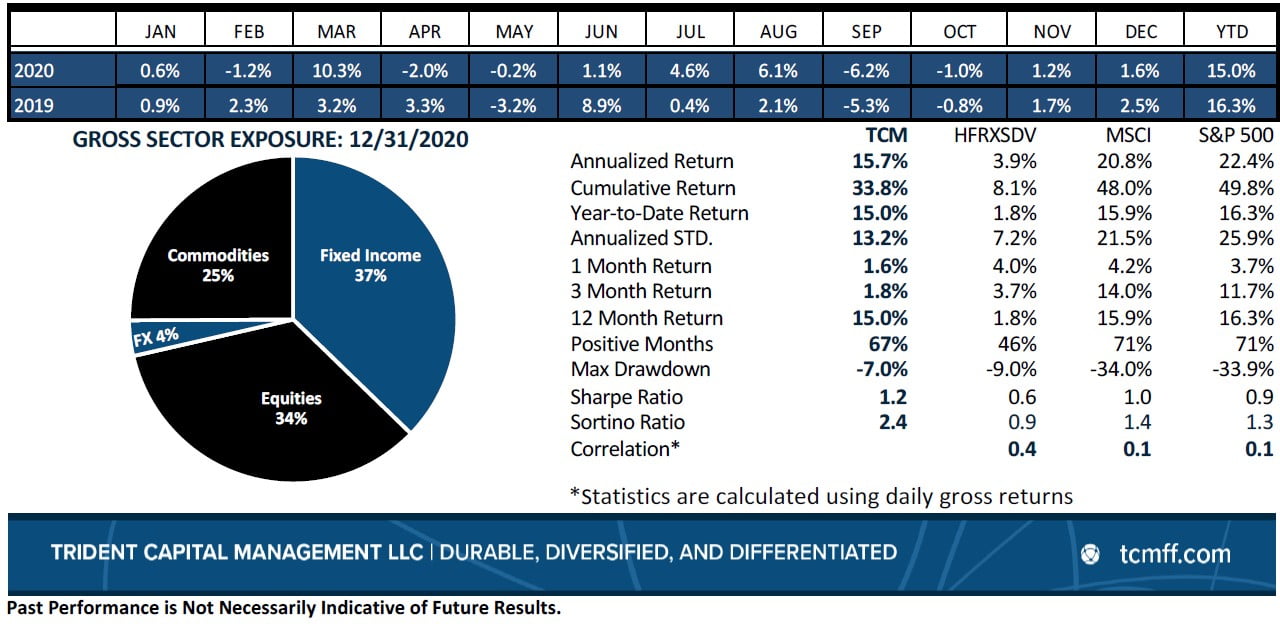 2019 and 2020 were dramatically different years, "Euphoria" and "Distress," both years the Trident Systematic Global Macro strategy hit its longer-term target return of +15% net, volatility target of 13%, and no correlation to the S&P 500, MSCI, Barclay Aggregate Bond Index, and Commodities. The strategy has outperformed its benchmark by over one thousand basis points per year and remains in the top decile of the universe and against the major competitors.
Towards the end of 2019, we predicted the S&P 500 would have a strong run to thirty-eight hundred "Unsinkable Stock Market." Looking ahead to 2021, Trident models predict a strong market for commodities, a flat market for equities, a weak market for the dollar, and the first sustained increase in global bond yields since 2015.