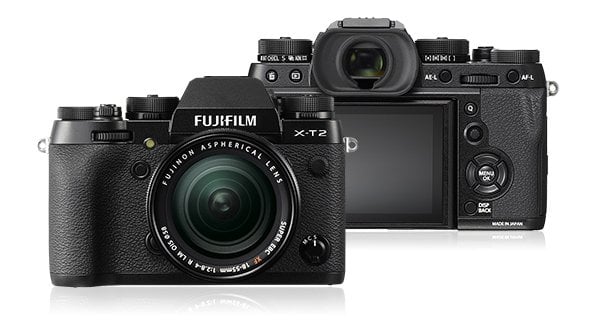 Whether you're looking for a simple step up from your smartphone camera or a professional-quality piece of equipment, 2018 has seen some of the best mirrorless cameras yet. We've compiled five of our favorites to help give you an idea of the greatest the industry has to offer.
Fujifilm X-T2
Gates Capital Management Reduces Risk After Rare Down Year [Exclusive]
Gates Capital Management's ECF Value Funds have a fantastic track record. The funds (full-name Excess Cash Flow Value Funds), which invest in an event-driven equity and credit strategy, have produced a 12.6% annualised return over the past 26 years. The funds added 7.7% overall in the second half of 2022, outperforming the 3.4% return for Read More
We'll kick off the list for a camera designed for the photography enthusiast. It's not exactly inexpensive at around $1300, but it gives a good bang for your buck and is the perfect model if you'd like to start taking your photography from a hobby into something more.
The Fujifilm X-T2 is one of the best mirrorless cameras of 2018, and is a significant upgrade over its predecessor – the X-T1. Perhaps the biggest change is the autofocus system with tracking of moving subjects now much more precise.
With technical specifications including 8 frames per second burst shooting, a double-hinged rear display, bright EVRF, and a 24.3MP X Trans III CMOS sensor – it offers professional-quality performance for a slightly more accessible price.
Olympus OM-D E-M10 Mark III
We feel that the Fujifilm model offers a good balance of performance and affordability, but if you're looking for something a little more on the entry-level side of things, one of the best mirrorless cameras around is the Olympus OM-D-E-M10 Mark III.
The camera, while not as fully-featured as some of the more expensive devices on this list, sports a 5-axis image stabilization system, a good electronic viewfinder, 8.6fps burst shooting speed as well as support for 4K video. While it's priced at around $600, it's definitely not a toy – bringing your photography to the next level without breaking the bank.
Sony Alpha A9
Taking a trip to the opposite end of the spectrum, the Sony Alpha A9 is one of the best mirrorless cameras – hands down. It is, however, very expensive at over $4000.
With that said, when you pay a premium you get a premium product. With lightning-fast 20fps burst shooting, one of the best AF systems around, as well as a top-performing EVF that doesn't blackout when you're shooting – it meets, and even exceeds the best that manufacturers like Canon and Nikon have to offer.
Panasonic Lumix G9
The Panasonic Lumix G9 is one of the best mirrorless cameras on our list, and strikes that perfect middle ground between enthusiast and semi-pro. You won't be getting high-end shots from the camera, but the specifications are certainly nothing to sneeze at.
When paired with an excellent lens, you can enjoy 60fps shooting alongside a wealth of advanced features that allow those who are trying to take their photography to the next level to take that leap into the higher echelons of shots. It's definitely one of the best mirrorless cameras on the market, and at a price of $1700 it's certainly a steal.
Sony Alpha A6500
There are some seriously awesome pieces of equipment on this list of the best mirrorless cameras, but a lot of them are a little bulky and unwieldy. You can try out the Sony Alpha A6500 if you're looking for something with the tech specs to play in the big leagues while also dodging the annoyance of a heavy DSLR. It's also on the cheaper side at around $1100.
While the autofocus isn't quite as good as a DSLR, it comes pretty darn close – especially in bright lights. The tracking is also excellent, and the electronic viewfinder is one of the best we've seen in this price range. Add to that the built-in WiFi and NFC connectivity that allows you to share images to a smartphone, and it's clear we have a winner on our hands.