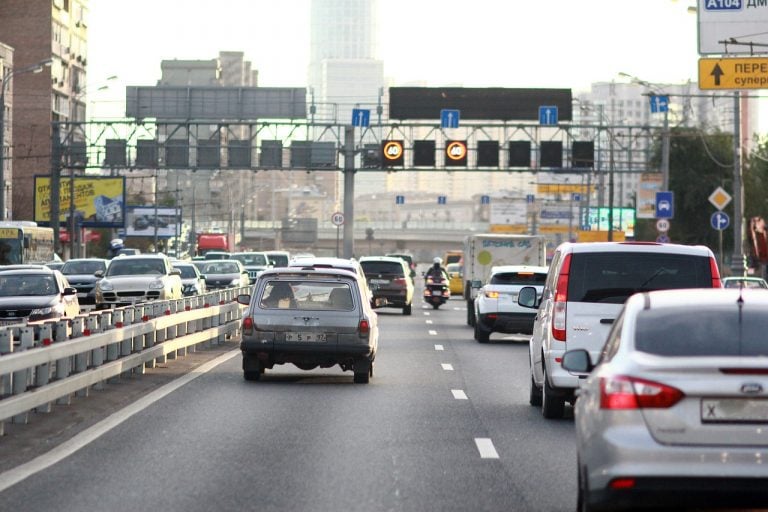 People in cities like Los Angeles, San Francisco, New York, and London often crib about traffic congestion in their cities. But things are far worse in many other cities. In fact, no US city features among the top 10 most traffic congested cities, according to data from global navigation services provider TomTom.
TomTom has published its 2018 Traffic Index, which sheds light on traffic congestion levels in 403 cities across the globe. To analyze congestion, the navigation technology company established a baseline travel time in each city during free-flow and uncongested conditions. Then it collected travel time data throughout the day across the whole year.
It compared the traffic data against the travel time taken in free-flow conditions to determine the extra travel time (in terms of percentage). For instance, if the congestion level in a city is 80%, it means the travel time is 80% more than what the same trip would take in free-flow conditions.
This Crypto Hedge Fund Manager Thinks The Crypto Winter Is Almost Over
When the Great Financial Crisis hit in 2008, the pseudonymous Satoshi Nakamoto published the first paper on bitcoin, proposing a new financial system that didn't depend on "trusted" third parties. However, today's crypto ecosystem has diverged so far from the original intent of cryptocurrency set out in that paper that it's virtually unrecognizable. Now we're Read More
TomTom's VP of Traffic Information Ralf-Peter Schaefer said in a statement that traffic congestion has been growing worldwide. About 75% of the 403 cities surveyed by TomTom showed increased or stable congestion in 2018 compared to 2017. It means drivers are wasting more time sitting in traffic.
These are the top 10 most traffic congested cities on the planet, as per TomTom's 2018 Traffic Index.
10- Recife, Brazil (Congestion level: 49%)
This northeastern Brazilian city witnesses the heaviest traffic between 7am and 8am, and again between 5pm and 8pm. Recife has a population of around 4 million. It has one of the largest metro rail systems in Brazil, which is integrated with bus terminals. But there is still a lot of traffic congestion on roads.
9- Mexico City, Mexico (Congestion level: 52%)
Mexico City is the most populous city in North America, with a population of 20.9 million. Drivers in Mexico City lost 218 hours to congestion in 2018. The traffic congestion level of 52% has also affected the city's economic growth. It's one of the small number of cities that saw no change in congestion levels since 2017.
8- Bangkok, Thailand (Congestion level: 53%)
The traffic congestion in Bangkok declined from 55% in 2017 to 53% in 2018. But the travel time of commuters there still is higher by more than half of what it should be in uncongested conditions. Bangkok has a population of more than 8 million. The city is known for ornate shrines and its vibrant nightlife. Its urban planning and infrastructure have failed to keep up with the rapidly growing population.
7- Jakarta, Indonesia (Congestion level: 53%)
Jakarta is the 7th most traffic congested city in the world, though it has seen a dramatic decline in congestion levels. According to TomTom, congestion levels in the Indonesian capital declined from 61% in 2017 to 53% in 2018. The city witnesses maximum traffic between 5pm and 7pm. It is currently the world's second-largest urban agglomeration with a population of 30 million.
6- Istanbul, Turkey (Congestion level: 53%)
The most populous city of Turkey has a well-developed road infrastructure and public transportation system. However, it still struggles with congestion. People spend an extra 53% travel time due to heavy traffic. It has a population of around 15 million. Istanbul is a transcontinental city with some part of it falling on the Asian side while the other on the European side.
5- Moscow, Russia (Congestion level: 56%)
Most of Moscow's streets and avenues were designed long before the advent of automobiles. Commuters often spend hours every working day going to and from work. Though the average congestion level is 56% in Moscow, it could get as high as 125% on some days. Moscow has an estimated population of 17 million.
4- New Delhi, India (Congestion level: 58%)
New Delhi was the second most traffic congested city in the world in 2017, but it slipped to 4th place in 2018. The congestion levels have come down from 62% to 58% in the same period. However, the congestion could shoot up by as much as 73% during morning rush hour and 93% during the evening.
3- Lima, Peru (Congestion level: 58%)
While congestion level in New Delhi declined by 4%, it jumped 8% in Lima to 58% in 2018 compared to 2017. More than two-thirds of its population uses public transport. The Peruvian capital is one of the largest cities in South America. Lima has a population of around 9 million.
2- Bogota, Colombia (Congestion level: 63%)
Bogota is one of the most traffic congested cities on the planet. On average, commuters spend 97 minutes to and from work on a weekday. The city's railway transit infrastructure is almost non-existent. Its congestion level increased marginally from 2017 to 2018. The city has been upgrading its infrastructure rapidly since last decade.
1- Mumbai, India (Congestion level: 65%)
The financial capital of India retains the title of the most traffic congested city on the planet despite a 1% decline in congestion levels. Mumbai suffers from the lack of sufficient road space, high population, increasing car density on roads, and low adherence to traffic rules. The congestion levels go up to 82% during morning peak hours and 102% in the evening.