Whitney Tilson's email to investors discussing how to survive periods of poor performance; our 3 program on video; Facebook; Spirit Airlines; Trump effect?
1) One of my favorite modules in our seminar on How to Launch and Build an Investment Fund is entitled: "How to survive periods of poor performance." I suspect many of the young investors we've taught over the past year, however, weren't paying much attention because, having only experienced a long, complacent bull market, in which every dip was a buying opportunity, it was hard for them to really understand what a bad market looks and feels like, when everything you own is getting pounded and everything you buy immediately drops significantly.
Q3 hedge fund letters, conference, scoops etc
In our module, Glenn and I, based on our combined half century of experience, share our thoughts on how to manage your portfolio, emotions and investors during tough times.
As a special, one-time, short-term bonus for anyone reading this email over the holidays, we've made the nine-minute video of this module available for free – but only until Jan. 31. You can access it here (scroll down to #11).
If you wish, you can register on this page for the entire 12-hour seminar – use discount code VW10 for a big price decrease, which includes 12 teaching modules, three guest speakers, and 12 answers to questions.
2) We also teach a 36-hour Lessons from the Trenches: Value Investing Bootcamp, which is available on video here (use discount code VW10). Two of the 13 company case studies we teach are in the news:
Andrew Left published this report on Facebook (I share his bullishness): Citron Research Backing Up the Sleigh on Facebook – 2019 S&P Stock of the Year. Excerpt:
Facebook is growing faster than 95% of the S&P with margins higher than about 90% of the S&P. However, for the first time, Facebook is trading at a discount to the S&P and is at its lowest multiple ever.
A nice WSJ article about Spirit Airlines: From Tardy to On-Time: Spirit Airlines Tries to Shed Old Image. Excerpt:
Spirit told investors in November that it expects to notch year-over-year unit revenue growth of 11% in the fourth quarter, more than triple what Delta Air Lines Inc. is anticipating. Spirit's shares are up more than 28% this year, while most other airlines' stocks have languished.
In the bootcamp, we not only teach you how to be a better fisherman, but also throw you a few fish!
3) Lastly, if the recent market turmoil has you thinking about doing some more short selling, but sure to check out our Advanced Seminar on Short Selling. We can save you from a lot of expensive mistakes in this perilous endeavor!
Further information about all three of our programs, which we just made available on video last week, is posted here.
4) A line from my recent missive to my investing email list got picked up in this story in the NYT: Stocks Close in on Bear Market as Trump and Mnuchin Fuel Christmas Eve Drop. Excerpt:
Some investors argued that the stock slump in the United States is still mild compared with previous drops.
"While stocks, in my opinion, have gone in the past couple of months from very richly valued to merely the high end of fair value, they're not cheap by any measure — much less insanely cheap like they were a decade ago," Whitney Tilson, founder of the investment fund Kase Capital Management, said in a note to investors.
5) Everyone is trying to figure out if correction is the beginning of something worse or a great buying opportunity. The answer to this depends, in part, on what's causing it. There are two schools of thought: that it's due to the fundamentals vs. Trump. Regarding the former, a friend emailed me:
"Trump's administration was in disarray since the day he was elected yet the bubble grew for two more years. This bear started in October and it's 100% about interest rates and liquidity as Powell necessarily takes away the perpetual punch bowl provided by the trio of bubble-blowing idiots who ran things before he did. As a counter-factual, I *guarantee* you that if Trump fired Powell and stuck in a dopey money-printer like Kashkari, any initial panicked sell-off would be an incredible buying opportunity as the asset bubble would resume full force.
In the last three months QT increased to $50B/month and ECB QE was slashed from €30B to €15B to €0 (starting last week) and real Fed funds rates turned positive for the first time in 10 years! The only mystery is why the market wasn't discounting this six months ago."
Re. those who believe it's Trump, see these articles:
WaPo: A recession is coming. Trump is going to make the recovery worse.
WaPo: Wonder how the Trump administration would handle a financial crisis? Well, now we know.
Krugman: The Ghost of Trump Chaos Future
My view is that it's a bit of both – and I don't expect either to get better anytime soon. That said, the economy remains strong and I don't see the type of fraud and hidden leverage that sank our financial system in 2008, so comparisons to this period are invalid.
PS--Happy holidays from Kenya! Here's a picture of me with my family on safari a earlier this week: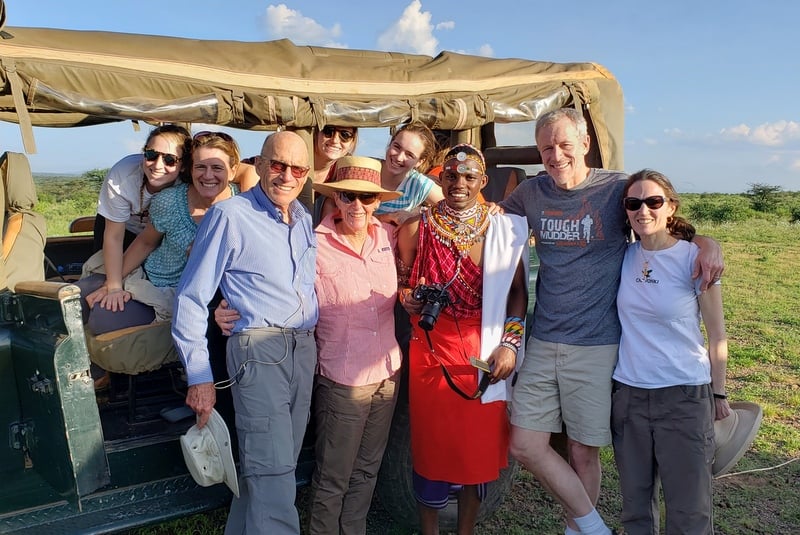 I've posted more pictures and details about our trip on Facebook here, here, here and here.