Tesla stock sales come amid lower fund sentiment in recent months
With Tesla Inc (NASDAQ:TSLA) stock off to a strong start, disclosure filings made after Tuesday's market close revealed three company insiders sold shares in Elon Musk's electric vehicle company.
The trades were first spotted on Fintel's Insider Trading Tracker later that evening, a dashboard showing filings of Securities and Exchange Commission Forms 3, 4 and 5.
Q4 2022 hedge fund letters, conferences and more
---
Find A Qualified Financial Advisor
Finding a qualified financial advisor doesn't have to be hard. SmartAsset's free tool matches you with up to 3 fiduciary financial advisors in your area in 5 minutes.
Each advisor has been vetted by SmartAsset and is held to a fiduciary standard to act in your best interests.
If you're ready to be matched with local advisors that can help you achieve your financial goals, get started now.
---
TSLA's share price is up more than 80% from 2022 lows of around $100 per share. Yet, even with the latest relief rally, at Tuesday's close of $187.12, the stock is trading at more than 50% below all-time highs achieved in late 2021.
Who sold?
Chief Financial Officer Zachary Kirkhorn sold about 10,455 shares in a transaction worth $2.06 million. The CFO owns a total of 203,073 shares after the sale. He also sold around 3,750 shares in both January and February.
The group's Chief Accounting Officer, Vaibhav Taneja, sold 2,466 shares with a value of $483,000, leaving him with 100,458 shares owned. Taneja last sold shares in December.
Rounding out the insiders is Andrew Baglino, Tesla's senior vice president of powertrain and energy engineering, who sold 1,298 shares in a transaction valued at $254,000. He now owns 65,547 shares. The executive has also sold 10,500 TSLA shares in each of the last three months.
Institutions have also been reducing exposure to Tesla in recent months. The Fintel Fund Sentiment Indicator calculates a score of 11.92, with a range of 0 to 100, with the high end reflecting the strong positive institutional interest. That puts TSLA stock in the lowest 3% when screened against 36,467 other globally screened securities in the dashboard.
There are still 3,811 institutions on the register, collectively holding 1.55 billion Tesla shares.
Last week, Tesla held its investor day in Austin, Texas with Musk presenting his "Master Plan, Part 3" to the world.
The event focused on the CEO's plans to scale up the company's production to 20 million cars a year by 2030 as competition in the sector increases.
Shares declined 7% after the event failed to excite investors while analysts seemed broadly positive on the outlook. ARKInvest's Tasha Keeney wrote in a note to clients that she and colleague Sam Korus "believe Tesla shared news more profound than a product prototype: the roadmap for continuous cost declines associated with scaling production."
Goldman Sachs analyst Mark Delaney believes the event should boost investor sentiment around management's ability to cut costs by half with its latest generation platform.
Fintel's consensus target price of $201.49 suggests the stock could rise 7.3% over the net year.
The chart below shows analyst forward revenue forecasts for the next five years. Some institutions expect sales to taper off towards the end of the decade while others expect a sharp uptick.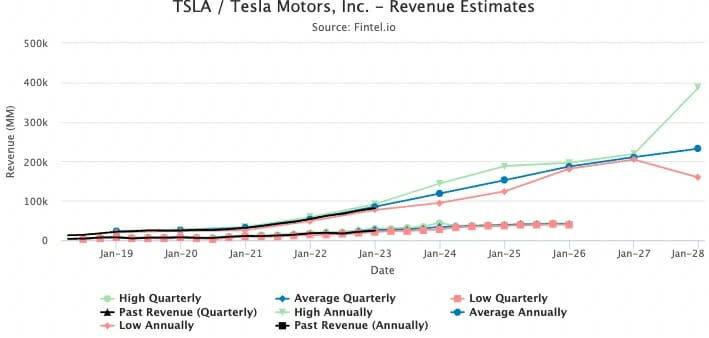 Article by Ben Ward, Fintel