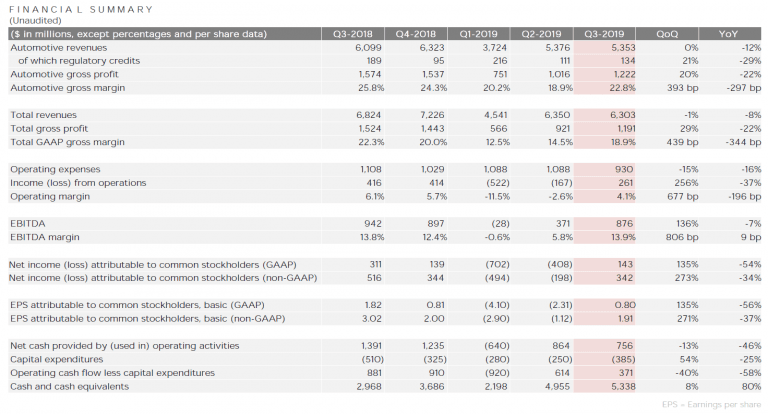 Whitney Tilson's email to investors giving his thoughts on Tesla Inc (NASDAQ:TSLA)'s positive net income earnings.
1) I'm still analyzing Tesla's (TSLA) earnings report – and awaiting the 10Q – but there's no question that reporting a positive net income, operating cash flow, and free cash flow quarter is impressive – and the stock is responding accordingly (also no doubt thanks in part to the mother of all short squeezes). The stock has now almost exactly round-tripped since I warned investors to avoid it on March 21.
Gates Capital Management Reduces Risk After Rare Down Year [Exclusive]
Gates Capital Management's ECF Value Funds have a fantastic track record. The funds (full-name Excess Cash Flow Value Funds), which invest in an event-driven equity and credit strategy, have produced a 12.6% annualised return over the past 26 years. The funds added 7.7% overall in the second half of 2022, outperforming the 3.4% return for Read More
Q3 2019 hedge fund letters, conferences and more
Second, many of the numbers Tesla reported don't make sense. Sales exceeded production, but inventory went up by $200 million? Sequential revenue was down, but pre-tax profit rose by $546 million? There are some funny things going on here – and Tesla didn't provide much in the way of explanation in its earnings "update" (a 28-page slide deck) and conference call.
To be clear, I don't think there was outright fraud. Rather, I suspect the company did classic "kitchen sink" accounting in the first half of the year, whereby it took extra-big write-downs, and is now releasing the excess to make its third quarter numbers look better than they really were. (Believe it or not, done "correctly," all of this is within the bounds of GAAP accounting – hence, it's not technically fraud, though it's certainly misleading.)
This Bloomberg article, Tesla's Surprise Looks Strangely Familiar, captures my suspicions well:
The profit and free cash flow figures also require scrutiny. Despite a slight drop in revenue, Tesla's pre-tax profit swung up by almost $550 million from the second quarter. Of that, $126 million, or almost a quarter, was due to a positive swing in "other income," including foreign-exchange gains.
Finally, I want to repeat some things I've said many times before…
I am not short Tesla (I'm not allowed to have positions in any stocks I write about), nor have I recommended shorting it in my newsletter, the Empire Investment Report (which is long only).
Although I think Elon Musk is less-than-stellar human being (to say the least), I have always acknowledged that he is a remarkable engineer and entrepreneur – what he has built at Tesla and SpaceX it truly extraordinary – and humanity owes him a debt of gratitude.
I write negatively about Tesla not because I'm rooting for the company to fail, but because I think the stock is extremely risky, with more downside than upside, and therefore warn my readers away from it. (Note: Since I warned investors to avoid the stock on March 21, when it was at $295, the S&P 500 is up 6% while Tesla is roughly flat.)
Today, I am neutral on the stock. I think it is a terrible long, but probably also not a good short right now. Over the next few months, the company will likely report positive developments regarding the launches of the Shanghai Gigafactory and Model Y. In addition, I suspect it has more "kitchen sink" benefits it can use to spruce up fourth quarter earnings. So for now, I think the wisest course of action is to sit on the sidelines and perhaps look for an opportunity to short the stock early next year…
Tesla does report positive net income
2) I lost my charity bet with Andrew Left and a dozen other folks that Tesla wouldn't report a positive net income quarter this year, so I'll be donating $15,000 to various charities of their choice. I tip my hat to them…
3) Speaking of the type of questions/insights/analyses that are useful, here's what a friend emailed me earlier today:
As you are aware but the market is not, Tesla entered into an agreement to finance "in-transit" cars through a Chinese subsidiary's revolving facility. How much of that facility was used and were the cars allocated to the subsidiary considered delivered by Tesla? If the number is above 1,000, Tesla may have accounting fraud issues. At a minimum, certain numbers can no longer be relied upon.
How much of the FSD (Full Self Driving) revenue is Tesla going to release into their P&L statement? This is becoming a straight fraud as Tesla has not released any qualifying miles. It claims that people driving under its autopilot mode count as qualifying which is not considered anything by anyone but Tesla. There is also a massive technology hurdle as their lack of lidar is unproven.
How much are they going to write off to fund the insurance operation? The cost of insuring a Tesla is double normal. However, they are charging their customers significantly less than anyone else. How are they going to account for that in the P&L statement?
Are they going to add a litigation liability amount? Doubtful, but they need to think about it.