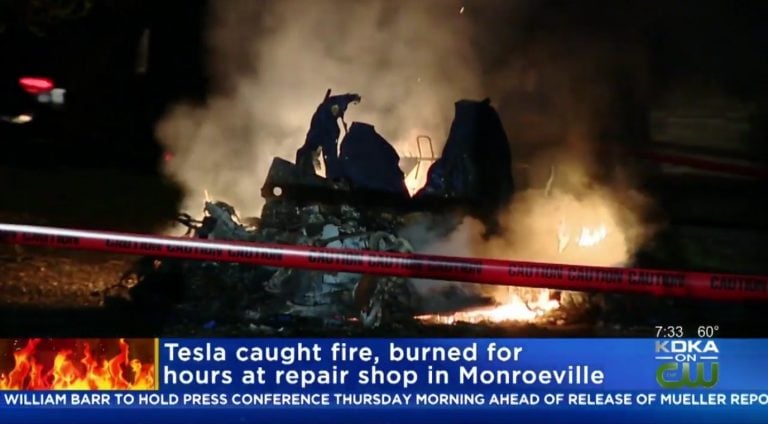 A Tesla Model X caught fire for the second time in only two months. The first Tesla Model X fire occurred in February, and then the same vehicle reportedly caught fire again this week after it was towed to a repair shop.
Tesla Model X fire x2
According to CBS Pittsburgh, a Model X caught fire "briefly" while inside a garage in February. This week the owner decided to have the vehicle towed to a repair shop, and a Tesla employee disconnected the vehicle's battery and removed the fuse from the battery pack, supposedly assuring the owner that the blaze wouldn't start back up again. The worker reportedly said removing the fuse would make it safe to transport the vehicle.
However, the Model X fire did indeed start again after the vehicle arrived at Smeltz Auto Service, and this time the blaze lasted four hours. A forensic engineer told CBS Pittsburgh the vehicle ignited "spontaneously." He also said that electric vehicle batteries are unstable. The owner of the repair shop told Business Insider that the vehicle was "burned beyond recognition" and that the fire even burned a hole in the parking lot of his shop.
This Crypto Hedge Fund Manager Thinks The Crypto Winter Is Almost Over
When the Great Financial Crisis hit in 2008, the pseudonymous Satoshi Nakamoto published the first paper on bitcoin, proposing a new financial system that didn't depend on "trusted" third parties. However, today's crypto ecosystem has diverged so far from the original intent of cryptocurrency set out in that paper that it's virtually unrecognizable. Now we're Read More
Should Tesla provide more training?
It's not clear what exactly caused either of the Tesla Model X fires, but if the Tesla employee did indeed say that disconnecting the battery would make it safe to tow, then there is cause to be concerned. The automaker has a webpage dedicated to first responders on its website, and in it, it advises emergency personnel to place the vehicle in "tow mode" via its touchscreen. If the employee didn't put the Model X in "tow mode" and did indeed say it would be safe to tow it with a disconnected battery, then it would seem more training might have been in order.
This isn't the first time a Tesla vehicle has caught fire and burned a long time. There have been several Model S fires over the years, and it has become clear that as EVs become more and more common, firefighters must learn to battle battery fires. Tesla said on its first responder page that it can take about 3,000 gallons of water poured directly on the battery to put out the fire.