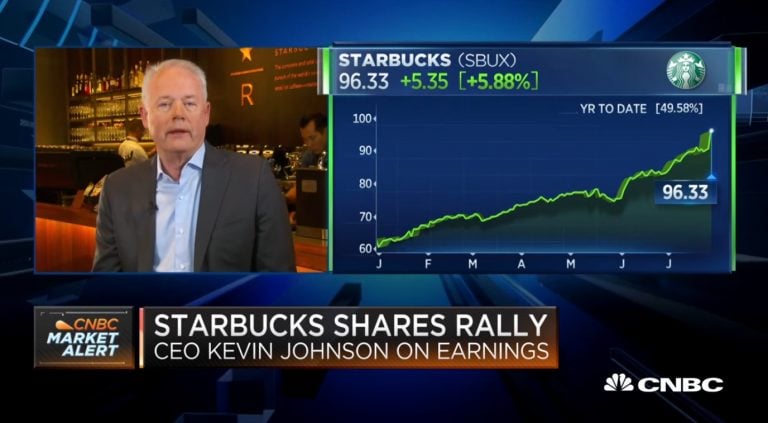 First On CNBC: CNBC Transcript: Starbucks Corporation (NASDAQ:SBUX) CEO Kevin Johnson Speaks with CNBC's "Squawk on the Street" Today
WHEN: Today, Friday, July 26, 2019
WHERE: CNBC's "Squawk on the Street"
Black Bear Value Fund November 2022 Update
Black Bear Value Fund update for the month ended November 30, 2022. Q3 2022 hedge fund letters, conferences and more Dear Partners and Friends, Black Bear . . . SORRY! This content is exclusively for paying members. SIGN UP HERE If you are subscribed and having an account error please clear cache and cookies if Read More
The following is the unofficial transcript of a FIRST ON CNBC interview with Starbucks CEO Kevin Johnson on CNBC's "Squawk on the Street" (M-F 9AM – 11AM) today, Friday, July 26th. The following is a link to video of the interview on CNBC.com:
Q2 hedge fund letters, conference, scoops etc
Watch CNBC's full interview with Starbucks CEO Kevin Johnson on Q2 earnings
DAVID FABER: Let's get back to Starbucks. As we pointed out, the shares are up this morning. Sales in its top two markets, the U.S. and China, climbing at least 6% for the quarter. That is same store sales and comps, are what we call them. Company also increasing its forecast. Joining us now first on CNBC is Starbucks President and CEO Kevin Johnson. Always nice to have you, Kevin. We are a long way from that day –
KEVIN JOHNSON: David, good morning.
DAVID FABER: --that morning you and I shared in Boston, I think it was June of '18, where things were a bit tougher. And you really delivered over this last, let's call it, 14 months. I guess given a quarter like this, my question and those of investors is: can you keep it going? The 7% comp number in the U.S. seems somewhat extraordinary.
KEVIN JOHNSON: Well, David, you're right. It was a year ago we outlined our growth at scale agenda. And growth at scale, for us, is all about focusing on the most important things and then executing with discipline. And that's what's driven our results. You know, certainly, Q3 was a very strong quarter for us. But, growth at scale is more about driving predictable, sustainable growth for the long-term. And so much of the work that we have done over the last year has not only delivered results, but it has laid a foundation for sustainable growth against our growth model.
DAVID FABER: You know, in the U.S., as I said, up 7%, and comp transaction growth, 3%. So, not just people spending more, but a lot more people -- more people coming in and doing more business overall. What is behind that? Is that because key of the -- after the afternoon and the efficiencies you created, the ability you had in terms of delivering marketing to that hour part that has sent more traffic in?
KEVIN JOHNSON: Well, David, we saw transaction growth in all day parts in this last quarter in the U.S. And it is really driven by three things. First, it is the experience -- the customer experience we create in our stores. And I attribute that to the 400,000 Starbucks partners who proudly wear the green apron and all the work we have done to simplify the work for them, automotive, administrative tasks so they can focus more time on the customer. Second, it is about, you know, new beverage innovation. And the beverage innovation all in our cold platform that is resonated with customers. It's nitro cold brew, it's our refreshers, and that's helped us lift the afternoon. And then third, it is our digital customer relationships. You know, we grew active reward members I think 14% year on year in the quarter in the U.S. to 7.2 million. So, the combination of great in-store experience, beverage innovation and digital reach is really fueling the growth in transaction comp and we think that those are the right three things to focus on and we have made great progress over the last year in all three of those--
DAVID FABER: Yeah. Finally, before I hand it off to Sara and Carl, China, which we have spoken about in the past and has been somewhat problematic in terms of what we have seen flat comp store sales, for example. Not this quarter, of course, up 6%. 3900 stores at the end of the third quarter. Same question, though. Can you continue and do you expect to continue to see those kinds of numbers in terms of both comp transaction growth and same store sales?
CEO KEVIN JOHNSON: Well, you know, certainly China and the U.S. are two targeted long-term markets. And I was in China last week and the work that our team has done in China over this last year is also phenomenal. And it also sets the foundation for continued long-term growth. Look, we're committed to the market in China. China is a huge stage to perform on, the addressable market for coffee is large and it is growing. And with the work that we're doing to create a great customer experience, beverage innovation in China, they released a set of cold beverages called Modern Mixology. These beverages are based on coffee and tea that were invented in our Shanghai Roastery and they deployed them throughout China. They resonated with customers. We enhanced the rewards program in China and that was launched last December. We now have over 9.1 million active users in China, it grew 36% year over year. So, the same three ingredients, great experience in our stores, beverage innovation, and digital, is also fueling China and we're bullish for the long-term in China.
SARA EISEN: I know you got a question on the conference call last night, Kevin, about delivery. And it I obviously something that Wall Street is excited about. You said you guys are in the early days of it. You're experimenting with Uber Eats, I know. But, ow do you think about that as a long-term growth opportunity? And what does that even look like? Do people order drinks, delivery?
CEO KEVIN JOHNSON: Yeah, well, first of all, Sara, I think delivery is an example of consumer desire for the need state of convenience. And a lot of that is driven by the digital mobile revolution, with the mobile phone, you have convenience for all sorts of things in your life. And so, to be able to order on your phone for Starbucks, either for pickup in the store or delivery, we are enabling that need state of convenience that we think is complimentary to the third-place experience that we create in our stores. Now, the delivery market in China is much more advanced. You just think broadly about how the Chinese consumer has embraced delivery. That's why in China, we saw roughly 6% of our total sales was driven by delivery in China. Starbucks Delivers. And we do that in partnership with Alibaba. Now, here in the United States, we have a great partnership with Uber Eats that we piloted last year. We then rolled out to 11 markets. We now have announced we are going to roll it out nationally. In the U.S., I say delivery is still in the early days. We're optimistic about it for the long-term. But, this last quarter it did not contribute meaningfully to our comp results. But we do think in the future it is going to be a growing part of it. And that's why we're investing in it.
CARL QUINTANILLA: Kevin, I have got to ask you about the equity stake in Brightloom, just the latest in what we have seen in terms of restaurant technology purchases among you and some of your competitors, what does it bring you and is it the beginning of even more inquisitiveness in the tech space and helping you understand what consumers want, even before they tell you?
KEVIN JOHNSON: Yeah, well, Carl – you know, we know that the digital customer relationships we create are key part of our strategy. And it is a key part of any modern-day retailer. You have to create an experience in your stores that becomes a destination for your customers, and then you extend that in-store experience into a digital customer relationship. Now, we have had great success doing that over the last five years. We call that our digital flywheel. What we have done with Brightloom is we have recognized that the digital flywheel we created really is servicing our company operated markets. Primarily the U.S., Canada, the UK, Japan. But most of our other markets in Europe— throughout Europe, Latin America, South Asia, are licensed markets. And those license markets do not have the digital flywheel capability. So, the first priority with Brightloom is for Brightloom to focus on a cloud-based software-as-a-service digital flywheel that services the Starbucks license partners and the multiple brands that they also operate in their markets, but we're also -- Brightloom is going to open it up to all restaurant merchants in the industry and have a cloud-based software-as-a-service offering for them. So, we're excited about the equity stake we have in Brightloom. We got that equity stake by licensing elements of our digital flywheel to them. We've got a seat on the board, Adam Brotman, the Former Chief Digital Officer here at Starbucks is now the CEO of Brightloom. And I think Brightloom is going to do some great things, both for the overall industry, as well as the Starbucks license partners globally.
SARA EISEN: Yeah, I mean, if Cramer were here, he would be talking about the digital flywheel. He always talks about Starbucks as a technology company. And I think if you read some of the notes this morning, you'll see, investors are bullish because they think your competitive advantage, Kevin, is the technology. Is the amount of people you've added to the rewards and that you've got sort of digitally ordering. What sort of advantage has that given you in practice that you're sort of re-accelerating the growth profile of the company right now?
CEO KEVIN JOHNSON: Well, I think about the overall differentiation that we deliver in the market, it comes from a variety of things. You know, first of all, from the coffee that we source from farmers around the world. The craft that our partners and our stores practice as they hand craft those beverages for our customers. It comes from our beverage innovation and comes from digital. We're using technology actually to automate administrative tasks in our stores to free up our partners to better connect with customers. We're using technology to extend the customer experience we create in our stores to a digital mobile relationship. The personalization engine that we have created now is really providing personalized relevant offers to our customers. And they're responding. So, I think at the center of many of the things we're doing, we're using technology really to amplify the inherited differentiators that Starbucks has always had. And so, you know, we're very optimistic about the foundation that we have laid over the last year with growth at scale and how that's go to allow us to deliver predictable consistent growth for the long-term.
DAVID FABER: Kevin, we'll end on a couple of quick macro questions. How would you rate the state of the consumer? And are you having any trouble in terms of the employment market finding qualified people?
KEVIN JOHNSON: Yeah, I'd say, you know, from a macro perspective, consumer confidence, consumer spending, engagement is very good. You know, in fact, we saw all-time highs in our customer connection scores and that's a -- that's a tribute to the work our partners in the stores do. But it is also reflection, I think, of the attitude of the consumer in the United States. Certainly, with unemployment so low, you know, we're very fortunate. Because we have been a company that always invests in our partners, whether it is providing healthcare to part time workers of 20-hours or more a week, whether it is our Starbucks College Achievement Program in partnership with ASU and candidly, partners are proud to wear the green apron. So, you know, we have had no trouble attracting partners. In fact, just this week we announced we have hired 25,000 veterans and military spouses, and, you know, over the last several years. And, so, you know, we are going to continue at a run rate of hiring roughly 5,000 veterans and military spouses. It is just another example of, I think, the fact that people are proud to wear the green apron and proud to be a part of something that is bigger than any one of us.
DAVID FABER: Well, Kevin, we appreciate, as always, your willingness to take time with us. Thank you.
KEVIN JOHNSON: Thank you so much, guys.
DAVID FABER: Kevin Johnson, CEO of Starbucks.