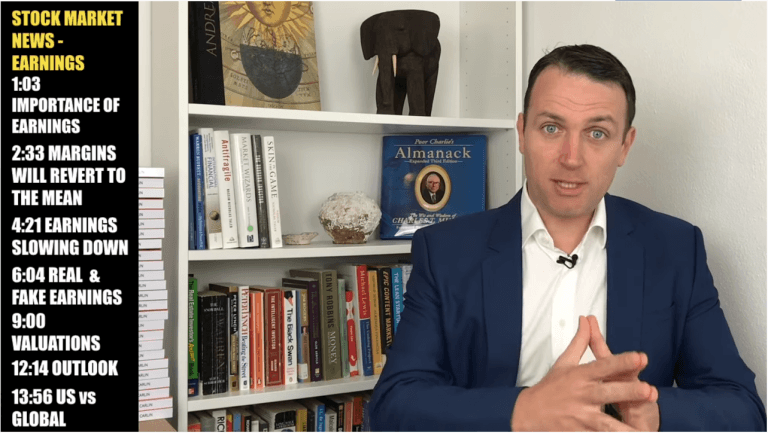 Sven Carlin discusses that the earnings slump will crash stocks. Stock market crash ahead might be thanks to earnings. All worked well for earnings in the past but things might change, from margins to valuations. This should all lead to some kind of stock market crash!
Stock Market News – Earnings Slump Will CRASH Stocks!
Q3 2019 hedge fund letters, conferences and more
Transcript
Short-Seller Spruce Point Highlights Its Latest Canadian Consumer Short: Saputo
Reputed short-seller Spruce Point Capital Management released its latest short report this week. The firm is shorting Canadian dairy and grocery manufacturer Saputo. Spruce Point chief Ben Axler believes the company is entering a phase of declining growth and highlights the financial stress and growing challenges he sees it facing, not only in Canada but Read More
Good day fellow investors. Welcome to the stock market news with a long term fundamental twist. We are in the midst of earning season. So today we're going to discuss earnings from a long term perspective, earnings are crucial, perhaps the most important not perhaps the most important factor. When it comes to your investment returns.
Your investment returns, as Buffett always says, will be perfectly correlated with the underlying performance of the business does earnings so in this video really want to focus on the importance on earnings, on the current trend in earnings on valuations?
What is the perspective that we can get now on earnings in order to see what will be long term investment returns from the current point that's what matters not what matters in the past, not what happened in the past and then see what are the impacts the factors impacting those earnings? How are those going to affect your long term investment outcomes. Let's start. So if you look at the importance of earnings, the long term correlation between share prices and earnings per share is extremely strong.
Buffett on EPS growth
Warren Buffett says it's perfectly correlated well, artistically not perfectly, but you get the point with this picture. The white line is the s&p 500, trailing 12 months earnings per share. And the blue line is the s&p 500. There are some deviations here and there, but over the long term, it's practically a straight correlating line. The better earnings are, the better are your returns there can be sometimes of exuberance sometimes of less exuberance, but that's pretty much it. And we have to see okay, what's next? This has been over the last 17 years and we have to see okay, where we are now and what's next. What to valuation Say what the trends will do margins, say.
And by the end of this video, you will get the great picture about where our earnings going, what's influencing earnings and what you can do about that in respect to your portfolios and how your portfolio structure for what is happening, the most important things we are going to discuss our margins that earnings are actually in a recession, real reported and adjusted earnings, big differences, their financial engineering and earnings and then us and global earnings, let's immediately start with margins, it is very likely that margins will return to the mean, what does that mean? Well, the higher the margins, in this case, the net profit margin, the higher our earnings, the higher our stock prices.
Earnings slump and GDP correlation
However, over the past 50-70 years on average earnings have been six to 8% of Gross Domestic Product of GDP. Currently, we are at 10%. And over the last 10 years strength thanks to low interest rates thanks to lower taxes, it has been even above 10%. Buffett always says that earnings corporate earnings should be between six and 8% of GDP. As GDP growth will be 2%. It's likely that earnings will be those that revert to the mean, and that earnings margins will be lower.
Just one example of how this works. During the last two years for the first time, over a very long period of time, air quality in the US has decreased This means that pollution is higher health will be affected. 10,000 deaths are expected more than thousand deaths per year due to quality of air. And if companies save on air quality, their earnings are higher This must change this will probably change In the future, and therefore this just one thing that puts pressure on earnings Not to mention higher taxes, probably higher wages in the future because wages didn't grow much in the past.
Will an earnings slump kill the Dow?
This is something to keep in mind. For long term investors, we are really in a Goldilocks period for margins and therefore earnings. And we already see the impact of those things slowly late part of economic cycle, economic growth slowing down. And you see that those margins have been contracting a little bit, you see 2018 tax benefit, lower corporate taxes that really pushed margins higher. But now after that, boom, what will be the next thing pushing, urging earnings higher margins higher, we don't know. And therefore, earnings are a little bit subdued, and they are actually already in a recession. So apart from the possible mean reversion of margins