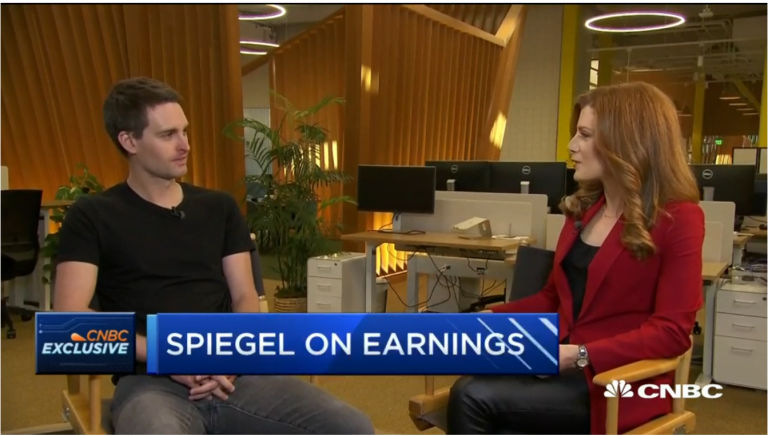 CNBC exclusive: CNBC excerpts: SNAP Co-Founder & CEO Evan Spiegel speaks with CNBC's "Squawk Alley" today on launching Spotlight, Apple privacy changes, stock price run, Section 230 and more.

Q4 2020 hedge fund letters, conferences and more
WHEN: Today, Friday, February 5
ValueWalk's July 2022 Hedge Fund Update: Tiger Cub Hedge Fund Shuts Down
Welcome to our latest issue of issue of ValueWalk's hedge fund update. Below subscribers can find an excerpt in text and the full issue in PDF format. Please send us your feedback! Featuring Andurand's oil trading profits surge, Bridgewater profits from credit, and Tiger Cub Hedge Fund shuts down. Q1 2022 hedge fund letters, conferences Read More
WHERE: CNBC's "Squawk Alley"
Following are excerpts from a CNBC EXCLUSIVE interview with Snap Co-Founder & CEO Evan Spiegel on CNBC's "Squawk Alley" (M-F, 11AM-12PM ET) today, Friday, February 5. Following is a link to video on CNBC.com:
SNAP CEO Evan Spiegel On Q4 Earnings Results, Privacy
Spiegel On Apple Privacy Changes
EVAN SPIEGEL: We feel like we're well prepared for these changes and frankly that's because these changes are in line with our privacy philosophy. We've never allowed device specific targeting and we've always taken a very protective stance when it comes to our user's data. So we generally view this as a good thing overall for consumers even if it's a little disruptive for users in the near term.
Spiegel On Stock Price Run
SPIEGEL: It's certainly been validating. You know, especially around things as you mentioned like brand safety. We were so frustrated for so many years because it just didn't seem like advertisers cared about user privacy or brand safety and they were just focused on driving ROI or driving results. And that's why we invested so much in our advertising platform so we could really drive that performance and we were just hoping that over time that advertisers would understand and value not only the closed content platform that we have where we moderate the content that our community sees but our values around privacy and building a product that leaves a positive impact on people's lives. So, it's definitely been validating and motivating for the team.
Spiegel On Moderating Content
SPIEGEL: Rather than providing a platform where anyone can say anything and reach millions and millions of people, you know whether that information is inciting violence or fraudulent – we took a different perspective and said we are going to be thoughtful about the content that reaches millions of people, just like you are at CNBC. And so we're going to moderate that content, we're going to make sure that content is aligned with our content guidelines and overall that will create a much more positive experience for our community and also educate them more meaningfully about what's happening in the world. So, yeah, we definitely have taken a different path from the beginning. It just so happens that path aligns with what Apple's talking about, but certainly there are different perspectives in the industry.
Spiegel On Launching Spotlight
SPIEGEL: We've only launched Spotlight into a couple select markets at this point and as you pointed out it's gotten great traction with 100M people using it as of January. But we've been able to slowly roll that out to manage the growth obviously and content volumes and our moderation practices. But we're using a combination of machine learning and humans, making sure there is human review of any content that's getting wide distribution and so far knock on wood that strategy is working and we'll continue to roll out to new markets as soon as we can support it.
Spiegel On Section 230
SPIEGEL: I think what people are objecting to is really the second part of Section 230 which provides these platforms the right to moderate content on their platform in a couple broad categories you know around harmful content and things like that.  And I think what folks are saying is instead of that being a right, maybe that should be a responsibility. And I think the way that they are going to try to thread the needle here I would assume, is to really focus on the responsibility to take down content that isn't protected by the First Amendment.  And that's probably the way to thread the needle legally.
Spiegel On Regulation
SPIEGEL: I think overall as I look at the regulatory framework, I just want us all to remember as Americans that regulations aren't substitutes for morality and for doing the right thing.  And so I think as long as these businesses can focus on doing the right thing, acting in ways that you know overall support and uplift American society, there will be less need for regulation and overall that will make us more competitive as a nation.
Updated on