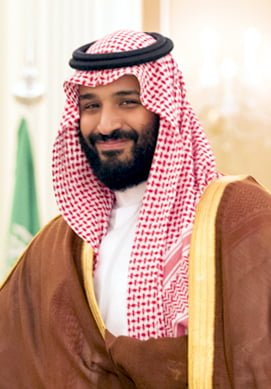 Recent rumors that Muhammad bin Salman, the Saudi Crown Prince is dead have been circulating online after an attempted coup last month.
The death rumors regarding Muhammad bin Salman have been due to the fact that he has not appeared in public since the April 21 attack on the royal palace in Riyadh. Whether the Saudi Crown Prince is dead remains to be seen, but Kayhan newspaper has cited "a secret service report sent to the senior officials of an unnamed Arab state."
It's important to note that no new photo or video of Muhammad bin Salman has been released by Saudi authorities since the day of the attack and the prince "was not even seen on camera when new US Secretary of State Mike Pompey made his maiden visit to Riyadh in Late April," reports Press TV..
Fund Manager Profile: Kris Sidial Of Tail Risk Fund Ambrus Group
A decade ago, no one talked about tail risk hedge funds, which were a minuscule niche of the market. However, today many large investors, including pension funds and other institutions, have mandates that require the inclusion of tail risk protection. In a recent interview with ValueWalk, Kris Sidial of tail risk fund Ambrus Group, a Read More
The death rumors come after Muhammad bin Salman was allegedly hit by two bullets during the attack on the palace.
"Bin Salman was a man who almost often appeared before the media but his 27-day absence since the gunfire in Riyadh has raised questions about his health," the Fars news agency remarks.
Thus far, the Saudi authorities have yet to comment on this matter and it's unclear whether the Saudi Crown Prince is dead. The fact that he hasn't made any public appearances thus far is certainly concerning, however, which is the main reason why many news outlets are reporting on these death rumors.
Back on April 21, several media agencies reported heavy gunfire coming from the Saudi royal palace in Riyadh, which many expected to be a potential coup taking place. Tensions have been high between the royal family and military, as is the case in many countries, and it's certainly possible that the issues had reached a boiling point.
Saudi authorities have since denied that the incident was a coup, stating that security guards were firing upon a drone with was flying too close to the palace. With the amount of gunfire and rumors that Muhammad bin Salman was hit by bullets, however, many outlets aren't buying this excuse.
Since the attack, many local media outlets have reported that King Salman was evacuated to a nearby military installation during the shooting which suggests that a coup may have actually been occurring. Saudi analysis Ali al-Ahmed also named the King Khalid base as the place to which the monarch was headed.
It remains to be seen whether the Saudi Crown Prince is dead, but the death rumors keep coming following his disappearance from the public eye following the shootout. It's clear that something is the matter as things have yet to return to normal in the palace, but the Saudi government has yet to come forward with any sort of statement.
If the Saudi Crown Prince is dead, it will be impossible for the government to hide it for too long. The fact that Muhammad bin Salman missed a meeting with US government officials is certainly concerning, and while it's possible there is some other explanation, it's seeming increasingly likely that he was injured in one way or another.
While it's certainly possible there is another explanation for the Muhammad Bin Salman's disappearance, the way things line up certainly lend credence to the suggestion that the Saudi Crown Prince is dead. It's unusual for him to disappear from the public eye for this long of a time, and the gunfire in the palace and reports of him being hit by bullets would seem to back up that rumor.
All in all, however, at this point it's still speculation. It would be an unfortunate drawback for the Saudi royal family were these death rumors to really be true, but it's not something they can hide from the populace for too long.