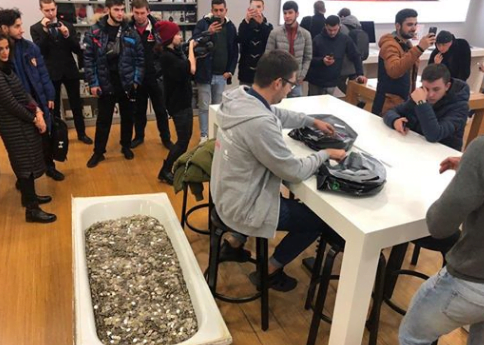 iPhones are pretty expensive devices, but they are immensely popular as well. We have heard numerous incidents of people doing crazy things to buy new iPhones, but what one man did in Russia to buy an iPhone XS may be craziest of all.
Why bathtub full of coins was used?
A man in Moscow collected 100,000 Russian rubles (about $1,500) in a bathtub and used it to buy an iPhone XS. The man went to an Apple reseller in Russia with the bathtub full of coins, which weighed about 350 kilograms (770 pounds). The man took the bathtub full of coins to the Evropeisky Mall in central Moscow.
View this post on Instagram

This Clean Energy Hedge Fund Has Solid Returns In 2022 And Uses Amazon As A Precedent

Electron Capital returned 3.1% for October, bringing its year-to-date return to 8.3%. The MSCI ACWI gained 6% for October, raising its year-to-date return to -22.3%, while the S&P 500 returned 8% in October for a year-to-date loss of 18.8%. The MSCI World Utilities Index was up 2.7% for October but remains down 13.5% year to Read More

Легендарная #Ваннамелочи которую мы принесли #Restore Полный Ролик выйдет на Ютюб Канале: «Святослав Коваленко» Вес ванны ~350кг! Но мы смогли! #IphoneXs #купилайфон #мелочь #Apple #iphone #тцевропейский
The entire episode was captured in a video by Russian blogger Svyatoslav Kovalenko. The video shows the man and his friends filling the tub with the coins, putting it into a car and then taking it to the mall. The group did have a brief altercation with security guards while moving the tub into the mall.
"Is there anything wrong?" Kovalenko is heard asking a guard.
It took six people to carry the bathtub to the store. Usually the store manager wouldn't accept such a payment, but this time, the store actually accepted it. One store representative even counted all the coins in the bathtub, which took about two hours. The man who brought the bathtub full of coins bought a 256 GB iPhone XS, which retails for between $1,050 and $1,500 in Russia.
The incident went viral after a user posted an image of the bathtub full of coins in an Apple showroom on Facebook.
A translation of Ludmila Semushina's Facebook post reads, "What is this customer? This is when the buyer decided to bring a bath of trifles to buy iPhone, and the seller calmly and patiently sat with it to count."
Kovalenko, who is seen in the video with the new phone, told ABC News that the whole stunt was aimed at changing people's attitudes about small change. According to him, stores in Russia often lack change and sometimes even refuse to serve customers if they don't have enough paper currency.
"The more people who watch the video, the more people will understand that change, whether it's a kopek, whether's it [sic] 10 kopeks, it is also currency," the man said.
Not a new occurrence
Buying new iPhones using coins seems to be a new trend in Russia. Recently there have been several incidents of Russians buying a new iPhone with heaps of coins, according to The Moscow Times.
A YouTube video posted in September, which got about 2 million views, showed a person purchasing an iPhone X using coins weighing about 100 kilograms (220 pounds). A video posted in October, which garnered about 4 million views, showed a person carrying a bucket filled with change to buy an iPhone XS at an Apple Store. However, the whole stunt was a prank because the bucket had a false bottom. The man eventually paid via credit card and gave the new iPhone to a little girl. The most popular video was of YouTuber Dmitry Shilov, who bought an iPhone using a jar of coins in 2015. The video has been viewed 5.6 million times.
However, Kovalenko — the man in the latest video — claims his idea was original and not inspired by other events.
"No one has ever changed 100,000 rubles into 1 ruble coins. And no one ever brought them in a bath," he said, according to ABC News.
Doing other crazy things to buy new iPhones
These are not the only bizarre ways we have seen to buy new iPhones. People in Moscow reportedly spent thousands of dollars to buy a chance to be among the first to get one of the new iPhone models.
Before sales of the iPhone XS and XS Max started in Russia, reports indicated that people were selling their places in line for as much as $6,000. According to local 360 TV broadcaster, the first person in the line tore up his ticket because he was unable to sell his spot for half a million rubles ($7,600).
People have also done other crazy things to acquire or buy new iPhones. At the time of the iPhone 7 launch, Ukrainian Olexander Turin changed his name to iPhone Sim ("Sim" means "seven" in Ukrainian) to get a new iPhone 7. The name change was part of a promotion by one electronics store.