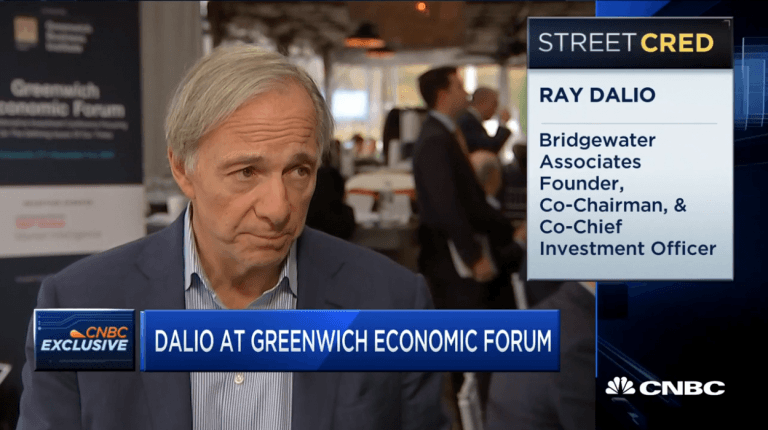 CNBC Excerpts: Ray Dalio, Bridgewater Associates Founder, Co-Chair & Co-CIO, Speaks With CNBC's Leslie Picker Today On CNBC's "Squawk On The Street"
WHEN: TODAY, TUESDAY, NOVEMBER 5
WHERE: CNBC'S "SQUAWK ON THE STREET"
Fund Manager Profile: Kris Sidial Of Tail Risk Fund Ambrus Group
A decade ago, no one talked about tail risk hedge funds, which were a minuscule niche of the market. However, today many large investors, including pension funds and other institutions, have mandates that require the inclusion of tail risk protection. In a recent interview with ValueWalk, Kris Sidial of tail risk fund Ambrus Group, a Read More
Q3 2019 hedge fund letters, conferences and more
Following are excerpts from the unofficial transcript of a CNBC interview with Ray Dalio, Bridgewater Associates Founder, Co-Chair and Co-CIO, today on CNBC's "Squawk on the Street." Following is a link to the full interview on CNBC.com:
Watch CNBC's full interview with Bridgewater founder Ray Dalio
Ray Dalio, Bridgewater Associates Founder, on investors
Investors are very flush with money and as a result, they're taking very low returns and they also are buying dreams rather than earnings and stocks we've pushed that to an extreme in techls of those returns and then at the same time, it is clogged with investors so investors have an abundance of money and then we also don't have much in the way of the trickling down we do know that we have populism of the left and populism of the right and we're going to come into a period of time where that's going to be the more challenging and it will have big effects on the markets.
Dalio on dangerous conditions
The pushing to negative rates we're running out and that's going to lead to fiscal and monetary coordination necessity. That is very dangerous we're going to have large budget deficits, large debt, we're going to need to fund those liabilities that we have, we have pension liabilities and health care liabilities. That means there's going to be a printing of money
Ray Dalio, Bridgewater Associates Founder  on a war-like environment
I would say the leadership whether it's the president or state leadership or governors and so on, s to take a come together approach of different types of people I'm not saying it's likely, I'm saying it's necessary, because we're going to a war-like environment.
Dalio on printing money
As we move ahead there will be more printing of money that's necessary to fund those deficits there will be bad returns because they will be driven down and that the dreams of selling companies that no longer -- they're selling dreams, not selling earnings and not even selling a path to earnings, that those things will have to be normalized, will have to be rectified. Time will produce a paradigm shift.
Dalio on rates stuck
I think the system is pretty much stuck. You can't raise rates because, as a result of the stimulation, companies and various entities have a lot more debt it's stimulated. The borrowing and the purchases of companies back with borrowed money and all of those things, have produced a stimulus you know you can't -- if you do reverse it, it will have the effect of causing prices to go down.
Ray Dalio, Bridgewater Associates Founder on raising taxes
We're going to need to raise taxes but the question is how it's well engineered and whether we're doing that in a bipartisan and in a nonpartisan basis there are no simple answers because when we run out of monetary policy, we've run out of the stimulant that we usually can go to, to deal with that situation, at the same time as there's this polarity.
Dalio on markets
I don't think it's a breakout. I don't think it's particularly over bought either because what you have is the weight of money. There's a certain amount of money out there, a lot of money, central banks bought 15 trillion of assets and so on, so we have a lot of money and the question is where that money goes.
Dalio on defaults
At some point, though, as we're going forward, there's going to be bigger deficits and you're going to have to fund it we're dealing with almost a currency issue, longer term, in terms of what is the value of currency when those liabilities, not only the debt liabilities, but the pension liabilities or the health care liabilities, with which are like debt, promises that have to be paid, they will either be paid by higher taxes or they'll be not paid and defaulted on. I don't think they will be defaulted on.
Ray Dalio, Bridgewater Associates Founder on a big squeeze
Dalio: we have today really a big squeeze happening.
Picker: what does that mean, a big squeeze?
Dalio: a big squeeze means that gradually, more obligations come due. If we take the amount of debt, combine it with the amount of pension obligations and combine it with the amount of health care obligations which are -- need to be met or defaulted on, that we have a lot coming at us. We have large deficits and therefore it's -- and we don't have an effective transition of monetary policy.