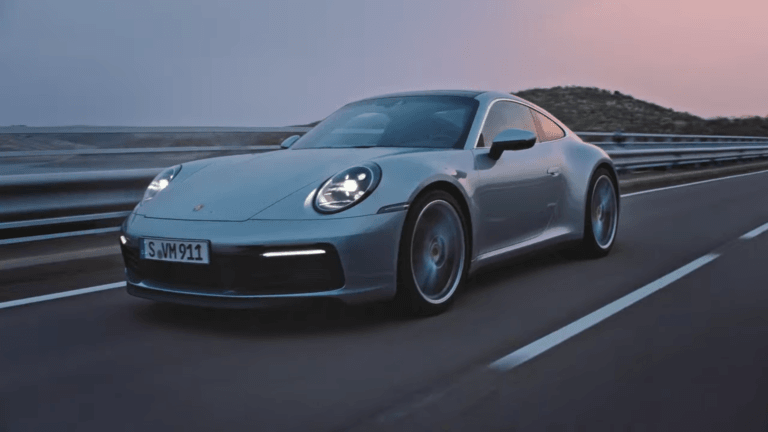 Tesla has been the undisputed leader in the electric vehicle market for years. The Tesla Model S is the most popular all-electric performance sedan since its debut in 2012. German sports car maker Porsche has officially unveiled the Taycan in three different trims to take on the Tesla Model S. Next year, Porsche will launch the Taycan Turbo, Taycan Turbo S, and Taycan 4S. Let's check out how the Porsche EVs stack up against the Tesla Model S.
Klaus Zellmer, the CEO of Porsche Cars North America, recently said in an interview with CNBC that existing Tesla owners have shown massive interest in Porsche's new all-electric car, which has been in development for years under the code-name Mission E. The Taycan and Tesla Model S are similar in terms of dimensions and performance.
Porsche Taycan vs Tesla Model S: Dimensions
The Taycan Turbo weighs 5,082 pounds while the Turbo S is a little lighter at 5,060 pounds. The Porsche vehicle measures 195.3 inches in length, 77.4 inches in width, and 54.2 inches in height. It has a wheelbase of 114.1 inches.
Fund Manager Profile: Kris Sidial Of Tail Risk Fund Ambrus Group
A decade ago, no one talked about tail risk hedge funds, which were a minuscule niche of the market. However, today many large investors, including pension funds and other institutions, have mandates that require the inclusion of tail risk protection. In a recent interview with ValueWalk, Kris Sidial of tail risk fund Ambrus Group, a Read More
While the Taycan 4S has a rear cargo space of 14.3 cubic feet, the Turbo S has an even smaller cargo space of 12.9 cubic feet. The front cargo space is 2.8 cubic feet in all the trims of Taycan. By comparison, the Tesla Model S has a slightly smaller 2.1 cubic feet of front cargo space. The Tesla sedan has an impressive 26.3 cubic feet of rear cargo space, almost twice that of the Porsche EV.
The Model S is 0.3 inches longer, and its height is 2.6 inches more than the Taycan. Its width is nearly identical to that of Taycan.
Performance
Both electric sedans offer dual-motor all-wheel drive. They are both beasts when it comes to performance. The Taycan 4S produces 429 horsepower with 472 pound-feet of torque. For a short period of time, it can overboost to produce 522 horsepower. The Taycan Turbo and Turbo S both have the same 617 horsepower with 774 pound-feet of torque. The overboost function can temporarily boost its power to 750 horsepower.
The upcoming Taycan will go from 0-60mph in just 2.6 seconds (Turbo S model). The Turbo model will take 3 seconds while the 4S version will take 3.8 seconds. It has a top speed of 161mph for Turbo and Turbo S, and 155mph for the 4S.
By comparison, the Tesla Model S Long Range goes from 0-60mph in 3.2 seconds while the Model S Performance takes only 2.4 seconds. The Long Range has a top speed of 155mph. The Model S Performance's peak speed is a little higher than 163mph. The Long Range produces 417 horsepower with 487 pound-feet of torque. The Model S Performance version is estimated to produce 762 horsepower with 723 pound-feet of torque.
Battery and range
All variants of both vehicles have two electric motors, one for each axle. The Porsche Taycan 4S packs a small 79kWh battery, though there is also a Performance Battery Pack option that packs 93.4kWh. Porsche has used Lithium Ion Pouch configuration in its EV.
The Turbo and Turbo S variants include a 93.4kWh battery. By comparison, the Tesla Model S packs a larger 100kWh battery inside both the Long Range and Performance models.
The range of Porsche Taycan is not clear yet because the EPA hasn't revealed the vehicle's official range figures. Porsche has published the Taycan's range using the European WLTP rating system, which tends to be more generous than the EPA in range estimates.
Porsche claims the Taycan 4S will go 253 miles on a single charge. The 4S with the Performance Battery Pack would offer a range of 288 miles. The Taycan Turbo has a range of 279 miles while the Turbo S promises to go 256 miles on a single charge.
The larger battery and Tesla's advanced technology enables the Model S to offer a longer range. According to EPA, the Model S Long Range goes 370 miles on a single charge. The Model S Performance has a range of 345 miles.
Both vehicles will have access to public charging stations from Electrify America, EVGo, ChargePoint, and others. Tesla has also installed more than 1,600 Supercharger stations with about 15,000 plugs across North America. The Superchargers work only with Tesla vehicles.
Other features
Tesla's self-driving Autopilot is one of the most exciting features of Model S. The US electric carmaker has been improving it for years, adding new features and capabilities every few months. Porsche vehicles come with a set of standard driver assistance features. But the German automaker hasn't revealed whether the Taycan will have advanced self-driving capabilities.
The Tesla Model S features a giant 17-inch infotainment touchscreen display. It supports over-the-air software updates, has a built-in radio, and enables Bluetooth music streaming. But it doesn't support Android Auto or Apple's CarPlay.
The Porsche Taycan also has a 17-inch infotainment screen. It supports Apple's CarPlay. The German automaker has also added its own AI assistant that responds to "Hey, Porsche."
Porsche Taycan vs Tesla Model S: Pricing
The Tesla Model S was considered ridiculously expensive, until Porsche announced the prices of Taycan. The Model S Long Range has been priced at $79,990 while the Performance version costs $99,990. A fully loaded Model S Performance with all the cool features that Tesla has to offer will set you back by $114,900.
In contrast, the base model of Taycan 4S starts at $103,800. The 4S with Performance Battery Pack will cost $110,380. Porsche has priced the Taycan Turbo at $153,310 and Turbo S at a staggering $187,610. Porsche is expected to launch a lower priced model of Taycan that would cost under $100,000.
Conclusion
Tesla has the advantage of a lower price, a longer range, more cargo capacity, self-driving capabilities, and a strong charging network across the United States. The Taycan is aimed squarely at Tesla Model S, and it has everything it needs to compete with the Tesla sedan.
Porsche will be selling its electric vehicle on the back of its timeless design, reputation, heritage, and customer experience. The German automaker is not merely chasing sales numbers. It aims to sell its EV to a small number of people with deep pockets. That's how it maintains its enviable profit margins.