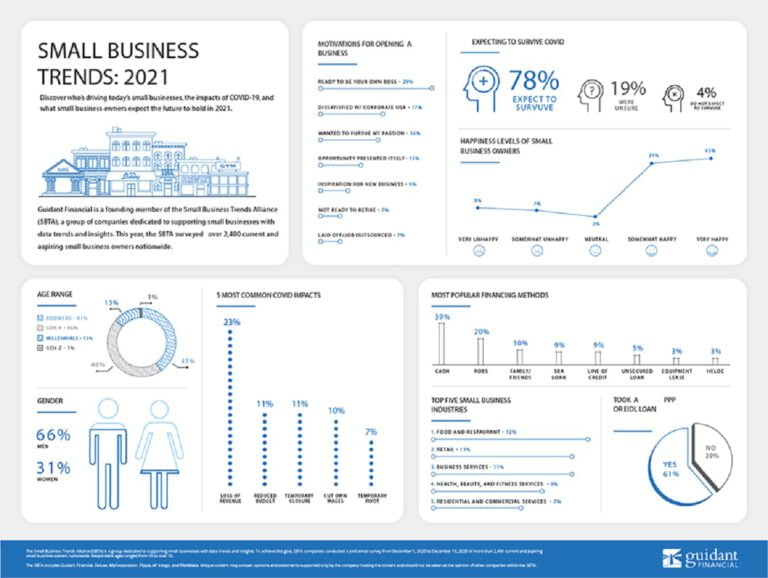 Only 4% of American Small Business Owners Expect to Fail Due to COVID-19, According to Report Released by Guidant Financial
Q4 2020 hedge fund letters, conferences and more
78% Small Business Owners Excpect To Survive While Only 4% Expect To Fail
Bellevue, Wash. (February 9, 2021) — 78% of American small business owners expect their businesses to survive the COVID pandemic, while only 4% expect to fail, according to the results of the latest Small Business Trends report released by small business financing company Guidant Financial. The remaining 18% are unsure of the future.
Carlson Capital Thinks The SPAC Boom May Be Over [Q1 Letter]
Carlson Capital's Black Diamond Arbitrage Partners fund added 1.3% net fees in the first quarter of 2021, according to a copy of the firm's March 2021 investor update, which ValueWalk has been able to review. Q1 2021 hedge fund letters, conferences and more At the end of the quarter, merger arbitrage investments represented 89% of Read More
The report's findings are based on the annual Small Business Trends survey conducted by the Small Business Trends Alliance (SBTA), a group of companies dedicated to supporting small business with data insights. The SBTA teamed up to conduct a joint survey of over 2,400 current and aspiring small business owners across the nation.
"While the pandemic has created numerous challenges for American small business, the resilience and innovation small businesses have shown demonstrates how even the most difficult times can't stop the entrepreneurial spirit," said David Nilssen, CEO of Guidant Financial.
More Key Findings:
61% of respondents received a Paycheck Protection Program (PPP) loan or Economic Injury Disaster Loan (EIDL). The survey was performed before the January 2021 stimulus package that reopened and clarified both programs.
41% of small businesses have implemented some type of innovative or disruptive change due to the pandemic, such as investing in hands-free POS systems or adding new product lines like anti-microbial products.
49% of small businesses owners were confident about the future of small business post-COVID. 34% were unconfident, while 17% remained neutral.
23% percent of respondents reported a loss of revenue due to COVID, while 6% reported increased revenue.
The number of profitable small businesses has decreased 19% year over year.
Confidence in small business due to the political climate dropped 18% year over year. The survey was conducted post-presidential election but before the events at the Capitol on January 6, 2021.
The number of women small business owners increased by 13% year over year.
The last few years have seen a shift from the plurality of small business owners who are Baby Boomers (41%) to those who are Gen X (46%). Millennials make up 13% of small business owners.
There was an 11% increase of people who went into small business due to their dissatisfaction with corporate America.
Cash remains the most popular form of small business financing, with 39% of respondents utilizing cash alone or combined with other forms of funding.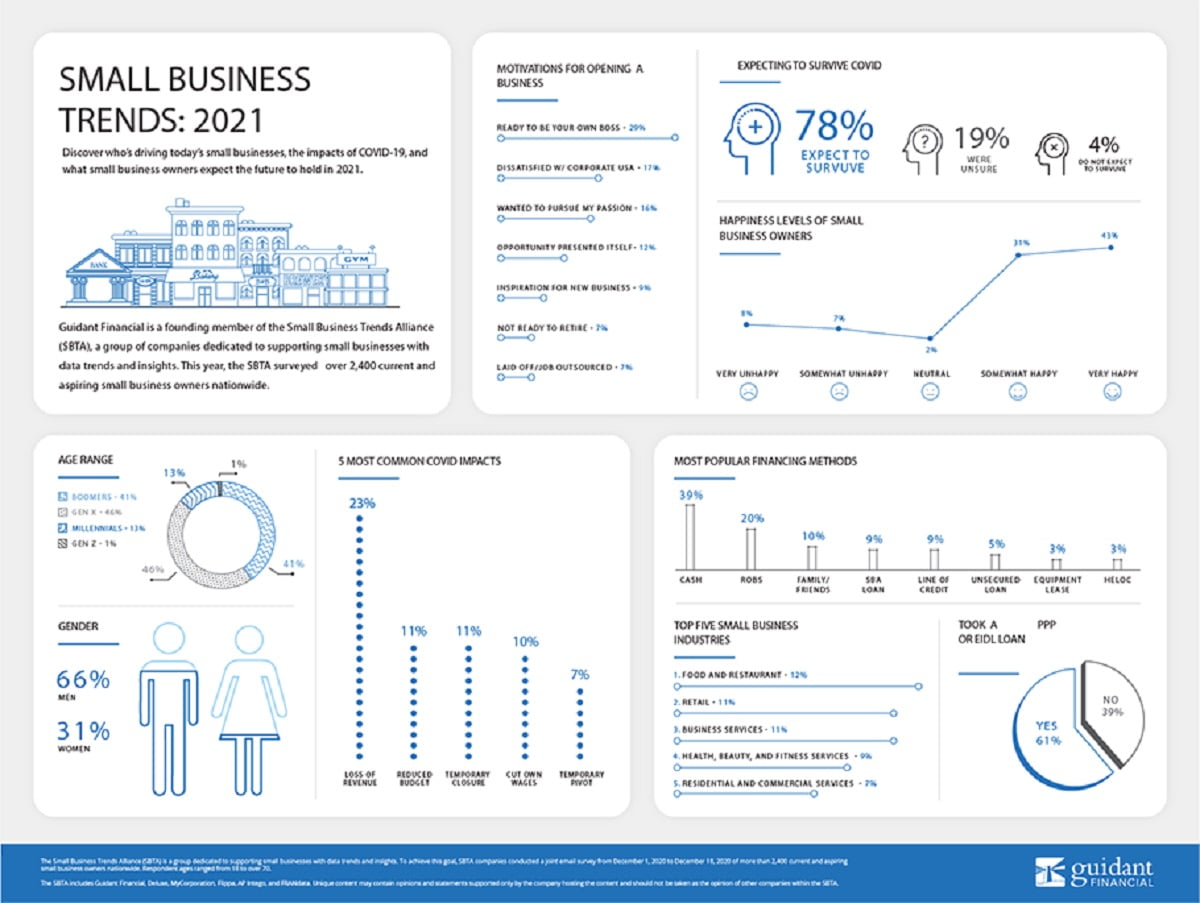 ---
Methodology
The Small Business Trends Alliance, an organization comprised of Deluxe, Guidant Financial, MyCorporation, Flippa, FRANdata, and AP Intego, conducted a joint email survey from December 1, 2020 to December 18, 2020 of more than 2,400 current and aspiring small business owners nationwide.
About Guidant Financial
Guidant Financial helps business owners secure financing to start, buy, or grow a business. An industry leader in business and franchise financing, Guidant works with new and existing entrepreneurs to identify, evaluate, and deploy customized financing solutions. Their services include, but are not limited to, 401(k) business funding, SBA loans, unsecured credit, and portfolio loans. In total, Guidant has helped over 20,000 entrepreneurs in all 50 states to invest more than $4 billion in funds to start small businesses, resulting in more than 85,000 U.S. jobs created. Visit Guidant at guidantfinancial.com.
About the Small Business Trends Alliance (SBTA)
Founded in 2019, the Small Business Trends Alliance (SBTA) is a group dedicated to supporting small businesses with data trends and insights. These data-backed insights are intended to help small business owners confidently make key decisions, and to bring transparency to small business for prospective entrepreneurs to learn more about their options. The 2020 SBTA includes Guidant Financial, Deluxe, Flippa, MyCorporation, FRANdata, and AP Intego.