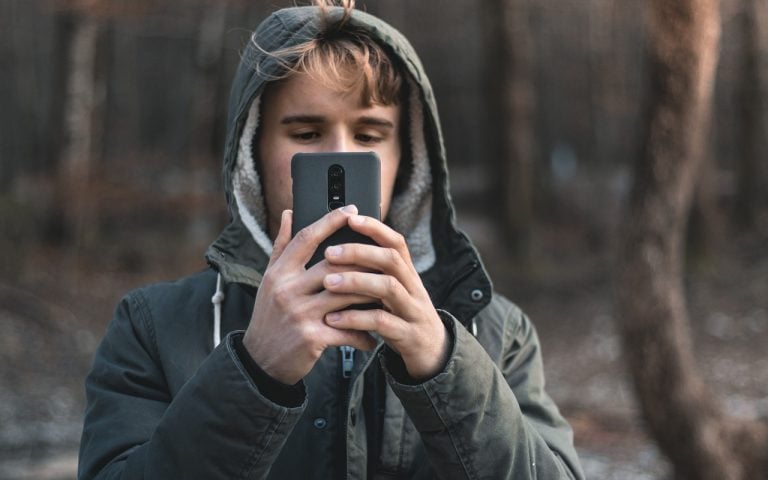 Over the years, OnePlus has built a reputation for offering high-end specs at affordable prices. Its OnePlus 6T flagship costing less than $600 directly competes with Apple's iPhone XS Max that costs up to $1,449. OnePlus indicated earlier this year that it would launch two phones in the second quarter of the year. One of them was expected to be the OnePlus 7 and another the 5G handset. A new report claims there will be a third model as well called OnePlus 7 Pro.
How will it differentiate OnePlus 7 Pro from OnePlus 7?
OnePlus traditionally launches its flagship smartphones in May or June. Twitter tipster Ishan Agarwal, who has provided accurate leaks in the past, claims the Chinese company is going to launch three phones including OnePlus 7 Pro in May. His tweet also included an image suggesting the Pro variant's tagline would be "Go Beyond Speed."
I'm pretty sure you all will soon see OP7 leaks flooding on your timelines since I can confirm that the launch is in May. It seems like the the name of the more expensive smartphone is indeed gonna be OnePlus 7 Pro and tagline will be "Go Beyond Speed". Although, it may change. pic.twitter.com/a42yjY0RY0

Greenhaven Road Capital 3Q22 Commentary

Greenhaven Road Capital commentary for the third quarter ended September 30, 2022. Q3 2022 hedge fund letters, conferences and more Dear Fellow Investors, The Fund is enduring its worst drawdown since inception. We were down again in the third quarter, bringing year -to-date returns to approximately -59%. Returns vary by . . . SORRY! This Read More

— Ishan Agarwal (@ishanagarwal24) April 10, 2019
Ishan also claims to have obtained the 'confirmed' model numbers of the three phones. His report came after a Chinese tipster going by the name IT Station shared leaked pictures of the OnePlus 7 Pro on Weibo. The pictures show that the device would have an edge-to-edge curved display similar to Samsung's Galaxy S10 phones. It has a fully bezel-less design thanks to the pop-up slider selfie camera similar to Vivo Nex.
BTW, I have just got the model numbers of the OnePlus 7 Variants confirmed so here they are:
GM1901,03,05 -> OnePlus 7
GM1911,13,15,17 -> OnePlus 7 Pro
GM1920 -> OnePlus 7 Pro 5G
PS: Still not 100% Sure, maybe for development only.https://t.co/UnInwWs7FI#OnePlus7 #OnePlus7Pro pic.twitter.com/kYvjLyBkLC

— Ishan Agarwal (@ishanagarwal24) April 9, 2019
As per the Weibo post, the OnePlus 7 Pro has a 6.67-inch notch-free display, a staggering 8GB RAM and 256GB storage. The device is powered by Qualcomm's latest Snapdragon 855 processor. On the back panel, it features a triple camera system consisting of a 48MP lens, a 16MP lens, and an 8MP sensor. It is running Android 9 Pie software.
It seems like someone has leaked the OnePlus 7 Pro (?!) On Weibo…. Do you think it is true? I'm not gonna say anything, you guys will have to wait for my confirmation 😀… Meanwhile, thoughts about the design and specs? #OnePlus #OnePlus7 #OnePlus7Pro pic.twitter.com/j6ViWcRjWP

— Ishan Agarwal (@ishanagarwal24) April 9, 2019
Past reports have also claimed that the OnePlus 7 would feature a notch-free and bezel-less design by adopting a slider mechanism for the selfie camera.
It will be interesting to see how OnePlus would differentiate the three products. The OnePlus 7 5G would be easy to differentiate as it will support 5G while the other two would rely on 4G LTE connectivity. OnePlus CEO Pete Lau told fans and media at the Mobile World Congress (MWC) that the company would launch its first 5G phone in the UK with EE in the second quarter this year.
The Chinese company could differentiate the OnePlus 7 and OnePlus 7 Pro by keeping the triple camera setup exclusive to the Pro variant. All three models are expected to pack giant batteries, OLED screens, at least 6GB or 8GB RAM, and the latest Qualcomm Snapdragon 855 chipset. There is little chance to differentiate based on these aspects. OnePlus has already confirmed that it would not offer wireless charging on the upcoming flagship.
Other vendors such as Apple, Huawei, and Samsung sell multiple variants of their devices. Samsung has the Galaxy S10E, the regular Galaxy S10, and the larger Galaxy S10 Plus. Huawei has the P30 Pro, the standard P30, and the P30 Lite. Last year, Apple launched a standard iPhone XS, a larger iPhone XS Max, and a cheaper iPhone XR. Giving customers more options could help OnePlus boost its sales and revenues.
OnePlus 7 launch just a few weeks away
Just a few days ago, OnePlus slashed the prices of OnePlus 6T in China by 400 Yuan. The 6GB+128GB variant of the device now costs 2,999 Yuan, down from 3,399 Yuan. The 8GB+128GB version is now selling for 3,199 Yuan, down from 3,599 Yuan. The most expensive variant with 8GB RAM and 256GB storage that used to cost 3,999 Yuan is now available for 3,599 Yuan.
It's unclear whether the company reduced the prices to clear the inventory ahead of the OnePlus 7 launch or the price cut was the result of new tax laws in China. The country recently reduced taxes on luxury goods and smartphones. Apple has also cut the prices of iPhones in China following the reduction in taxes.
The OnePlus 7 series is unlikely to bring back the 3.5mm audio jack. According to the rumor mill, the new phones would feature an in-display fingerprint reader similar to OnePlus 6T. The OnePlus 7 is said to pack a 4,150mAh battery with fast charging via a USB-C port.
OnePlus has partnered with T-Mobile to sell its phones in the United States. Reliable tipster Steve H.McFly claims the OnePlus 7 is going to cost $569 for the base model. By comparison, the OnePlus 6T had a starting price of $549 at the time of launch. The OnePlus 7 Pro and OnePlus 7 5G are expected to be even more expensive.