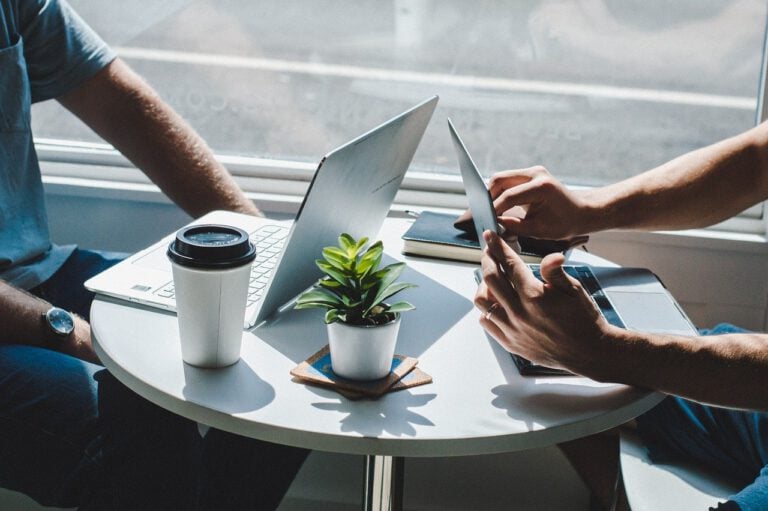 Nowadays, people get the flexibility to accomplish all their work within a matter of seconds as the end number of on-demand apps are available in the app market, which eases their task. Recent Statista represents that there are more than 3.2 billion smartphone users globally. One of the recent surveys represents that 90% of smartphone users spend their time using one or another application. Thus it becomes essential for entrepreneurs to consider on-demand business ideas, which help them to boost their presence online.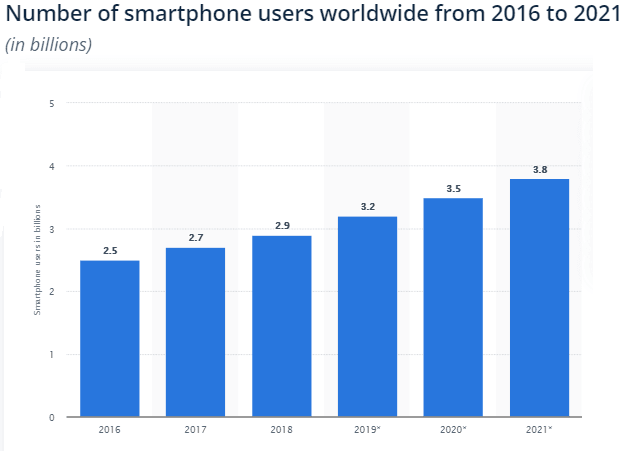 Image: (Source)
Gates Capital Management Reduces Risk After Rare Down Year [Exclusive]
Gates Capital Management's ECF Value Funds have a fantastic track record. The funds (full-name Excess Cash Flow Value Funds), which invest in an event-driven equity and credit strategy, have produced a 12.6% annualised return over the past 26 years. The funds added 7.7% overall in the second half of 2022, outperforming the 3.4% return for Read More
As per Harvard Business's recent reports, the on-demand economy has attracted approximately 22.4 million customers annually, the spending of on-demand business by prospective customers is expected to reach around $57.6 billion.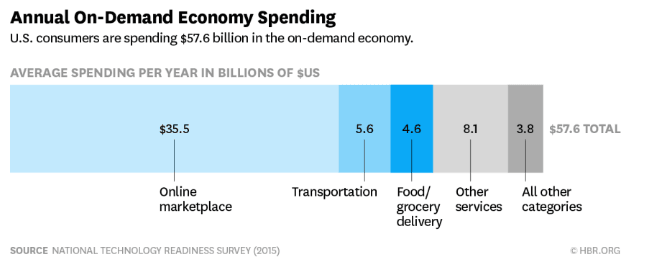 Image: (Source)
More and more customers these days are giving the first preference to on-demand businesses. The on-demand business that most of the consumers prefer these days are home cleaning services, transportation service, health services, food ordering service, and many other similar to it, which customers can get on-demand with just a few taps of the button on their smartphone.
Explore to Know Which Are Top 10 On-Demand Business Ideas Which You Can Consider for Your Business
More than 49% of on-demand consumers come under the category of millennials (age 18 to 34), while more than 30% of falls under between 35 to 54. Exploring this figure, anyone can not deny that starting an on-demand business can prove to be more beneficial for them in this tech-driven world.  (Source)
Most businesses today are trying to take their business online by developing an on-demand mobile app for their business. According to Statista report, the on-demand mobile apps revenues reached around 69.7 billion U.S. dollars in 2015, this number is expected to reach around 188.9 billion U.S. dollars by 2020 as more revenues will be generated through app stores and in-app advertising in the near future.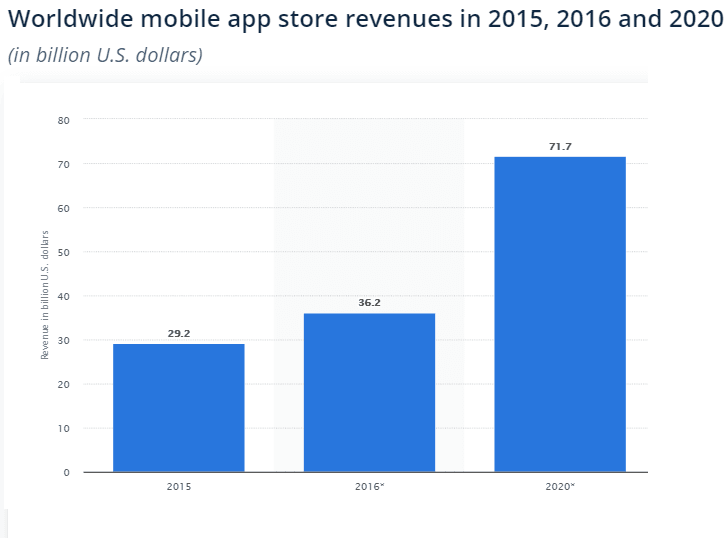 Image: (Source)
This figure clearly shows an opportunistic plunge for startups and investors who are aiming to start an on-demand business for their business. Explore some of the business ideas listed below to know which one is a perfect match for you to invest and will help you to gear up business in no time.
1. Uber
Uber is considered as one of the primary and best on-demand business ideas for those startups who want to invest in the ride-hailing business. It was founded as Ubercab in 2009 by Garrett Camp, StumbleUpon, and Travis Kalanick, respectively, with the aim to provide ride-hailing service on customer's demand.
Uber has successfully established its branches in more than 785 metropolitan areas worldwide. Any of the users can access uber's platform on their preferred device to book or schedule the ride of their choice using the on-demand mobile app or website. (Source)
2. Postmates
Postmates is a useful on-demand delivery service providing company in the United States, it was founded by Sean Plaice, Sam Street, and Bastian Lehmann in 2011. As of February 2019, this on-demand delivery service business has established its branches in more than 2,940 U.S. cities. Postmates announced that it has successfully achieved that goal of surpassing 2.5 million deliveries across 28 markets In June 2015 and also stated that it expanded its fleet to 13,000 couriers. (Source)
3. Uber Eats
After bagging massive success in the ride-hailing business, Uber step ahead to launch Uber Eats in 2014. It is an American on-demand food ordering and delivery platform which was launched to avail food lovers with their favorite food at their doorstep. (Source)
After the advent of this advanced platform, foodies need not have to worry about booking tables at their favorite restaurant to enjoy their favorite meal, they can just order it with few taps on their smart devices and can enjoy it at the comfort of their home. You can also take your food delivery business online by considering this on-demand business idea for your business.
4. Gojek
Gojek was founded in 2010 by Nadiem Makarimwith with the aim of providing a multi-service on-demand platform to the users. The Gojeck on-demand app download has reached 30 million within two years from its released date. (Source)
Thus it is advisable for businesses to start their own on-demand service business to provide multiple services to the users on their demand by opting for GoJek Clone, this feature-rich allows users to satisfy all their needs in real-time. This advanced platform avail users with multiple on-demand services they want, like transportation, courier delivery, food delivery, and many others at a pocket-friendly price.
5. TaskRabbit
This on-demand business platform was founded by Leah Busque in 2008. And its on-demand idea was most successful and has received around $37.7 million in funding and has also gained tens of thousands of vetted till today. TaskRabbit is one of the most popular on-demand platforms, which facilitates users to find background-checked "Taskers" for accomplishing their demand task within the scheduled time. (Source)
6. Swiggy
Swiggy has boosted one of the most valuable on-demand business ideas of servicing foodies their favorite food on their demand. This on-demand platform was founded in 2013 by Sriharsha Majety and Nandan Reddy. They build an e-commerce website known as "Bundl" to deal with courier and ship goods service in India.
But later in 2014, Reddy and Majety approached Rahul Jaimini with Myntra to launch Swiggy. Later it raised investments from many of the investors, including Accel, SAIF, Bessemer Venture, Harmony, and many other Partners. Till today this on-demand platform has satisfied the hunger of millions of food lovers globally. (Source)
7. Handyman
In this fastly growing world, everyone is having a busy schedule due to which they are not getting enough time to accomplish their daily tasks. Thus to help such people with their routine work handyman on-demand business idea came into existence. Any of the people who want to appoint the tasker can use this platform to find and assign the task. They can find taskers for accomplishing multiple types of work like house cleaning, gardening, washing clothes, and many others, which they are unable to complete due to their busy schedule.
8. Cabify
Cabify is another on-demand business service that provides vehicle hiring opportunities to riders on their demand. It was founded by Juan de Antonio in May 2011. The founder is a Spanish entrepreneur and a telecommunications engineer who came up with the on-demand business idea to provide the first transportation network in Madrid. Cabify found more than 20,000 users signed up with the platform and has completed more than 3,000 rides in Madrid alone only after 6 weeks of its official launch. Thus any of the businesses that want to deal with the transportation business can opt for on-demand business ideas just like Cabify. (Source)
9. Grofers
Grofers is an on-demand grocery delivery platform that was founded in December 2013. It is based out of Gurugram and has successfully raised more than $535.5 million from different investors, which include Sequoia Capital, SoftBank, Tiger Global, and many others. It has even satisfied the requirement of millions of consumers and has established its brand in  28 cities in India. (Source)
10. Drizly
Drizly was founded in 2012 by Justin Robinson, Nick Rellas, and Spencer Frazier. It is one of the coolest on-demand booze on-demand delivery platforms across the United States and Canada. It helps users to order their favorite booze for the party, marriage, or any other occasion. Users can use an advanced app or website to request multiple types of drinks like beer, spirits, wine, or any other and can get it delivered to their doorstep whenever required. (Source)
Ending Note
There are numerous on-demand business ideas which you can consider to start your business online these days. Listed are some from it, which are proven and successful business ideas that can make you earn more pennies for your livelihood. Besides this, if you are interested in starting any other business, then make sure to analyze the particular business market and its scope before indulging in it. It can help you avoid making the wrong decision and can save a considerable amount and time from being wasted.