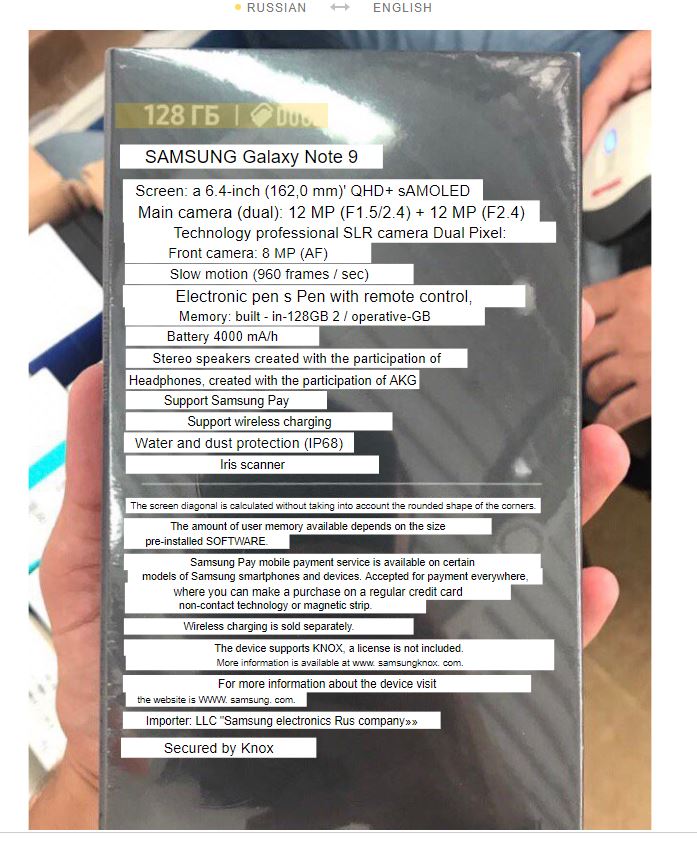 The upcoming Galaxy Note 9 is slowly but steadily becoming the most rumored phone of the year. However, this is going to end on Thursday, Aug. 9, when Samsung is scheduled to host a large reveal event in New York City. Nevertheless, such a close deadline didn't stop leakers from trying to lay their fingers on Samsung's flagship and share the specs and what it sports. The newest Galaxy Note 9 leak reveals all the specs, and confirms what was previously rumored and leaked, right from a retail box.
А вот и он. Пока корейцы готовятся к мировой презентации в Нью-Йорке, новенький Samsung Galaxy Note9 уже лежит в российских магазинах. Теперь известны все характеристики до анонса ? pic.twitter.com/Dj51ohBUxZ

— Dmitriy Ryabinin (@dryab) August 3, 2018
Samsung has had a tough time with keeping the Galaxy Note 9 hidden in the shadows. Whether it was accidentally or purposely done, the company itself leaked the smartphone last week. However, that's nothing new in the sea of previous Samsung "accidental" leaks.
The newest Galaxy Note 9 leak tops all the leaks previously made, even by Samsung. The photo on Twitter reveals the rear of the retail box, which was taken from a Russian store. That said, all the specs are written in Russian. Nevertheless, SamMobile dedicated time to translate the text, so that it could be better understood.
Everything is confirmed
This leak would have been huge if it wasn't what all the previous rumors suggested in the previous months of the phone's expectations. However, all the leaks are just confirmed with this one. The phone is equipped with a 4,000 mAh battery, and it won't surprise us if everyone is going to be extra-careful with the battery, given the bad experiences with the Note 7, which haven't been so easily forgotten, even two years later.
Technical stuff-wise, the Galaxy Note 9 is equipped with the dual camera system, the same as the Galaxy S9+, boasting a 12 megapixel dual aperture (f/1.5 – f/2.4) along with a 12 megapixel f/2.4 aperture sensor.  The box that leaked likely sports the 128GB model, which is thought to be the initial storage option for the Galaxy Note 9.
Samsung has been working a lot on the Galaxy Note 9, however the newest Galaxy Note 9 rumor doesn't bode well for the company, especially given the sales of the Galaxy S9 and Galaxy S9+. There are even rumors suggesting that Samsung is planning to merge its Galaxy S and Note series into one. Perhaps, Samsung will decide on this tough decision after seeing which phone is more popular on the market.