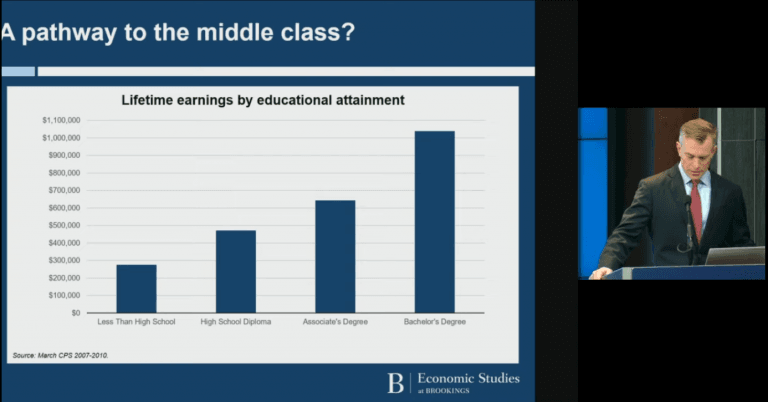 Several Democratic presidential candidates are proposing to forgive student loans for middle income students.
Q3 2019 hedge fund letters, conferences and more
Student loans: A look at the evidence
Fund Manager Profile: Kris Sidial Of Tail Risk Fund Ambrus Group
A decade ago, no one talked about tail risk hedge funds, which were a minuscule niche of the market. However, today many large investors, including pension funds and other institutions, have mandates that require the inclusion of tail risk protection. In a recent interview with ValueWalk, Kris Sidial of tail risk fund Ambrus Group, a Read More
Middle income students and debt

So, to frame this event, I want to start off with a couple of facts. One is that college has long been viewed as a key pathway of the middle class, and for very good reasons. In the labour market workers with bachelor's degrees are in a lot more than individuals without degrees, roughly $500,000. More over the course of their lifetime, they're more likely to be employed, they have a higher quality of life on a wide variety of measures. And those are believed to be caused by the educated educational investments they make.
And for many students, those educational degrees are ticket to the middle class. So according to research from Brookings, children from the bottom fifth of the income distribution have a 41% chance of reaching the top income quintiles if they earn a college degree, but only a 14% chance if they do not. And the educational institutions that provide this upward lift.
Our mid tier there not selective their public institutions, and there are thousands of them across the country. And so there are good schools everywhere that helped propel students up the income ladder. Also that's given rise to this belief that that college is a pathway to the middle class. And then along comes this student loan crisis that has totally shaken our faith in this belief.
Middle income students and Federal assistance
As is widely known between 2004 and 2018, the outstanding volume of student debt leaped from 250 billion to 1.5 trillion. Federal and private student loans are now the largest non-mortgage source of household debt in the United States. Last year, student loans had the highest delinquency rate of any form of household debt.
And we read almost every day a story of how some former student suffers under the burden of some outlandish debt load, like the dentist who has a million dollars in student debt, or a single parent who owes $77,000. Additionally, we clearly have too many student loan borrowers who are read their choices, who feel like they were fooled or misled or or who feel burdened by the loans that they've taken out. And that's a that is a real problem. That is a real problem.
College as career pathway
First of all, for the reasons I said that there are big gains to college, and it can be a pathway to the middle class. Second, financial aid, and loans in particular play a central role in providing access to college for low and middle income students.
This chart just shows the fraction of students who fraction of individuals who attend college by age 22, the dark blue line, the the fraction who attend college age by age 22, by their parents ranking the income distribution. So what you can see from this is that almost all high income students children from high income families go to college at a traditional time.
But fewer than half of low income students are enrolled at that age. And there's some catch up between age 22 and age 32. Many fewer lower income students ever go to college, and when they do a larger share with and go during a time in their life where they have more responsibility.
The students from low and lower middle income families that do go to college are heavily relying on financial aid, grants and loans for most of their or large share of their educational expenses.
And absent those loans, fewer low and middle income students would would get to go to college. And indeed, the well intentioned desire to increase access to college for these low and middle income students is a key reason why we are in this mess.
Student loan crisis
Over time, the federal government has regularly expanded the amount it lends and the circumstances in which it makes federal loans available. This chart shows loan originations for per full full time student going back to 1970. What you can see is that we expanded in the 80s eligibility for who gets a student loan and the institutions that were eligible to participate in the 90s. We expanded federal loans to borrowers from higher income families, and, and families and period without financial need. weeks, we have regularly increased the amounts that we lend both to undergraduates, to graduates and parents.
And as a result, the number of institutions that participate in the loan programme and the amounts that are available for students has increased a lot over time. And so one thing that federal expansion aid achieved was that it allowed more students to borrow and to borrow in much larger amounts. This chart shows data on household student borrowing in 2008.