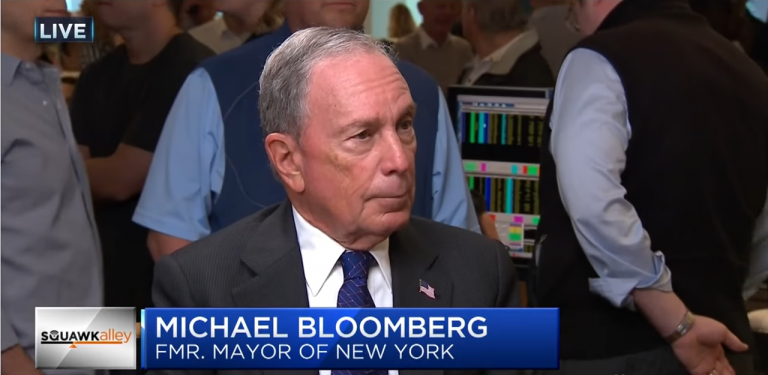 After flirting with running for president more times than even New York Governor Mario Cuomo, former New York City Mayor Michael Bloomberg may actually do it this time. The big question is not whether he could beat President Donald Trump, but whether he could even win the Democratic nomination.
Only one self-made billionaire ever made a serious run for the presidency – Ross Perot in 1992 and 1996. And he ran as an independent.
Q3 2019 hedge fund letters, conferences and more
According To Jim Chanos, This Is The Biggest Story No One Is Talking About
When a liquidity crisis struck China's Evergrande Group in the summer of 2021, it shook the global markets. Debt payments by China's second-largest property developer by sales were estimated in the hundreds of billions of dollars, and the company missed several payments. Those missed payments led to downgrades by international ratings agencies, but the Chinese Read More
Bloomberg managed to get himself elected mayor three times -- not only running as a Republican in overwhelmingly Democratic New York -- but by willing and able to spend about $100 for every vote he received.
Can Bloomberg win the democratic nomination?
Not only is Bloomberg entering the 2020 Democratic presidential primary rather late in the game, but he is a relatively colorless campaigner. His strategy will be to let some of his rivals kill most of each other off during the first four contests – in Iowa, New Hampshire, Nevada, and South Carolina. And then, on March 3rd Super Tuesday, he will deploy a small fraction of his $50 billion-plus fortune to bury his last standing competitors.
Had Bloomberg entered the Democratic contest months ago, he probably would not have fared much better than fellow billionaire Tom Steyer. In addition, until very recently, former Vice President Joe Biden, whose left-center political stance mirrors Bloomberg's, appeared to be the odds-on favorite for the nomination.
Will this strategy work? On the plus side, Bloomberg could easily afford to spend much more than $100 for every vote he receives, while none of his rivals could afford to spend more than a tiny fraction of that. But he still would be asking voters to support a relative political unknown who will surely be accused of trying to buy the nomination.
Bloomberg's strongest arguments would be that he does have twelve years of solid governmental administrative experience, an extremely successful business career, and that he can far outspend the Trump campaign.
Bloomberg vs Trump
And then too, Bloomberg has long been very active in fighting climate change and advocating for gun control. Even without his tens of billions, he could be a credible presidential candidate.
Perhaps his strongest argument for getting the Democratic nomination is that he stands the best chance of beating Trump. Progressives like Bernie Sanders and Elizabeth Warren would scare off moderate Democrats and Republicans as well as tens of millions of independents.
Political theory supports this contention. Because Trump occupies the extremely right of the political spectrum, if you run an extreme left candidate against him, that will leave all the voters between them up for grabs. But if your candidate occupies the center, or even the left-center, then she or he is much better positioned to win the election.
Still, many Democratic primary voters will look askance at a man whom they barely know, and who can easily be accused of wanting to buy the Democratic nomination. But if he should somehow manage to do well on Super Tuesday, then you can be sure than Trump will be calling him a lot worse than "Little Michael."