As the years have gone on, electric vehicles have gone from being practically non-existent on our roadways to somewhat common in many parts of the country. Some analysts and early adopters of the technology believe it's only a matter of time before most vehicles are electric. However, until the auto market can reach that point, the EV supply chain will capture most of the early benefits.
The supply chain for electric vehicles
Canaccord Geunity analyst Jed Dorsheimer and team released a white paper on the EV supply chain this week. Based on their study, they upgraded Tesla stock and raised their price target for it significantly. No matter what your personal thoughts about Tesla are, there is much to consider when it comes to the supply chain for electric vehicles.
Q4 hedge fund letters, conference, scoops etc
The supply chain begins with materials like lithium and cobalt. As EV adoption increases, demand for these materials and other metals specifically used in EVs should rise dramatically. The next step in the supply chain involves high-tech components such as semiconductors. Next is what they call "autonomous subsystems," which basically entails LIDAR and other systems used for autonomous driving.
The remaining parts of the EV supply chain include automakers and the charging infrastructure needed to keep EVs going.
Battery materials
The Canaccord team acknowledges that one potential barrier to rapid EV adoption could be available materials. The firm's Global Mining Research team considered the types of natural resources needed for EV batteries and examined their supply and demand balances. Not all the lithium-ion batteries used in electric vehicles have the same composition, so different batteries contain different amounts of metals and other materials. According to Canaccord, these are the main elements used in battery cathodes: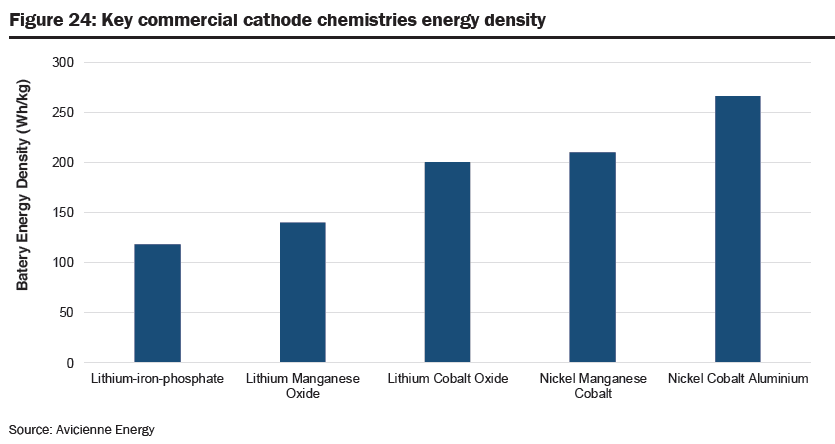 Battery anodes mainly consist of graphite and silicon.
The firm's analysts also estimated the weight compositions of the cathode formulations according to weight.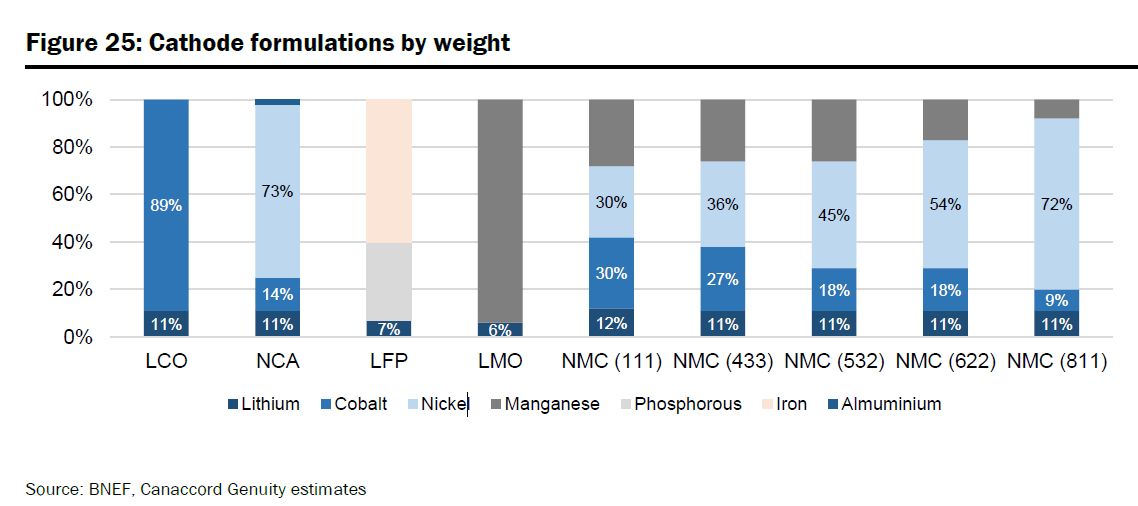 They added that the EV market has gradually shifted toward batteries with higher energy densities to increase the driving range of EVs. As a result, cathode chemistries are shifting toward nickel-manganese-cobalt and nickel-cobalt-aluminum formulations. This means that instead of using materials that are less expensive and more abundant, EV battery manufacturers are starting to prefer more expensive metals which are also less abundant.
What does all this mean for metal prices?
The Canaccord Genuity team then went further and tried to quantify future raw material requirements based on a number of lithium-ion battery compositions.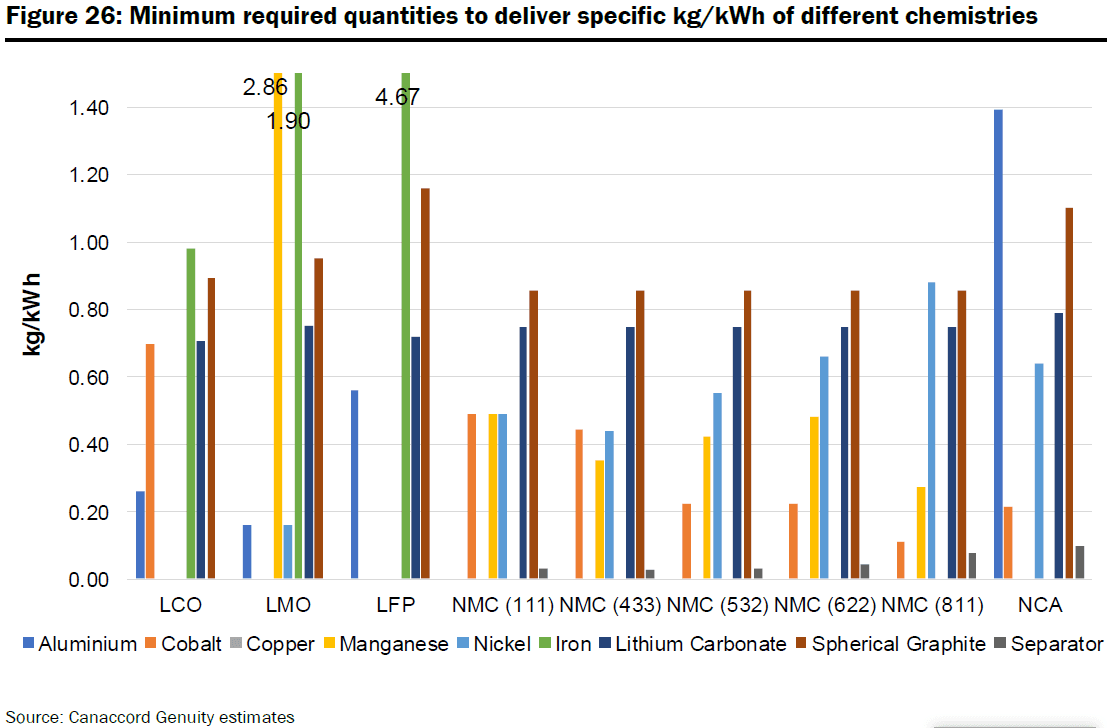 The analysts warned that the significant amounts of raw materials needed for EV batteries could be a major limiting factor in adoption. They warned that long-term supply may not be adequate, which would significantly raise the prices of these materials. As a result, they feel the demand for important raw materials could end up "significantly exceeding supply." This may result in "supply-crunch pricing scenarios," they added.
The Canaccord team sees "a strong likelihood for significant market deficits" and higher prices starting in the mid-2020s due to EV adoption and growth in the lithium-ion battery market. They attempted to estimate demand growth in key materials like cobalt and nickel through 2025 based on their forecasts for EV penetration and adoption rates.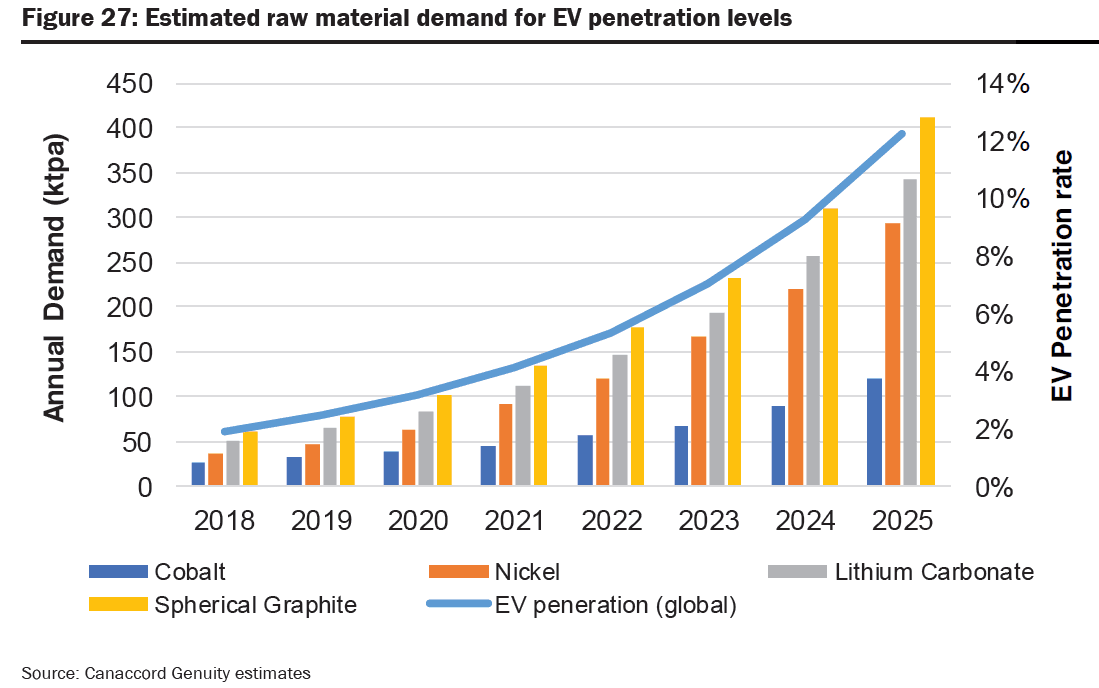 It should be noted that their estimates exclude non-EV batteries like those used in electronic devices, energy storage and bikes and scooters. It's particularly important to point out that some experts believe the energy storage market could eventually become larger than the EV battery market, which means demand for cobalt, nickel and other raw materials could be much greater than the picture generated above.
Lithium prices
The Canaccord team then went on to look at the main raw materials to try to estimate where prices may go in the coming years. For example, they said lithium is found abundantly in brine and hard rock mineral deposits, but for now the market is fairly small at about 260kt last year. Mining new supplies is capital intensive with lengthy development and production lead times.
Canaccord estimates average capital intensity for new lithium chemical production at about $12,000/ ton. That would mean in order to meet their more bullish estimate for demand in 2030, mining companies would need to invest $32 billion. However, last year the lithium market was only worth a mere $3 billion.
Additionally, because it takes five to 10 years between discovery of lithium supplies and production, the required capital would need to be available two to four years before the year when new supply is required. This could place lithium in a temporary situation of oversupply in the early 2020s, which would make it difficult to attract financing from the capital markets.
"In our view, the lithium market would require incentive prices significantly higher than recent peaks in order [to] inspire such a supply-side response, which in turn will have a marked impact on overall battery costs."
Cobalt prices
Unlike lithium, cobalt is relatively scarce. In fact, cobalt may end up being the one raw material that hinders EV battery manufacturing efforts. In 2018, global cobalt production was estimated at about 120kt, with about 60% mined from the Democratic Republic of Congo.
Because about 97% of global cobalt production came from byproducts from copper and nickel mining, the Canaccord team expects "significant increases in cobalt supply to be relatively inelastic to price."
"… even with the prospect of cobalt thrifting in new-generation ternary cathode chemistries, demand growth even on conservative forecasts could lead to significant market deficits in the medium to long term," the analysts warned.
Of note, cobalt prices have crashed in recent months, falling to two-year lows of about $32,000 per ton on the London Metal Exchange, according to Reuters. In the first six months of 2018, cobalt prices approached $100,000 per ton. Growing supplies from the Congo and a surplus of cobalt chemicals in China contributed to the more recent price decline, driven by oversupply.
Nickel prices
They also said that the nickel market is much larger than the cobalt market as the metal is significantly more abundant and thus far less expensive. However, they said a problem for the nickel market is the complexity and dynamics of the nickel supply chain. Only Class I nickel products, which they define as "high-purity products produced through nickel sulfide routes or HPAL processing," can be used in lithium-ion batteries.
Another problem for nickel is that new discoveries have become rarer in recent years. As a result, Canaccord analysts see potential deficits in the nickel market as early as 2023. They add that supply growth will require new nickel sulfide production and/or capital-intensive projects utilizing high-pressure acid leach methods. They estimate the capital intensity of the latter methods at about $45,000 per ton with development lead times averaging eight to 10 years.
"The dynamics of the nickel market, much like cobalt and lithium, point to the potential for significant market deficits from the mid 2020s, placing significant upside risk on current metal prices and flow on effects for battery costs," they explained.
We should also point out that nickel production in China and Indonesia is expected to hit record levels this year, which will likely pressure prices in the near term, Reuters reported. Nickel on the London Metal Exchange was up 15% for the year through the end of January, but prices have fallen since then, pressured by the increased production expectations.
This article first appeared on ValueWalk Premium