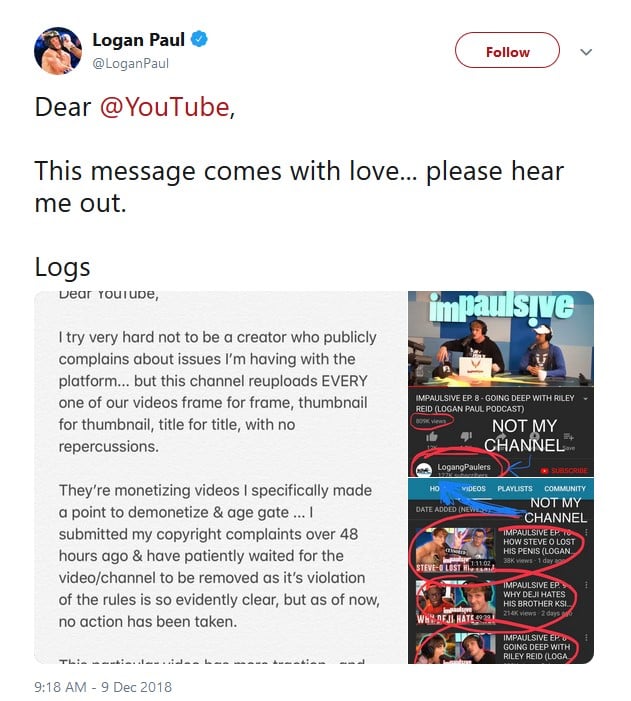 Calling out YouTube publicly helped
Popular YouTuber Logan Paul is in the news again. This time for calling out YouTube publicly for not taking action against an account, which according to Paul reposts his videos to earn ad money. Paul suggests that it is a case of copyright infringement, and wants YouTube to ban this channel. The account in question is a fan-based YouTube channel LogangPaulers.
According to Paul, YouTube gave no reply to his email, which was sent over two days back. And, that is why he had to come up with a public post. Calling out YouTube publicly worked as the video platform came up with a quick reply and reassured they would ban the LogangPaulers.
We're checking on this alongside your Partner Manager — he'll follow up with more info. The new Copyright Match tool will also help with this, so look out for details on that too.

Rare Warren Buffett 1977 Interview: "I like guys who forget"

It is very easy to assume that Warren Buffett has always been hailed as an investment genius. Today he is considered to be the best investor alive, having turned Berkshire Hathaway from a struggling textile concern into one of the largest companies in the world. Anything he touches usually turns to gold. Q2 hedge fund Read More

— Team YouTube (@TeamYouTube) December 9, 2018
"Hey Logey, we're so sorry this happened to you. We're going to ban that user permanently from YouTube and give you DOUBLE the ad revenue from now on," said a tweet from YouTube.
Logan confirmed later that some of the videos were removed. And, as of now, the channel is also blocked.
If you are unaware of what LogangPaulers are, this is what their About page says: "LogangPaulersWelcome to our channel This is just a fan base channel… The Logang and Jake Paulers are the best, so i created this channel also to learn more about editing, and connect with all you guys. Join the family"
In separate news, Logan Paul announced his plans to make an animated series. He announced this while replying to a tweet from a fan asking Logan's upload schedule. "beginning of next year I will start uploading vlogs regularly, AND: – a show that Evan and I made – an animated series – IMPAULSIVE 2019 gonna be big," Paul tweeted.
PewDiePie gets an unexpected friend
Logan Paul was in the news last week as well after he agreed to help PewDiePie (another popular YouTuber) in a fight to remain the top YouTuber. Paul created a trackable link that automatically subscribes people to PewDiePie's YouTube channel. He also posted a new video talking about the ongoing contest, and how he is contributing to that.
Logan also promised to contribute 1 Swedish krona for every click on the link. According to Logan, the money will go to a charity of his choice. Recently, PewDiePie also started a trust fund for India's NGO CRY. Paul is among the biggest YouTubers with more than 10 million subscribers.
Paul coming out in support for PewDiePie comes as a surprise, especially considering their tricky relationship in the past. Logan was criticized online after he filmed in Japan's suicide forest. Many celebrities and YouTubers criticized him, including PewDiePie. Even Logan later apologized for the video, which was taken down from YouTube.
PewDiePie is currently in a fight with an Indian media firm T-Series for the top YouTube channel. Following the contest, many have come forward to support PewDiePie. Some of his fans even distributed fliers and posters requesting people to subscribe to his channel. One fan even paid for the biggest billboard spot in New York City, while one hacker hacked more than 50,000 printers to print a message that asks people to subscribe to PewDiePie's channel.
Indian-based music company T-Series and the Swedish YouTuber PewDiePie are in a close fight to become the most popular channel on YouTube. T-Series has about 74.5 million subscribers, while PewDiePie has about 75 million followers. The Indian company, however, is growing fast and is threatening to unseat the Swedish YouTuber for the number one spot. T-Series joined YouTube in 2006.
Logan Paul – a millionaire despite the scandal
Earlier this month, Logan Paul committed a grave mistake by filming a video in Japan's so-called "suicide forest." He was heavily criticized after the video. YouTube even dropped him from the Google Preferred program, while his other projects were either canceled or put on hold.
"I've made a severe and continuous lapse in my judgment, and I don't expect to be forgiven," he said in a video later. The apology video itself got 52.8 million views.
The video, it seems, helped, as the YouTube star made more income between June 1, 2017, and June 1, 2018 compared to the prior period. According to Forbes, Paul's earnings increased year over year by 16% to $14.5 million before taxes and fees. The rise in income helped Paul to be number 10 on Forbes list of Highest-Paid YouTube Stars.
According to Forbes, the majority of Paul's income came from the YouTube ads. Also, Forbes noted that the views earned by Paul's video prior to the "suicide forest" video made a big difference. During the period before that ill-fated video, he got about 2.55 billion views, a big jump from the same period last year. Paul's viewership actually dropped to just 630 million views in the five months after January (after he posted the forest video).