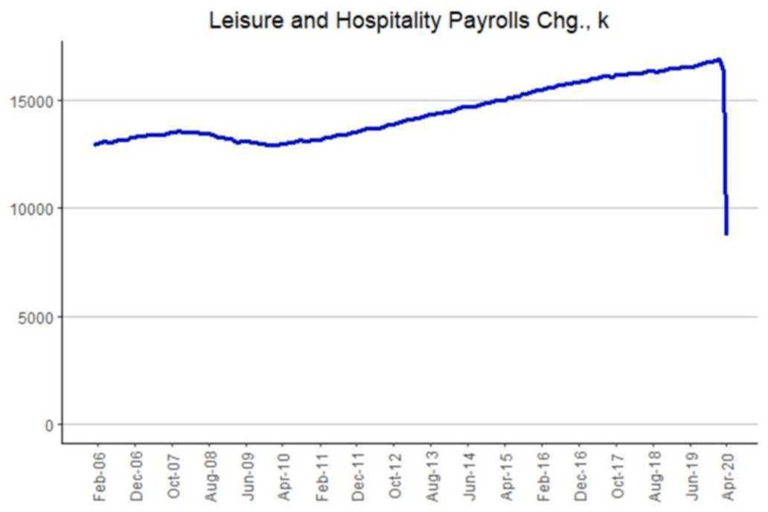 "Job losses were widespread, but the largest declines were highly concentrated," says Jeoff Hall, Managing Economist, Refinitiv.  Below, Jeoff analyzes today's release of April's US Jobs report and what it means as we move forward.
Q1 2020 hedge fund letters, conferences and more
Jeoff Hall, Managing Economist, Refinitiv comments:
According To Jim Chanos, This Is The Biggest Story No One Is Talking About
When a liquidity crisis struck China's Evergrande Group in the summer of 2021, it shook the global markets. Debt payments by China's second-largest property developer by sales were estimated in the hundreds of billions of dollars, and the company missed several payments. Those missed payments led to downgrades by international ratings agencies, but the Chinese Read More
Job Losses In The Leisure And Hospitality Industry
"The Leisure and Hospitality industry lost 7.653 mn jobs, slashing headcount by 46.8% from where it was in March. That one industry accounted for nearly 40% of the total decline in private nonfarm employment in April. Remember, this industry accounted for nearly 60% of all jobs lost in the private sector in March.
Within the Leisure and Hospitality industry, employment in arts, entertainment, and recreation fell by 54%. It's hard to imagine an industry losing more than half its workforce in a single month, and it wasn't the only one to do so. It's also hard to imagine these jobs springing back in May or June. Employment at food services and drinking establishments (restaurants and bars) sank by 45%, though as states begin to reopen this month and before the closing of the employment survey reference period, we expect a significant rebound in May.
With the exception of general merchandise stores, including warehouse clubs and supercenters, every category within the retail trade industry lost jobs between March and April. Automobile dealers cut payrolls by 20%, furniture and home furnishing stores reduced employment by 45%, while clothing and accessory stores cut 58%. Again, these jobs aren't going to return immediately in May, though it's conceivable that most jobs will return by the end of this year.
May Might Be More Normal Than April
Meanwhile, many industries suffered job losses of around 10%. That may seem significant under normal business conditions, but April was anything but normal for the U.S. economy and its labor market. May won't be normal either, but it will be more normal than April and most likely more normal than March. That is to say, we may yet see a decline in nonfarm payrolls this month as well, but not on the order of what we saw for last month and not even what we saw for the month before that.
Over in the household survey, the news was equally sobering but no less encouraging for a rebound. The unemployment rate jumped to 14.7% (from 4.4%), though that was a fair sight better than the median market expectation (16.0%). One concern here is that there was a large increase in the number of workers who were classified as employed but were absent from work.
Employed persons absent from work due to coronavirus-related business closures were supposed to be classified as unemployed on temporary layoff. However, it is apparent that not all such workers were so classified. If they had been, the overall unemployment rate would have been almost five percentage points higher, approaching 19.5%. We think the discrepancy owes to the rollout of the Payroll Protection Program, so we do not treat it as a red flag.
The Bottom Line: Everyone knew the April employment situation report would be horrible with record-setting losses in nonfarm payrolls and a post-World War II high in the unemployment rate. We got that, but to us the results were not as bad as feared and universally understood to be momentary."
Source: Refinitiv IFR