Initiation of j2 Global, Inc. (NASDAQ:JCOM) with a Target Price of $24.77 GlassHouse Research focuses on the ill-fated roll-up j2 Global, Inc. (JCOM), which uses a myriad of acquisitions to conceal non-reported organic declines and stagnant earnings
JCOM's continued use of acquisitions concurrent with declining ROIC and organic growth will cause its demise: While the company has recently enjoyed double-digit revenue gains that have astounded analysts, our own analysis of estimated organic growth detail a deteriorating core company underneath the multitude of acquisitions presented every year. Contemporaneous with unfavorable trends regarding the firm's RNOA and ROIC metrics, we believe these trends indicate significant risk to the sustainability of future earnings.
Q3 hedge fund letters, conference, scoops etc
Acquisition accounting remains suspect at j2 Global, as current accounting concerns now attach a time catalyst to JCOM's share-price demise: j2's once manageable goodwill balance has grown to a corpulent size on the balance sheet through persistent acquisitions. Furthermore, we find dubious liability transactions within the company's acquisition accounting that lead us to believe future reserves are being artificially

Sell-side analysts are fooled by deceptive non-GAAP exclusions that GHR will expose as neither non-recurring nor non-cash expenses: j2 is the benefactor from one of the worst uses of non-GAAP exclusions we have seen in our experience. TTM non-GAAP income ($6.04) now stands 134% above GAAP income of $2.58, representing the highest deviation in JCOM's history. Persistent material exclusions of intangible amortization expenses, acquisition-related costs, and stock-based compensation obfuscate JCOM's true economic earnings.
j2 has reported suspect accounting practices in addition to retaining lower-tiered accounting firms in years past: Using auditing firms such as BDO LLP and SingerLewak give GHR cause for concern as a company of this size and complexity should be using a Big 4 accounting firm. Also, JCOM's lack of accounting experience in key positions such as its CFO and anyone on its audit committee should raise red flags for their
Premium valuation erroneously based on "adjusted" earnings is unwarranted given the material long-term structural issues and near-term accounting risk: Using a sustainable earnings figure detailed in this report, GHR will show why we believe an approximate 64.2% downside to JCOM's current share price is in its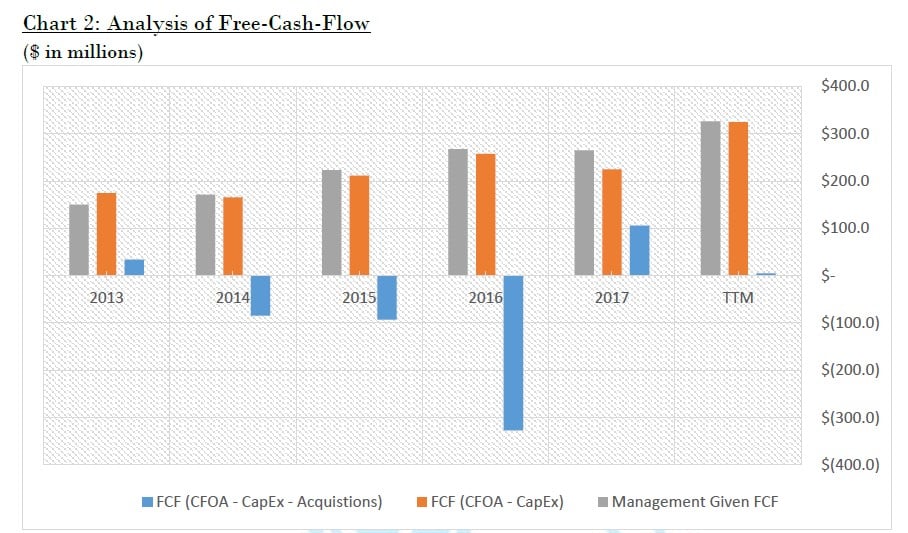 Company Background
j2 Global, Inc., together with its subsidiaries, engages in the provision of Internet services worldwide. It operates through two segments, Cloud Services and Digital Media.
The Cloud Services segment offers cloud services to sole proprietors, small to medium-sized businesses and enterprises and government organizations. This segment provides online fax services under the eFax, sFax, MyFax, eFax Plus, eFax Pro, eFax Secure, eFax Corporate, and eFax Developer names; on-demand voice and unified communications services under the eVoice and Onebox names; online backup and disaster recovery solutions under the KeepItSafe, LiveDrive, LiveVault, and SugarSync names; email security, encryption, archival, and perimeter protection solutions services under the FuseMail name; email marketing services under the Campaigner name; and customer relationship management solutions and customer support services.
The Digital Media segment operates a portfolio of web properties, including IGN.com, Mashable.com, PCMag.com, HumbleBundle.com, Speedtest.net, AskMen.com, MedPageToday.com, Offers.com, and Everydayhealth.com that offer technology products, gaming and lifestyle products and services, news and commentary related products, speed testing for Internet and network connections, and online deals and discounts for consumers, as well as professional networking tools, targeted emails, and white papers for IT professionals. This segment also sells display and video advertising solutions, as well as targets advertising across the Internet; sells business-to-business leads for IT vendors; promotes deals and discounts on its Web properties for consumers; and licenses the right to use PCMag's Editors' Choice logo and other copyrighted editorial content to businesses.
The company was formerly known as j2 Global Communications, Inc. and changed its name to j2 Global, Inc. in December 2011. j2 Global, Inc. was founded in 1995 and is headquartered in Los Angeles, California.
---
Who is GlassHouse Research? GlassHouse Research (GHR) is made up of former forensic accountants/analysts who have worked for prominent hedge funds on Wall Street, as well as boutique forensic accounting firms. Our purpose is to expose public companies that have been taking advantage of US GAAP as well as IFRS accounting for their benefit. We seek to find companies where GAAP (or even worse, non-GAAP) earnings are deviating from true economic earnings of the target firm.
Overall, we search for evidence of a "culture of fraud" within public companies.
See the full report from GlassHouse Research right here