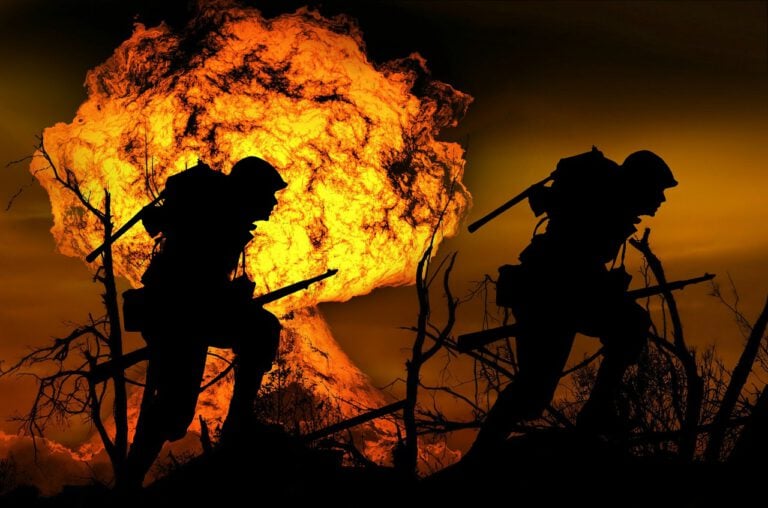 Iran has come out with a warning that it will bomb Israel and Dubai if the country is attacked in the future. This new threat of an Iran attack came after the country fired ballistic missiles at the Iraqi bases housing U.S. troops.
Warning for Israel and Dubai
The warning comes from Iran's elite Islamic Revolutionary Guard Corps (IRGC) that it will attack Dubai in the UAE, and Haifa in Israel, if the U.S. or any of its allies attack Iran. The Iranian government says it does not want to escalate the war, but would give a befitting reply if there is any retaliation from the U.S.
"We are warning all American allies, who gave their bases to its terrorist army, that any territory that is the starting point of aggressive acts against Iran will be targeted," read the warning from The Guard (via Iran's state-run IRNA news agency).
Robinhood 2021 Conference: Cathie Wood discusses her investment process with Lee Ainslie [Exclusive]
ARK Invest is known for targeting high-growth technology companies, with one of its most recent additions being DraftKings. In an interview with Maverick's Lee Ainslie at the Robinhood Investors Conference this week, Cathie Wood of ARK Invest discussed the firm's process and updated its views on some positions, including Tesla. Q1 2021 hedge fund letters, Read More
Iran took & concluded proportionate measures in self-defense under Article 51 of UN Charter targeting base from which cowardly armed attack against our citizens & senior officials were launched.

We do not seek escalation or war, but will defend ourselves against any aggression.

— Javad Zarif (@JZarif) January 8, 2020
Tehran's bureau chief for NBC News, Ali Arouzi, tweeted that Iran has said that it will end the attacks if there is no retaliation from the U.S. over these latest attacks. On the other hand, if there is any retaliation, then there will be a "crushing and widespread" response that will include destroying Dubai and Haifa in Israel.
Iran is warning that if there is retaliation for the two waves of attacks they launched their 3rd wave will destroy Dubai and Haifa.#iran #Soleimani #war

— Ali Arouzi (@aliarouzi) January 8, 2020
"Iran making threats of mass escalation. To attack more bases in Iraq.  To unleash Hezbollah. To unleash shiite militias in Iraq. To attack Israel and Dubai. Making it clear it is ready for a widespead campaign if this escalates further with a US response," read a tweet from NBC foreign chief correspondent, Richard Engel.
Iran attack: all you need to know
Iran, early Wednesday morning, fired over a dozen missiles targeting U.S. bases in western and northern Iraq (Al-Asad and Erbil). Donald Trump visited the Al-Asad airbase in western Iraq in December 2018. The U.S. first used the Al-Asad airbase during the 2003 invasion to topple dictator Saddam Hussein. Later, the U.S. troops stayed there to overcome the threat of the Islamic State group in Iraq and Syria. This base is home to about 1500 U.S. and coalition forces.
As per the reports from Iranian TV, Iran used Fatteh-110 ballistic missiles for the latest attack. These missiles have a range of 186 miles or 300km.  As of now, there are no confirmed reports of casualties or major damage at the two bases.  The Pentagon, in a statement, said that it is still assessing the damage.
This Iran attack, as per the country, was "revenge" for last week's airstrike that killed Iranian Maj. Gen. Qassem Soleimani. On Friday, top Iranian general Qassem Soleimani was killed in the U.S. drone strike. According to Iran's State TV, the code name of the latest round of attack was Marytr Soleimani.
"The brave soldiers of IRGC's aerospace unit have launched a successful attack with tens of ballistic missiles on Al Assad military base in the name of martyr Gen. Qassem Soleimani," Iran said in a statement claiming the responsibility for the attacks.
Iranian FARS news agency released footage (via a tweet) showing attack at one of the U.S. bases.
Rising tensions in the region
President Donald Trump recently noted that his order for the killing of Soleimani had saved a lot of lives. He even referred to Soleimani as "a monster."
"He was planning a very big attack, and a very bad attack for us and other people, and we stopped him and I don't think anybody can complain about it," Trump said yesterday.
The killing of Soleimani and Iran's latest attacks is the first time in recent years when the two countries – the U.S. and Iran – have been directly engaged in a war, rather than through their regional allies. The two countries have been against each other since after Iran's 1979 Islamic Revolution.
Trump has already been briefed on the latest Iran attack. As per a report from Dailymail, Secretary of State Mike Pompeo and Defense Secretary Mark Esper were seen arriving at the White House soon after the news of the Iran attacks broke.
"The President has been briefed and is monitoring the situation closely and consulting with his national security team," said White House press secretary Stephanie Grisham.
Owing to the rising tensions in the region, the U.S. FAA (Federal Aviation Administration) has stopped all civilian U.S. aircraft from using the airspace over Iraq or Iran, as well as, the waters of the Persian Gulf and the Gulf of Oman. Iran's Air Force, on the other hand, is reportedly using fighter jets to monitor its airspace for any unexpected guests.