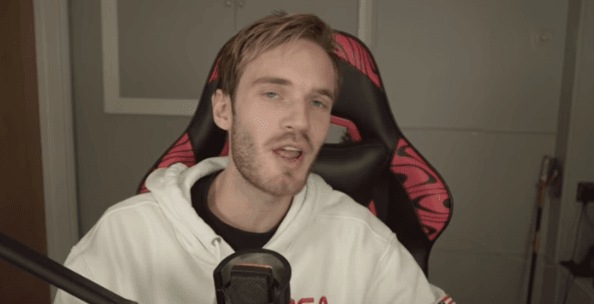 The YouTube race between Indian music label T-Series and PewDiePie continues in 2019, and if recent incidents are anything to go by, it appears there will be no end to this superiority battle anytime soon, especially now that some Indian YouTubers have joined the battle.
What inspired anti-PewDiePie videos from Indian YouTubers?
It all started last year when the internet was buzzing with noise related to the rapid rise in popularity of T-Series' YouTube channel. T-Series was gaining on PewDiePie's channel fast, resulting in a battle for dominance as the most popular YouTube channel. Soon fans and followers of the Swedish YouTuber joined the battle, trying their best to garner support for their star in their own way.
Some showed their support by promoting a "Subscribe to PewDiePie" campaign on social media platforms, while others purchased expensive advertisements to try to keep PewDiePie in the lead. Some even resorted to white-hat hacking to garner support for the Swedish YouTuber.
Fund Manager Profile: Kris Sidial Of Tail Risk Fund Ambrus Group
A decade ago, no one talked about tail risk hedge funds, which were a minuscule niche of the market. However, today many large investors, including pension funds and other institutions, have mandates that require the inclusion of tail risk protection. In a recent interview with ValueWalk, Kris Sidial of tail risk fund Ambrus Group, a Read More
However, the battle intensified after PewDiePie released a "diss" track titled "B*tch Lasagna" in October. The Swedish YouTuber took on T-Series for the first time in the video, and as was expected, it proved to be a huge hit and captured about 5 million likes.
Meanwhile the team behind T-Series' channel made it clear that they are not competing with anyone.
T-Series Managing Director Bhushan Kumar told the BBC, "I am really not bothered about this race. I don't even know why PewDiePie is taking this so seriously. He's getting his people to push him, to promote him. We are not competing with him."
However, following repeated attacks from PewDiePie's side, several Indian YouTubers have now started to team up on some anti-PewDiePie videos. The latest anti-PewDiePie video comes from CarryMinati, who is among India's top YouTubers. Like PewDiePie, CarryMinati also operates individually and is not attached to any company.
Here's what CarryMinati said in his anti-PewDiePie video
CarryMinati, who is popular for his funny takes on videos, released a video titled "Bye PewDiepie" on Jan. 1. In the video, CarryMinati becomes a rapper and warns the Swedish YouTuber that T-Series will overtake him soon. The video captured about 5 million views in one day; currently, the view count is over 8 million.
CarryMinati's video does not have English subtitles, but if you want to know what he is singing, you can translate these lyrics into the language of your choice using Google Translate or a similar service.
One of the lines states, "T-Series company tujhe harayegi, ek din India poori duniya chalayegi," which translates as, "T-Series will beat you, one day, India will run the world."
CarryMinati also mentions PewDiepie's video entitled "You India You Lose," in which he made fun of Hindi television serials. PewDiepie's video triggered a major outrage online, including commentary from Ekta Kapoor, a producer of one of the serials he made fun of.
U seem obsessed bhaiiiii! https://t.co/tZBAtDh2V5 !!! I'll send u some fresh videos

— Ekta Kapoor (@ektaravikapoor) May 13, 2018
Before CarryMinati released his anti-PewDiePie video, Asif Bantaye, another Indian YouTuber, released his own video entitled "PewDiePie Indian Diss Track" in early December.
What's interesting to note is that CarryMinati and many other independent Indian YouTubers were initially in support of PewDiepie, but the constant use of racial slurs by PewDiePie's fans may have changed everything. Additionally, CarryMinati's fans have long been demanding such a video.
There were reports that PewDiePie tried to counter the negative PR against him by helping the Indian children's rights charity CRY. However, with PewDiePie himself supporting racist and white supremacist YouTube channels, his support for the non-profit, non-government organization didn't make much impact.
Here's the latest in the T-Series and PewDiePie battle
Meanwhile, the battle between T-Series and PewDiePie continues to heat up. PewDiePie's channel has breached the 80-million milestone, making it the first YouTube channel to do so. The Swedish YouTuber is gaining subscribers fast. Just last month, it had about 75 million subscribers.
However, T-Series's channel isn't far behind. Its subscriber count is already over 79 million. Although the gap is currently about 1 million, there was a time when the margin was closer to 100,000. At the time, popular YouTuber Markiplier may have saved PewDiePie with his live-stream entitled "I Literally Won't Shut Up Until You Subscribe To PewDiePie." The one-hour long stream helped push PewDiePie's subscriber count up by over 100,000.
Although the Swedish YouTuber has managed to stay ahead so far, it will be interesting how the subscriber count goes in the coming months. PewDiePie, whose real name is Felix Kjellberg, has been the top YouTuber since 2013.