How China Could Punish the US in a Trade War
FORECASTS & TRENDS E-LETTER
by Gary D. Halbert
March 20, 2018
How China Could Punish the US in a Trade War
1. US Consumer Sentiment Index Highest Since 2004
2. How China Can Punish the US in a Trade War
3. Strong Rebound: US Manufacturers Hiring Like Crazy
Overview
President Trump is preparing to impose a package of $60 billion in new annual tariffs against China, following through on a long-time threat to punish China for intellectual property infringement and create more American jobs.
I, on the other hand, fear that this move will result in a trade war with China just ahead. Many Americans believe we could simply stop buying so many products from China to punish them. Yet there's a reason we run such a huge trade deficit with China: their products are cheaper than if they were made in the US.
What most Americans don't realize is that China can retaliate against new US tariffs in ways that can hurt our economy, perhaps significantly. This is information investors need to know about, so that's what we'll talk about today.
Following that discussion, we look at the strengthening boom in US manufacturing which is adding jobs at a faster pace than most of the rest of the economy, for a change. Over the past year, the manufacturing sector has added 222,000 jobs, the best showing in several years.
Before we get to those topics, let's take a look at last Friday's stronger-than-expected report showing consumer sentiment this month at the highest level in 14 years. Let's get started.
US Consumer Sentiment Index Highest Since 2004
US consumers' confidence hit a fresh 14-year high this month, led by lower-income households that reported feeling more optimistic about the economy. The University of Michigan reported last Friday that its Consumer Sentiment Index hit another recent new high of 102.0 in March, up from 99.7 in February. That was the highest level since January 2004, and well above the 99.0 economists surveyed by The Wall Street Journal had expected.
The Index rose 5.3% in March from a year earlier. A final reading for the month will be released March 29. Best of all, the latest survey showed optimism improved markedly for households in the bottom third of the income distribution. That's a very positive development.
Positive sentiment dominated the latest survey: 59% of respondents cited recent financial progress, the most since the survey began in 1946, while the share citing income gains rose to a five-decade high.
Surprisingly, sentiment actually declined for consumers in the top third of incomes due to concerns about the outlook for the economy. Many cited President Trump's new tariffs on steel and aluminum as the reason for concerns about the economy, due to expected higher prices for goods that include those commodities.
Near-term inflation expectations jumped in March to their highest level in three years. Consumers this month expected a 2.9% rise in inflation over the next year, the highest since March 2015 and well above the 2.5% previously expected.
Higher inflation expectations could actually bolster consumer spending to get ahead of higher prices later this year. This in addition to the tightening labor market, rising home prices and tax cuts enacted in December, which are supporting optimism among Americans.
JPMorgan Chase economist Daniel Silver commented that the latest reading "continues what has been a strong run across a range of consumer sentiment measures," and that "This strength in sentiment is one of the reasons we think consumer spending will pick up soon following a soft start to the year."
I agree with him.  Now let's move on to our main topic.
How China Can Punish the US in a Trade War
In my March 6 E-Letter, I roundly criticized President Trump for his new trade tariffs of 25% on steel and 10% on aluminum. Shortly thereafter, Mr. Trump announced exceptions to the tariffs for Canada and Mexico and left the door open to other countries if they can justify why they shouldn't be subject to the tariffs.
Since the US only imports about 2% of its steel directly from China, that tariff doesn't hurt the Chinese economy much. What is increasingly clear is that President Trump wants to punish China considerably more for improper trade practices and theft of intellectual property.
As pointed out above, President Trump is preparing to impose a new package of $60 billion in annual tariffs against China, following through on a long-time threat that he says will punish China for intellectual property infringement. These new sanctions could go into effect as early as this Friday.
I think this is a bad idea. There are many ways China can retaliate against the US in a trade war if it decides to do so. Since the mainstream media has largely ignored this risk, let's take a few minutes to talk about it today.
China is one of America's largest trading partners and we run a huge trade deficit with them every year.  In 2017, the US exported $130 billion in goods and services to China, while we imported a whopping $506 billion from them – resulting in a trade deficit of $375 billion last year.
One way China could retaliate against President Trump's proposed new tariffs would be to cut back significantly on its imports of US goods and services. Clearly, there are other places around the world where China could obtain much of these goods and services. Let's take a look.
Agriculture: China is the largest buyer of US soybeans, accounting for 60% of US exports in recent years. Yet China could turn its demand to soybean-producing countries like Brazil and Argentina. Ditto for other US grains that we ship to China. This could be devastating for US farmers.
China Expected to Import 64% of Global Soybean Production in 2018
The same could be true for US ranchers and cattle feeders. Thanks to a celebrated deal struck between President Trump and China's President Xi Jinping last year, the US began exporting beef to "the fastest-growing meat market in the world," after a 14-year hiatus. But China could walk back on the deal, closing its doors once again to US meat if we impose more sanctions.
Aircraft. Exports of US commercial aircraft to China are huge. Boeing is the largest US exporter of planes to China. But if it decided to, it would be an easy switch for the People's Republic to turn to Boeing's European competitor Airbus to buy its planes.
In fact, 300 Boeing aircraft worth $37 billion were part of the November 2017 trade deals that totaled $250 billion. Yet the deals were reported to be mainly in the form of non-binding "memoranda of understanding," and China could choose to walk away from some of these.
Auto Sales. The Chinese consumer market is believed to have enormous untapped potential, but Chinese buyers could turn their backs to the US, especially if the government rejects our trade practices. This would particularly hurt car sales in China, which were worth close to $10 billion in 2017. They could boycott other US products as well.
Tariffs of Its Own. Of course, China could also institute a broad basket of duties and/or tariffs of its own on most US goods, rather than targeting specific products. China could also make it harder for US investors to participate in Chinese opportunities, such as in its financial sector, eliminating it as an investment destination.
These are just some of the ways China could retaliate against the US in a trade war. Hopefully, it won't happen, but I fear a trade war could unfold if President Trumps signs the new tariffs later this week. I'll keep you posted.
Strong Rebound: US Manufacturers Hiring Like Crazy
The manufacturing renaissance continues. Over the past year, according to this month's employment report from the Bureau of Labor Statistics, the sector added 222,000 jobs for the 12 months ended February -- resuming a recovery that had paused in 2015 and 2016.
The rate of manufacturing job gains has accelerated in the past few months. It's also looking quite strong by the standards of the past three decades. The manufacturing sector is adding jobs at a faster pace than most of the rest of the economy, which hasn't happened much over the past half-century.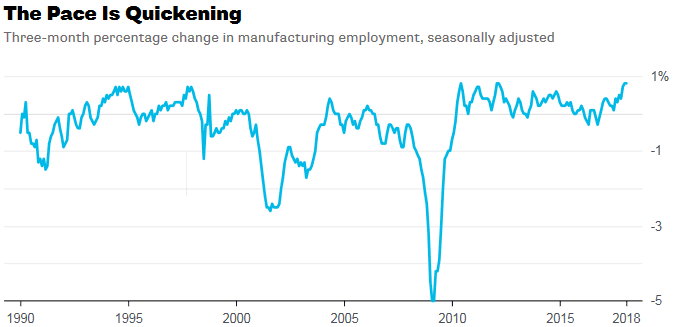 Source: US Bureau of Labor Statistics
Manufacturing jobs pay better than many other jobs -- $900.55 in average weekly earnings for production and non-supervisory employees in February, versus $757.12 for the private sector as a whole. They also tend to have multiplier effects that most service jobs don't, creating other jobs and income in their wake. So a booming manufacturing sector is a very good thing.
Here is a look at which manufacturing sectors are growing the fastest in terms of jobs: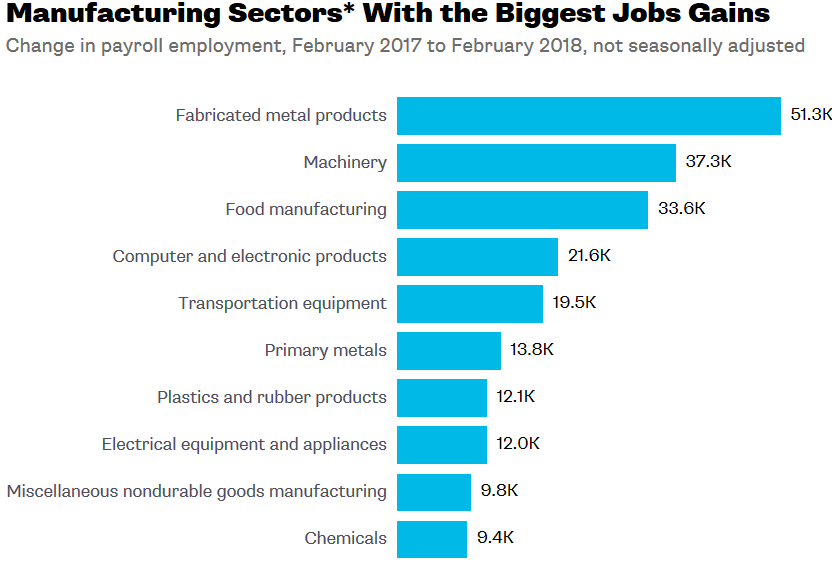 Source: US Bureau of Labor Statistics
Some of the reasons for the rebound in manufacturing include: the recovery in the US oil and gas industries; the global economy is much stronger than it was two years ago; the US dollar has been weakening, making American-made products cheaper abroad; and last but not least, business taxes in the US just got cut by a lot.
It remains to be seen how President Trump's tariffs on steel and aluminum imports will affect the manufacturing sector going forward. Clearly, it will hurt those industries that use steel and aluminum in their products, by increasing prices. Hopefully that will not be enough to reverse the improving trend industry-wide.
All the best,
Gary D. Halbert
SPECIAL ARTICLES
Large US Retailers Urge Trump Not to Hit China With Tariffs
Trump Tariff Layoffs Begin
BLOG