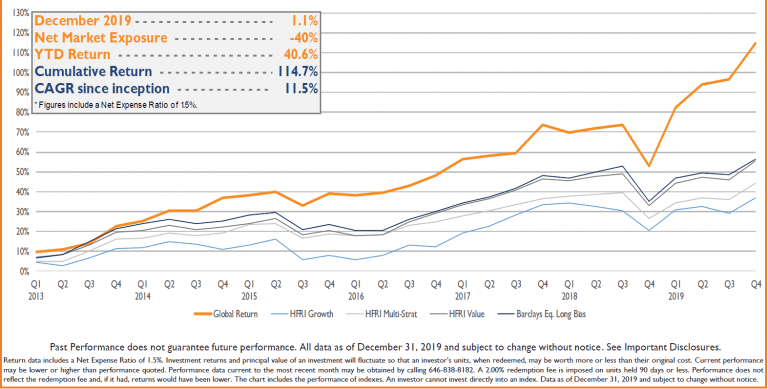 Global Return Asset Management commentary for the month ended December 31, 2019.
Dear Friends and Partners,
This Clean Energy Hedge Fund Has Solid Returns In 2022 And Uses Amazon As A Precedent
Electron Capital returned 3.1% for October, bringing its year-to-date return to 8.3%. The MSCI ACWI gained 6% for October, raising its year-to-date return to -22.3%, while the S&P 500 returned 8% in October for a year-to-date loss of 18.8%. The MSCI World Utilities Index was up 2.7% for October but remains down 13.5% year to Read More
In December we generated a net return of 1.1%.1
Q4 2019 hedge fund letters, conferences and more
For the full year, we generated a net return of 40.6%.1
We ended the month with 27% of assets in Cash and a Net Market Exposure of negative 40%.
The 5 Most Important News Stories of 2019
News is everywhere. It's become the oxygen of our daily lives.
And because we're creatures of habit, it's easy to get stuck reading the same headline news about whatever crisis-dejour is being dished at the moment. At the national level, we're currently being served the impeachment process and political turmoil in the Middle East. Local news is similarly unappetizing; mostly, it reports on house fires and murders. Blah.
No matter your politics or hometown location, I can't imagine these stories are satisfying. Therefore, I've decided to list five news-worthy stories from 2019 that should be infinitely more palatable. These stories didn't make the headlines, but they offer us a refreshing break from the daily deluge of clickbait-crises.
In no particular order:
I picked these five stories because they profile important topics that impact everyone in the world – altruism, health, human rights, and much more.
News is like the friends we pick or the partner we select, over time it changes us. News shapes our opinions on important topics, it affects the conversations we have, and it alters our behaviors, especially in the investment industry.
Like investing, I'll keep a watchful eye on the popular headlines news but continue looking for the stories that offer the most value.