Gator Financial Partners commentary for the fourth quarter ended December 2020, discussing opportunities in small cap financials such as BBX Capital Inc (OTCMKTS:BBXIA), Arlington Asset Investment Corp (NYSE:AAIC), and Kingstone Companies Inc (NASDAQ:KINS).

Q4 2020 hedge fund letters, conferences and more
Dear Gator Financial Partner:
Fund Manager Profile: Zhang Hui Of China's Southern Asset Management
Historically, the Chinese market has been relatively isolated from international investors, but much is changing there now, making China virtually impossible for the diversified investor to ignore. Earlier this year, CNBC pointed to signs that Chinese regulators may start easing up on their scrutiny of companies after months of clamping down on tech firms. That Read More
We are providing you with the Gator Financial Partners, LLC's (the "Fund" or "GFP") Q4 2020 investor letter. This letter reviews the Fund's 4th quarter and 2020 investment performance. We'll briefly discuss the Fund's current portfolio positioning within the Financials sector. Additionally, we will discuss opportunities we see in a few small cap Financial companies that we hold in the Fund.
Review Of Q4 2020 Performance
For the 4th quarter of 2020, the Fund outperformed both the Financials sector benchmark and the overall market. OneMain Financial, First Bancorp Puerto Rico, and Western Alliance Bancorporation were top contributors to performance. The largest detractors were short positions in Lemonade, Lending Club, and First Republic Bank.
Throughout 2020, the Fund performed in-line with the broader market and outperformed the Financials sector benchmark by more than 20%. PennyMac Financial Services, OneMain Financial, and PennyMac Mortgage Trust were the top contributors to the Fund's performance in 2020. Zions common stock and warrants, Ambac Financial, and our short position in Lemonade were the largest detractors in the Fund during 2020.

Financials In The Current Market Environment
Despite the strong 4th Quarter for the Financials sector, we still see opportunity due to relatively low valuations within the sector and the strong tailwind of the recovering economy. We continue to like Financials with low earnings and/or book multiples. We believe these stocks have downside protection. We believe much of the valuation discount is due to fear of credit losses. We also think most of our holdings generate positive cash-flow and plan to use the cash-flow to buyback their stock at attractive prices. We also believe that owning stocks in the Financials is a free option on higher interest rates. We know that cheap stocks can be value traps. We also know that not all buybacks create value. However, we think the stocks in our portfolio are inexpensive and the quality of their businesses are underappreciated.
The areas of the Financials sector we are most excited about are regional banks known for their organic growth, banks in the NYC metropolitan area, non-bank lenders like student lenders, and the three banks in Puerto Rico. We also like several one-off small companies in the Financials sector. We profile a few of these companies in the next section.
Select Small Cap Financials Opportunities
Here are our brief investment theses on a few small cap Financial stocks ideas that the Fund owns. We continue to believe there is significant upside in these stocks.
BBX Capital Inc (BBXIA)
BBX Capital ("BBX") is a company controlled by the Levan family in Ft. Lauderdale. The company has been through several iterations. At various times, it has owned a bank, a home builder, and a timeshare business. The current iteration was formed this past Fall after spinning-off its timeshare business, Bluegreen Vacation Holdings ("BVH"). The remaining businesses in BBX Capital are several real estate ventures located throughout Florida, a building products company focused on windows and doors, and a struggling candy business.
We believe BBX Capital is extraordinarily cheap due to the spin-off, its new listing on the OTC market, the super-voting shares held by insiders, and the complicated nature of the remaining businesses. BBX's recent share price is $5.35. The company has net working capital + note receivable from BVH less outstanding liabilities equal to $6.74 per share. In addition, BBX's real estate investments have another $6.22 per share of value. This conservative valuation of the company is $12.96 per share, which we find compelling compared to the $5.35 stock price.
This valuation is conservative because
it carries the home building products business at net working capital of the subsidiary,
the Real Estate at book value even though many of the properties have been enhanced, and
assigns zero value to the candy business.
We believe BBX Capital's stock price can approach $12.96 over the medium term. We look at the management team's track record of transactions to enhance value over the last 10 years. We believe management will announce another transaction to enhance the value of BBX Capital. Our guess is they will announce a share repurchase program.
Arlington Asset Investment Corp (AAIC)
Arlington Investment ("AAIC") is a mortgage real estate investment trust. AAIC's liquidation value (or book value) is $5.90, and the stock is trading for $3.66. We don't think it will return to $5.90 in the near term, but we believe the stock can get to $5.60 (or 90% of the estimated Q4 book value) in 6 to 12 months, which is +53% higher than the current price.
The management at AAIC has made strategic changes to increase their liquidation value. During the third quarter, they bought back stock at a discount to increase the liquidation value from $5.63 to $5.92. When they report the 4th quarter, we expect they will announce they continued to repurchase stock. We estimate the liquidation value will rise to $6.10-$6.20. The company is involved in the mortgage market, so it is not a franchise company like Disney or Microsoft that you can own forever. This is just a trade from $3.66 to $5.60. We think the downside is minimal because management reduced risk earlier in the year. The company does not have much leverage. On recent conference calls, management has expressed a conservative stance about investing the company's capital.
Insiders at AAIC purchased shares on the open market at the end of September and again in early January. We believe AAIC has attractive potential return without much downside.
Kingstone Companies Inc (KINS)
We have owned Kingstone ("KINS") for several years. We wrote an investment thesis in our 2017 Q1 letter. The company has grown its New York state homeowner's insurance business at an attractive rate ever since Superstorm Sandy hit Long Island. The company had achieved an A- taking from A.M. Best and started to expand into additional states in the Mid-Atlantic and New England. It ran into some issues as the CEO tried to install a successor. Besides homeowner's insurance, the company wrote several other types of insurance such as business liability and commercial auto. These non-core insurance lines have presented problems. In late 2019, management decided to stop writing these other business lines, so they won't present problems going forward.
We recently bought additional shares. We think the company is now focused solely on its homeowner's insurance business. We expect the loss rates to normalize with the other business lines are runoff. We think stock market investors will return to the stock first for the improving profitability of the core business. Then, investors will pay attention to Kingstone's growth rate.
A risk for Kingstone is the higher cost of reinsurance. Kingstone cannot bear all of the insurance risk the company is underwriting. Management has to purchase reinsurance to protect the company from large losses. Until 2019, the reinsurance market had been very favorable for companies like Kingstone to offload their risks. There was a great deal of capital in the reinsurance market, and there had not been many large losses, so pricing had come down significantly. With the large catastrophe losses of recent years, the reinsurance market started to harden. (A "hard" insurance market means prices are rising for the same amount of risk.) Reinsurance prices have risen so much that Kingstone has limited the amount of reinsurance that they purchase. We expect additional capital will enter the reinsurance market and limit future price increases. If this doesn't happen, Kingstone may have to slow its growth.
We believe Kingstone can trade up to $12 or 1.5x book value. Kingstone has traded at $7, so $12 is 70% higher than the current price. We also believe book value will grow at an attractive rate, so our target price will grow through time. We note that Kingstone has traded as high as 2.5x book value in the last three years, so we don't view 1.5x book as an aggressive valuation.
Portfolio Analysis
Below are the Fund's five largest common equity long and short positions. All data is as of December 31st.

Sub-Sector Weightings
Below is a table showing the Fund's positioning within the Financials sector as of December 31st: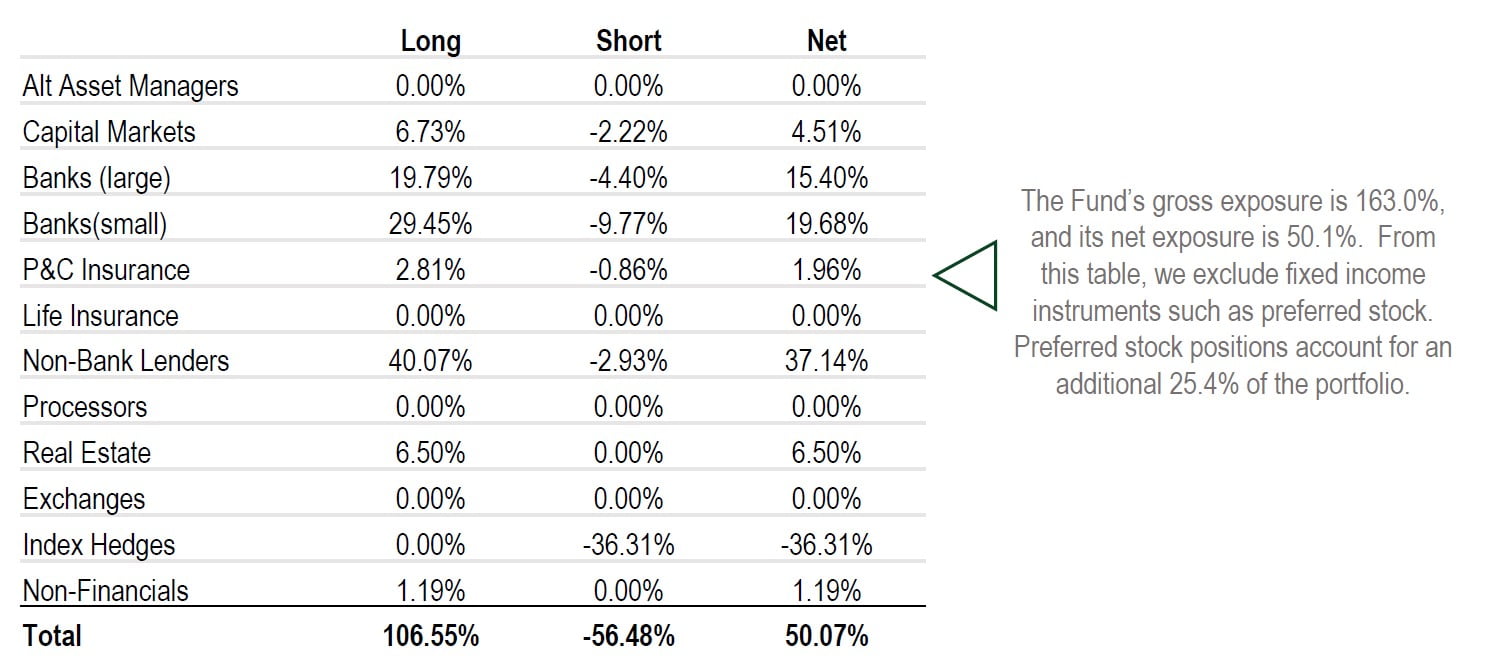 Conclusion
Thank you for entrusting us with a portion of your wealth. We are so thankful for our investors and their commitment to us. On a personal level, Derek Pilecki, the Fund's Portfolio Manager, continues to have more than 80% of his liquid net worth invested in the Fund.
As always, we are available by phone whenever you want to discuss the Fund or investing in general.
Sincerely,
Gator Capital Management, LLC
Updated on