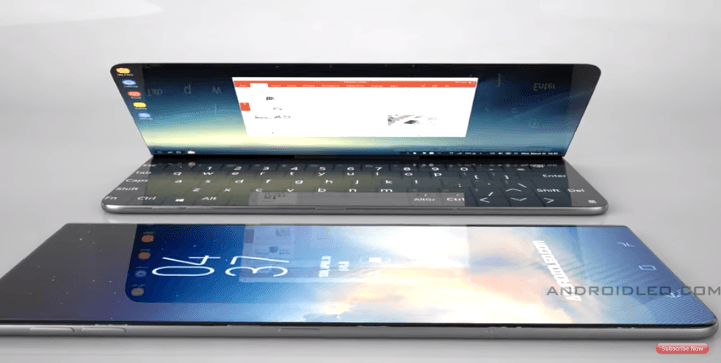 Leaks and rumors about Samsung's foldable smartphone – dubbed Galaxy X – have been circulating in the rumor mill for years. Samsung's mobile business chief DJ Koh has indicated that the company was planning to release the Galaxy X next year. We don't know for sure what the device would look like, but we have seen a handful of Galaxy X concept renders trying to imagine the foldable phone. A new Galaxy X concept has emerged showing the triple display setup and a full-fledged laptop mode.
A few days ago, Korean site The Bell reported that the Galaxy X would have not two but three screens – two on the inside and one on the outside. The phone would fold like a book. Based on The Bell's report, YouTube channel AndroidLEO has come up with a Galaxy X concept that looks beautiful and useful at the same time. The concept phone's outer screen is 6.4-inch Ultra HD Super AMOLED display with absolutely no bezels.
Its second and third screens are 6.5-inch QHD AMOLED panels, which are visible only when the device is unfolded. The screens are protected by Corning's Gorilla glass. The outer display works in the folded mode, allowing you to use the Galaxy X as a normal smartphone. You can unfold the device at 360 degrees to use it in the laptop mode. One of the inner screens serves a fully functional keypad to offer you a full-fledged laptop experience.
Guy Spier And Mohnish Pabrai On What Makes A Great Investor
"I am a better investor because I am a businessman, and a better businessman because I am no investor" - Warren Buffett In the past, the value investor Mohnish Pabrai has spoken about why investors need to have some first-hand business experience. Pabrai started his own IT consulting and systems integration company, TransTech, Inc, in Read More
When you turn the Galaxy X concept into laptop mode, it will run on "light version of Windows 10" and the entire UI changes into Samsung DeX. Samsung already offers DeX accessories to the Galaxy S9 and S9 Plus owners to turn their phones into a computer by connecting it to a monitor, keyboard, and mouse. This Galaxy X concept video puts all the DeX components within the device.
The concept phone doesn't have a front-facing selfie camera. It relies on the rear camera setup for everything. It has a vertically aligned 12MP and 16MP dual camera system on the back. You can capture selfies as well as super slo-mo videos with the back camera. The fingerprint sensor is located below the camera setup. The handset is powered by Samsung's in-house Exynos 9820 chipset and a huge 8GB RAM. There is a 4500mAh battery to power the three large displays.
AndroidLEO's Galaxy X concept has a dedicated Bixby button, two nano-SIM card slots, and up to 512GB of internal storage. The concept certainly looks attractive, but Samsung's actual foldable phone might look different. The Bell noted that all the three screens of Galaxy X would measure 3.5-inch in size. Two of them will be on the inside while the third one will be located on the outer surface to give you quick access to information when the phone is folded.
According to The Bell, the foldable phone's total footprint would be similar to the Galaxy Note 8 when unfolded. It means you might not be able to use it as a laptop without connecting it to a monitor, keyboard, and mouse via DeX. Sources told the Korean publication that Samsung had showcased the inward as well as outward folding prototypes of Galaxy X to a small group of investors and carrier representatives at the Consumer Electronics Show (CES) earlier this year. Samsung will reportedly launch the infolding model as Galaxy X.
The Korean site claims the Galaxy X will be unveiled in early 2019. Samsung would finalize its design by June, and start producing OLED panels for the foldable device later this year. The Galaxy X was previously rumored to debut in 2017, but Samsung was still facing technical difficulties with the phone. It would also require a new user interface due to its triple display setup. However, Samsung's mobile business head DJ Koh is reluctant to commit to a specific release timeline.
Koh told media recently that the Galaxy X would be far more than just a proof of concept. It would be a fully functioning, polished, and useful smartphone that will deliver a meaningful user experience. The Bell claims Samsung will release the Galaxy X only in limited quantities in early 2019 in South Korea as part of a pilot program. The company would produce only 500,000 to 2 million Galaxy X units next year.
Depending on how well it is received by consumers, Samsung could launch it in other countries later in 2019 or early 2020. The Galaxy X is not to be confused with Galaxy S10, which would be a successor to this year's Galaxy S9. DJ Koh has said that the company was considering changing the naming pattern with the next year's Galaxy S10. So, the Galaxy S10 might launch under a new moniker, but that new name is unlikely to be Galaxy X.