The Galaxy S9 and S9 Plus have been around only for a few months. Supply chain reports and Wall Street analysts have said repeatedly that the Galaxy S9 sales were far below expectations. According to analysts, consumers were reluctant to buy the S9 or S9 Plus due to the lack of innovative features. Now we have direct evidence that the Galaxy S9 sales were underwhelming, and surprisingly, it could be because of Apple's iPhone 8 (not the iPhone X).
Samsung's Q2 guidance hints at poor Galaxy S9 sales
Samsung Electronics has issued earnings guidance for the April-June quarter. Analysts had high expectations because the Korean company had been setting new operating profit records for the previous seven quarters. But its April-June quarter guidance came in below expectations. The company expects Q2 revenues of 58 trillion won (nearly $52 billion) and operating profits of 14.8 trillion won ($13.25 billion).
By comparison, Samsung had posted revenues of 60.56 trillion won and profits of 15.64 trillion won in the January-March quarter. The QoQ decline in profits and revenues is shocking, especially considering April-June was the first full quarter of Galaxy S9 and S9 Plus sales. The new flagship phones failed to capture the imagination of consumers. Samsung's chip business came to the rescue in the April-June quarter, otherwise the profits and revenues could have been even lower.
HDC Asset Management fund manager Park Jung-hoon said the poor Galaxy S9 sales were the primary reason behind the drop in Samsung's profits. In fact, the S9 sales have been lowest in the Galaxy S series since the 2012 Galaxy S3. Jung-hoon doesn't have high hopes for the upcoming Galaxy Note 9 either, which is set to be unveiled on August 9th.
iPhone 8 selling better than Galaxy S9
What's even more surprising is that the Galaxy S9 and S9 Plus were beaten by a much older phone that also lacked any design innovation. I'm talking about the nine-month-old iPhone 8, which has a single camera and an iPhone 7-like design. According to data from Counterpoint Research, the iPhone 8 was the top-selling smartphone across the globe, accounting for 2.4% of the total smartphone sales in May.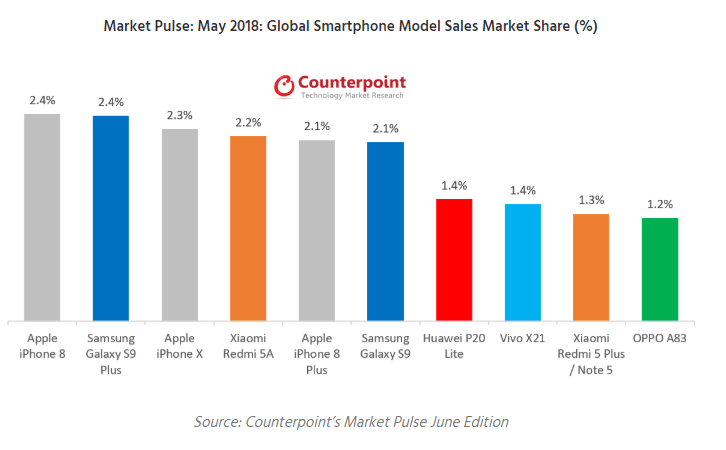 The Galaxy S9 Plus was ranked second with a 2.4% share, followed by the iPhone X with a 2.3% share and Xiaomi Redmi 5A with a 2.2% market share. The regular Galaxy S9 was ranked sixth at 2.1%, lagging even behind the iPhone 8 Plus. Overall, the Galaxy S9 and S9 Plus are still showing healthy numbers, no doubt. But the fact that nine-month-old iPhones are performing better than them in their very first quarter of sales is a clear indication that the S9 and S9 Plus have not been well received by the market.
Samsung's flagship phones went on sale in mid-March, which means April was the first full month of Galaxy S9 sales. Thanks to the initial euphoria, the S9 and S9 Plus recorded good numbers in April. In fact, the S9 and S9 Plus were the two top-selling smartphones in April, each accounting for 2.6% market share. They were followed by the iPhone X (2.3%), iPhone 8 Plus (2.3%), and iPhone 8 (2.2%).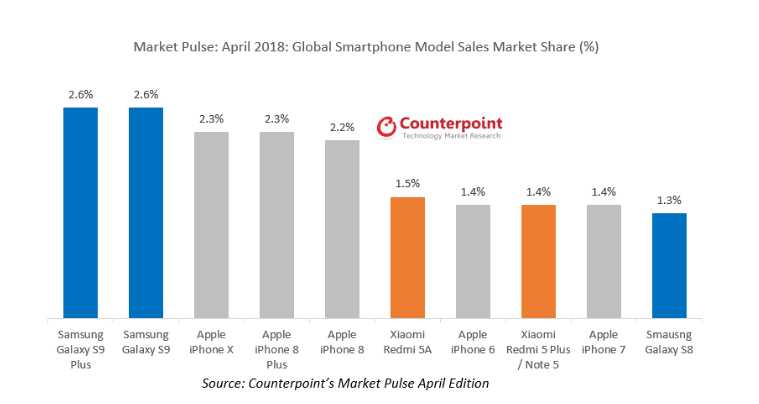 Once the euphoria was over, the Galaxy S9 and S9 Plus lost their top ranking despite their newness and worldwide appeal. And last year's iPhone 8 bounced back with a bang, thanks to strong promotional campaigns by Apple. The Cupertino company has been running a variety of promotions such as 'How to Shoot on iPhone' focused on the football World Cup, which helped boost iPhone sales in Europe, North America, and other markets.
Smartphone sales data isn't yet available for June. If Samsung's lower-than-expected Q2 guidance is anything to go by, we should not have high hopes for Galaxy S9 sales in June either. When Apple launched three iPhones last year, many speculated that people who couldn't afford the iPhone X would settle for the iPhone 8 Plus, and that the iPhone 8 would find few takers. As it turns out, the iPhone 8 and iPhone X have done pretty well.