Ever since September 2017 when the US Ten Year note was yielding a year over year low of 2.06%, it has traveled on an epic mean reversion, notching up near 2.55% less than four months later. Don't worry, however. Capital Economics analyst Oliver Jones thinks that, while the trend might have a little further to run, analysts who think yields could substantially rise further are "wide of the mark." But nonetheless, notes of concern at a variety of factors influencing yields are apparent.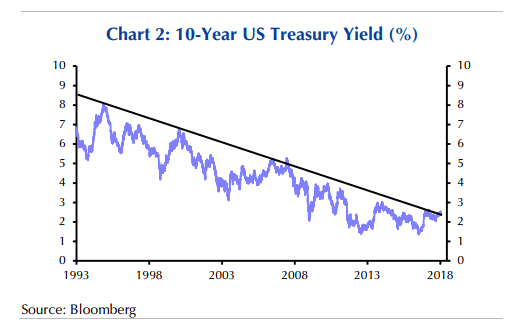 Don't panic over rise in Treasury yields, says Capital Economics
The sky is falling, the sky is falling. Such are the warnings coming from bears on the yield curve.
"The latest sell-off has prompted dramatic claims that the multi-decade bull market in Treasuries is at an end," Oliver writes in a report titled "Do Treasury yields really have a lot further to rise?"
The report came out shortly after well-known bond trader Bill Gross told Bloomberg's Tom Keene that he was short a variety of interest rate products across the US yield curve and abroad. "Bond bear market confirmed," Gross quipped, expecting higher rates 2.7% or 2.8% yields in the Ten Year note in 2018.
Gross and DoubleLine Capital chief investment officer Jeffrey Gundlach have been battling back and forth over the title of "bond king." Gundlach said markets had not priced in shrinking central bank balance sheets, thinking the 10-year yield could touch 2.63% to 3.25% in 2018.
Oliver, for his part, steps in-between the arguing crowds and tries to be the calm voice in the room.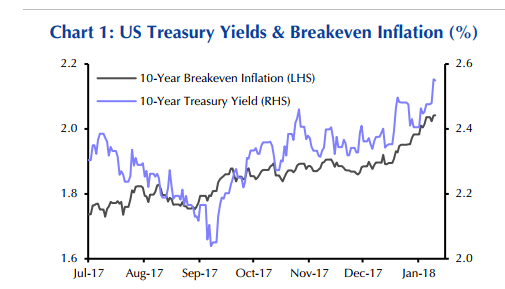 Time is up for men and bond yields, Gross muses
"Admittedly, the ultra-loose cyclical stance of monetary policy has helped to keep yields particularly low since the financial crisis," Oliver writes, saying the central bank quandary is "partially unwinding."
With rumors of foreign buyers becoming increasingly skeptical of US bond markets – highlighted by rumors the Chinese, one of the largest buyers of US Treasuries, will be exiting the market.
"We're seeing a lot of overseas buyers who would come in every time we'd have a move close to these levels who aren't coming in anymore," fixed-income trader Michael Franzese told Bloomberg. "That's kind of scaring me a little bit. One eye is constantly on the exit button."
There is a concern that inflation might be running hot, as record low unemployment and financial conditions could transfer into wage growth and ultimately price increases. But there is a structural factor keeping a lid on wage inflation – globalization, technology and an aging population in the developed world.
Oliver, for his part, says structural changes "do not appear likely to go away anytime soon."
Oilver thinks investors have underestimated the speed with which the Fed will raise rates, but calm down:
But we doubt that this would mark the start of a bloodbath in bond markets, even allowing for reduced support from central bankers and reserve managers outside the US. Although some cyclical rebound in inflation and interest rates in the US is likely, the structural forces which have been keeping them low remain in place. So we do not expect them to rise very far. Reflecting this, we project that Treasury yields will peak at a very low level by past standards too, our forecast is for the 10- year Treasury yield to climb from 2.6% now to around 3% by end-2018, before falling back in 2019 as signs that the US economy is faltering raise the prospect of the Fed cutting rates again further ahead.
For Gross, however, time is up. "Bonds, like men, are in a bear market," he wrote on a Janus blog post. "Oprah shouted, 'Their time has come' (at the Golden Globe awards). The bear bond market's time has come as well. Many would say, including yours truly -- 'It's about time.' "