The Federal Reserve along side its arsenal of well qualified Quant's and PHD's continually over estimate their rate hiking abilities. We demonstrated this fact with the FED's own dot plot shown here:
As the chart clearly displays, their prognostication accuracy is abysmal, but what is even worse is the fact that not one outlier exists. How can this be given the chaotic nature of our financial markets, of business cycles, of variables outside of monetary policy control? Yes, we would like to know and our only conclusion is that they do it ON PURPOSE!  Why? Because they want to continually paint a rosier than possible scenario but if it isn't obvious by now or after 4 straight decades, interest rates start each new decade with higher rates then where they end. This decade will be no different as this chart exposes: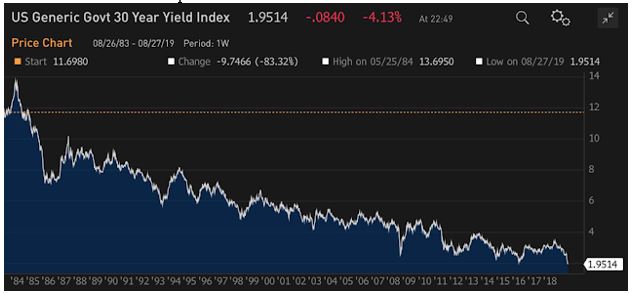 Another item we touched upon was the fact that corporate profits have been flat for the better part of 7 years now and even though they are paying some of the lowest effective tax rates in history. If it this also is blatantly obvious, the massive subsidy our government gives to corporations well realize this single point, the effective tax rate for U.S. corporations is roughly 9.9%: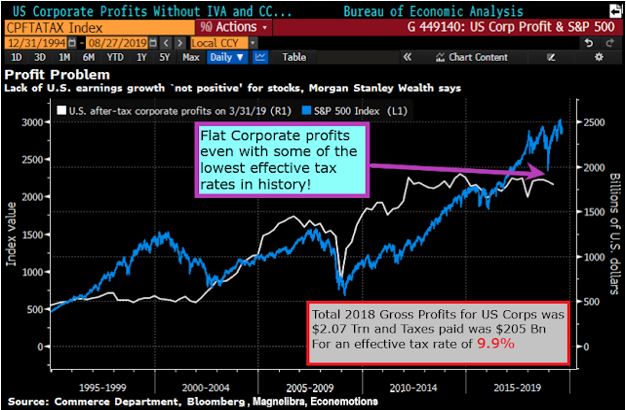 Just imagine how much worse this chart would look in terms of profits if the corporations were forced to pay a flat 30% tax rate! For those non-economic types, just understand that this continued lower tax rate is an absolute necessity given the WACC calculation or Weighted Average Cost of Capital. The lower tax rate, lowers the tax shield that corporations enjoy by deducting debt interest payments so if the corporate tax rate was held high, the WACC would come down due to the tax shield provided, giving an even greater subsidy to issue debt and borrow. Corporations are borrowing at super low yields and even negative yields which is nothing more than a stealth tax on investment and savings. This is a corporate treasurers dream, get paid to issue debt, get paid to buy back stock and don't worry about future profits, we can finance growth!
We touch upon the recent announcement by Philip Morris about a potential merger with Altria. We feel that this exposes PM to some future risk as Altria owns 35% of JUUL and we have seen the first death related to vaping and the e-cigarette phenomenon will continue to attract scrutiny if the CDC and FDA find conclusive evidence that this is indeed the cause. PM was hit on the news losing 5% to $73.45.
On the technical side we looked at the ongoing consolidation in the SP500 futures and that the algorithmic systematic bots are in full control of the range shown here: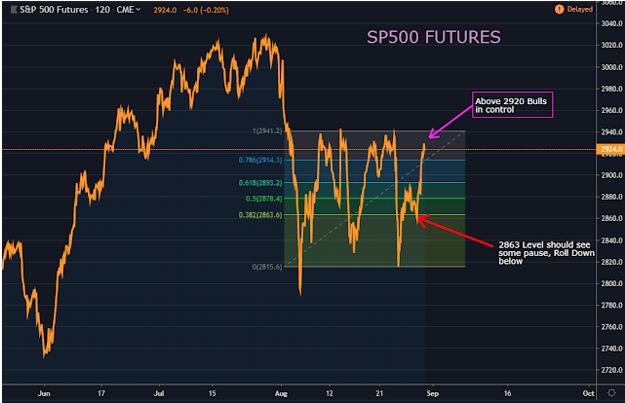 We feel a break out of this box will come above 2940 on the upside and 2812 on the downside, but continued chop most likely until we get the next FOMC decision. Now this doesn't mean we can't get an outlier exogenous shock, most likely coming out of China or Hong Kong with both the ongoing tariffs as well as the protests. If you haven't seen what is going on in Hong Kong, we highly suggest you get up to speed, its shaping up to be a real showdown.
The other chart we noted was Nat Gas, which has been bludgeoned for quite some time, but we feel the 2.25 area is putting in a decent bottom or at least fighting to and a break of the trend line to the upside should give bulls some confidence: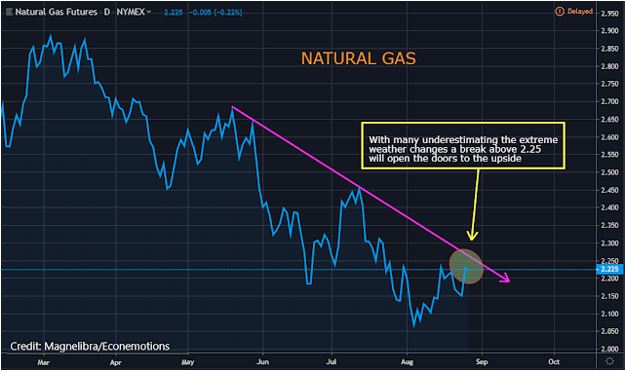 Finally we also looked at the continued inversion of the US 10s2s yield curve. As you can see from the chart below, back in 2006 to 2007 this curve inverted noting well ahead of time the crisis that was about to hit the global economies. We are once again inverted and most likely well ahead of the turbulence to come: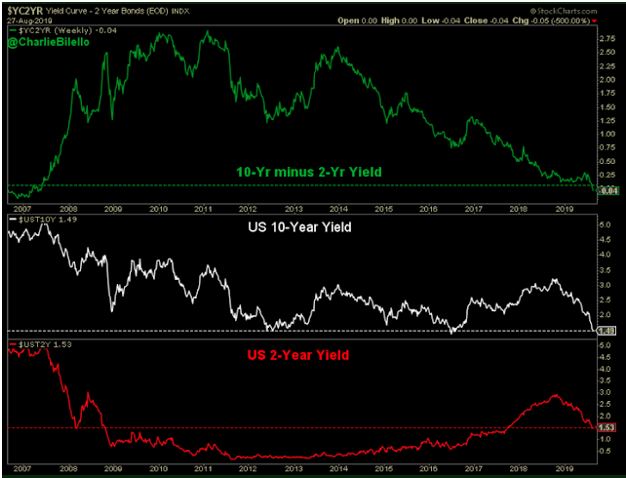 Ok that is it folks, we hope to continue our education and updating you on the things we feel matter the most to our followers and traders. It's not easy putting all this together each week but we love educating and since we are doing our own proprietary research anyway, why not share it with the community! Cheers.
For more info: https://info.capitaltradinggroup.com/ctgs-weekly-unique-insights-newsletter-0-1
Finally, we will decidedly end our notes with our reaffirmation of the growing need for alternative strategies.  We would like to think that our alternative view on markets is consistent with our preference for alternative risk and alpha driven strategies.  Alternatives offer the investor a unique opportunity at non correlated returns and overall risk diversification.  We believe combining traditional strategies with an alternative solution gives an investor a well-rounded approach to managing their long term portfolio.  With the growing concentration of risk involved in passive index funds, with newly created artificial intelligence led investing and overall market illiquidity in times of market stress, alternatives can offset some of these risks. 
It is our goal to keep you abreast of all the growing market risks as well as keep you aligned with potential alternative strategies to combat such risks.  We hope you stay the course with us, ask more questions and become accustomed to looking at the markets from the same scope we do.  Feel free to point out any inconsistencies, any questions that relate to the topics we talk about or even suggest certain markets that you may want more color upon.
____________________________________________________________________________________
Capital Trading Group, LLLP ("CTG") is an investment firm that believes safety and trust are the two most sought after attributes among investors and money managers alike.  For over 30 years we have built our business and reputation in efforts to mitigate risk through diversification.   We forge long-term relationships with both investors and money managers otherwise known as Commodity Trading Advisors (CTAs).
We are a firm with an important distinction: It is our belief that building strong relationships require more than offering a well-rounded set of investment vehicles; a first-hand understanding of the instruments and the organization behind those instruments is needed as well.
Futures trading is speculative and involves the potential loss of investment. Past results are not necessarily indicative of future results. Futures trading is not suitable for all investors.
Nell Sloane, Capital Trading Group, LLLP is not affiliated with nor do they endorse, sponsor, or recommend any product or service advertised herein, unless otherwise specifically noted.
This newsletter is published by Capital Trading Group, LLLP and Nell Sloane is the editor of this publication. The information contained herein was taken from financial information sources deemed to be reliable and accurate at the time it was published, but changes in the marketplace may cause this information to become out dated and obsolete. It should be noted that Capital Trading Group, LLLP nor Nell Sloane has verified the completeness of the information contained herein. Statements of opinion and recommendations, will be introduced as such, and generally reflect the judgment and opinions of Nell Sloane, these opinions may change at any time without written notice, and Capital Trading Group, LLLP assumes no duty or responsibility to update you regarding any changes. Market opinions contained herein are intended as general observations and are not intended as specific investment advice. Any references to products offered by Capital Trading Group, LLLP are not a solicitation for any investment. Readers are urged to contact your account representative for more information about the unique risks associated with futures trading and we encourage you to review all disclosures before making any decision to invest. This electronic newsletter does not constitute an offer of sales of any securities. Nell Sloane, Capital Trading Group, LLLP and their officers, directors, and/or employees may or may not have investments in markets or programs mentioned herein.